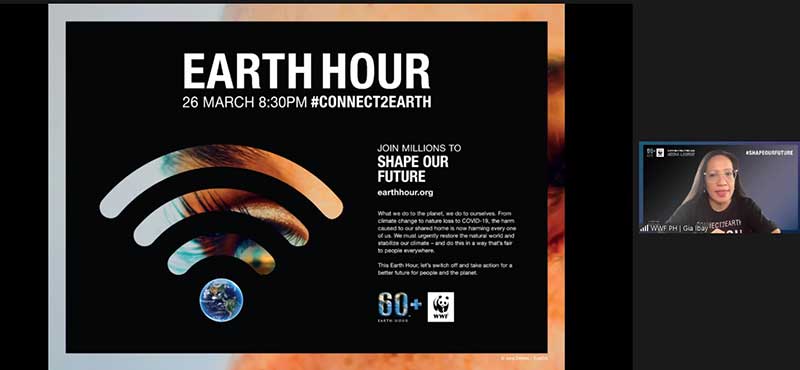 By Ryce Erica Lacbanes
On March 26, 2022 at 8:3pm, Earth Hour, the world's largest grassroots movement for the environment, will take place virtually to gather millions of people, businesses and leaders around the world to unite and take action, raising awareness of nature loss and climate change facing our one home.
As humanity's unsustainable demands on the natural world are leading to climate breakdown, habitat loss, and decline of wildlife, Earth Hour is celebrated every year on the last Saturday of March as an opportunity to invite individuals and institutions to take substantial action for the planet. The core message of this movement lies in going Beyond the Hour – what actions people can do after the lights go back on.
Earth Hour is celebrated all over the world since 2007 but for Atty. Gia Ilbay, National Director of Earth Hour Philippines, "2020 was really significant, we know there was a pandemic but we also wanted to use earth hour to raise our voices for nature and we are very successful.. We're doing this because our vision and part of the goal is really to halt the loss of biodiversity by 2030 and secure for us a new deal for nature and people," she explained.
Atty. Ilbay envisions Earth Hour 2022 to be a moment where we will be raising, inspiring and empowering many to really act for nature climate.
2022 is a crucial year for nature says Atty. Ilbay since this year holds the 15th United Nations Biodiversity Conference that convenes governments from around the world to make key political decisions on climate, on sustainable development and nature.
"We want to be able to create and build a ground swell of action and noise on us to be able to draw news and put pressure on or leaders as they go into the convention to really think about nature as a top priority. And also commit to make ensure that these commitments are impactful and meaningful," said Ilbay.
"In shaping our future, we want to be able to demonstrate that in fact there is a visible and critical mass of people around the world who are acting for nature and who are clamming for our leaders to put this up in the agenda," Ilbay added.
#ShapeOurFuture
"To make 2022 more impactful, WWF wants to show that you can shape our future because we want to change the ending," says Atty. Ilbay while Katherine Custodio, Executive Director of WWF-Philippines notes the timeliness of the environmental campaign's theme to the upcoming elections in May.
"We should not miss the opportunity to ask our leader seeking election. How are you going to address the issues of environment during your term? Or a country at a crosshairs of so many factors? We are one of the most megabiodiverse (countries) in the world and (we are) so vulnerable to the impacts of climate change. An island nation with a large and young population. What is your leadership going to do to change the ending for our country? She said.
"It is so timely. What better moment to shape the future than in choosing our leaders. So I come to the action we're asking in this earth hour. It's for the 67M Filipino voters, for the sake of our children. To let our leaders know that nature is important to you so that it will be important to them. Speak out about issues of environment and ask. What is your plan to secure the food we eat, the water we drink, the air we breathe? How will you protect the ecosystems that give us a chance of bouncing back from climate disasters and to prevent future pandemics?
WWF counts on the Millennials and Gen Z to help shape the narrative of Earth Hour since the youth sector dominates the Five Million first-time voters for the May elections.
Mikee Cojuangco-Jaworski a World Wide Fund for Nature (WWF) ambassadress for 10 years shares her concerns to the future of the environment as a mother "So from where we stand today we might think that the future is quite scary. I have to be honest and say that as a mother, it really does get scary. But the good thing is that we are still in a position to change the ending but we can only do it if we're together. said Jaworski
Despite this, Jaworski is grateful for the event  "I'm really grateful that we have earth hour that can bring us together even just once a year to remind each other that we are there, that we are ready and we are committed to do this, together," she added.
Another WWF ambassadress is 12-year-old child actress Xia Vigor. Though thankful to the people that guide her to the right path so she can achieve her dreams, Xia is afraid that something unfortunate will happen that might stop her and her generation in reaching aspirations.
"I have a lot of dreams for my future. I want the world to see my full potential when I grow up but with all the bad things happening to the nature and the planet earth, I'm afraid that our future won't be as bright as we want it to be. Please, please help us achieve our dreams without the fear of losing our home planet," she said.
Not only WWF ambassadors call for participations on the Earth hour event but also Jeff Lo, runner and founder of Pinoy Fitness, an online platform of runners and fitness enthusiasts call for the campaign for Earth hour as he hosts the first-ever Earth Hour virtual run in the country.
For Lo, protecting the planet is everyone's responsibility. "Especially as runners and those people who are into fitness knows how important the environment is. that's where we play, that's where we do all the runs," says Lo.
Over 67 million Filipino voters are about to choose a new set of leaders who will set the tone and define how the country will respond to the dual challenge of climate change and biodiversity loss in the next six years. For Earth Hour Philippines 2022, the movement will be a platform for inspiring collective action for our environment by raising awareness on key issues that everyone, especially the country's leaders, should address effectively.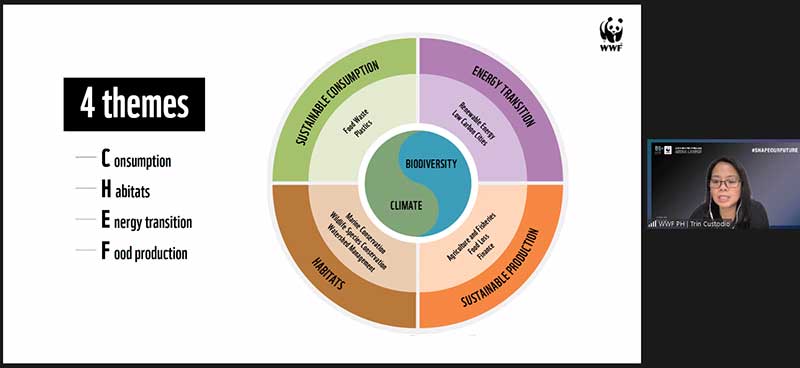 "It is for the Filipino voters, for the sake of our children, to let our leaders know that nature is important to you so that it will be important to them. Speak out about issues of the environment and ask, 'what is your plan to secure the food we eat, the water we drink, the air we breathe? How will you protect the ecosystems that give us a chance of bouncing back from climate disasters and to prevent future pandemics?'" Katherine Custodio, WWF-Philippines Executive Director, said in her remarks.
Runners who want to join will need to download the Pinoy Fitness mobile app, register and choose between 4 different distances to run between March 26 until April 22, when Earth Day is celebrated.
"Its really gonna be like a run from earth hour to earth day," Lo added.
As a way to track the distances ran, Pinoy Fitness require participants to send a picture of the GPS progress or treadmill dashboard. Once finished, virtual runners will receive a limited edition Earth Hour virtual run medal.
For each registration, Pinoy Fitness will give something back to WWF for all its conservation efforts and those who registers before March 15 can have their medals personalized in their name.
In 2021, Earth hour reached 192 countries and territories. #EarthHour and related searches has flooded with more than 9.6 Billion impressions, trended on Twitter and google search in 42 countries and had 2.4 Million views for its the virtual spotlight video within 24 hours.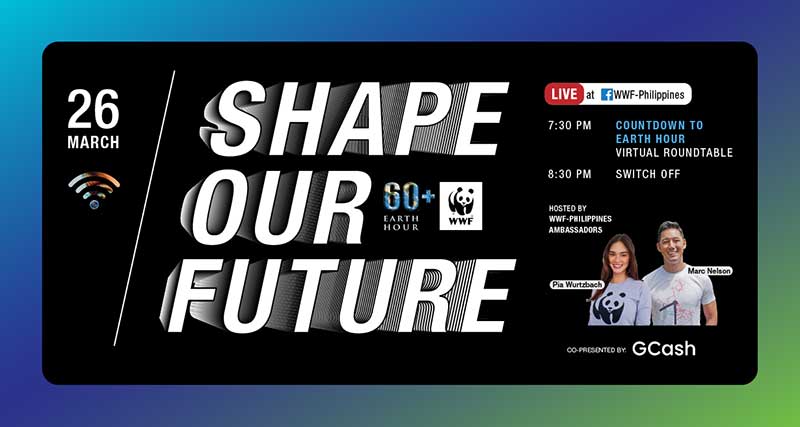 On the night itself, a virtual roundtable joined by WWF ambassadors Pia Wurtzbach and Mark Nelson will take place from 7:30pm anchored on the importance of legislation and policies for the future of the Philippine environment. The countdown will start at 8:30pm.
Visit www.earthhour.org to find out more about Earth hour and follow WWF-Philippines on social media for updates and events related to Earth Hour Philippines 2022. Support the move by using the official hashtags #EarthHour2022, #EarthHourPhilippines2022 and #ShapeOurFuture