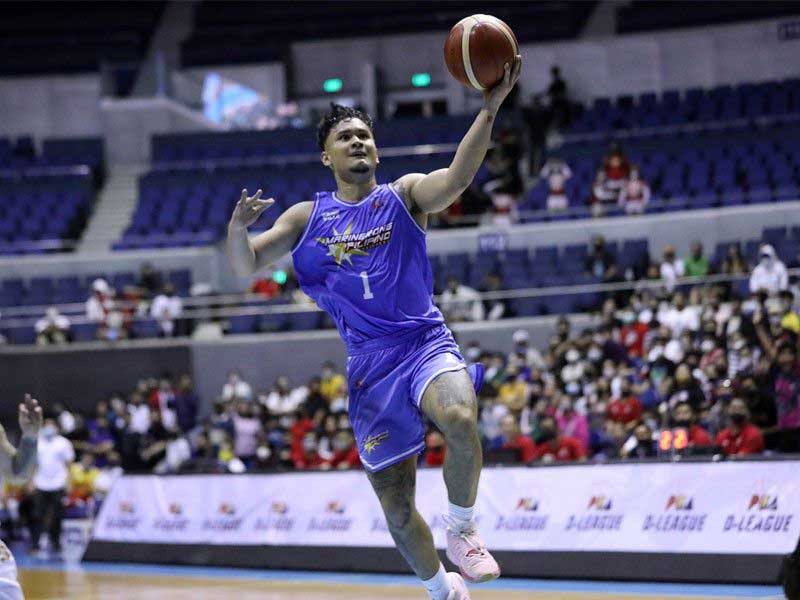 By Leobert Julian A. de la Peña
Crafty scoring guard Juan Gomez de Liaño stood among all giants and bagged the 2022 PBA D-League Aspirants' Cup Most Valuable Player (MVP) award.
The former University of the Philippines (UP) Fighting Maroons bested De La Salle's Michael Phillips and Jimboy Estrada of the Adalem-Saint Clare school after leading the fourth-seeded Marinerong Pilipino to a grand finals berth.
De Liaño's consistent outing for Marinerong Pilipino helped him gain the advantage after averaging 17.6 points, 8.9 rebounds, 6.4 assists, and 1.5 steals per contest.
The Gilas Pilipinas young cadet also notched team-high statistics in all departments including the rebounding and the steals.
De Liaño proved he is worthy of the award after hitting the clutch floater in Game 1 of the D-League finals against the DLSU Green Archers.
With 13 seconds remaining in the game and Marinerong Pilipino only leading by two points, de Liaño's cold-blooded floater extended their lead to four, 68-64, and went on to win the game, 72-67.
Marinerong Pilipino got a huge lift from Adrian Nocum who top-scored the team with 22 big points backstopped by Arvin Gamboa with 14 points.
Before returning to the Philippines, the hefty leftie spent one full playing season in the Japan B. League and played for the Earthfriends Tokyo Z basketball club.
However, the Japanese basketball team announced that they will not be offering a contract extension to de Liaño during the off-season.
De Liaño had an injury-plagued stint when he arrived in Japan as various injuries hounded him, preventing him from suiting up in all their games.
After leaving Japan, de Liaño was called up by the Samahang Basketbol ng Pilipinas (SBP) to represent Gilas Pilipinas during the third window of the FIBA Asia Cup Qualifiers.