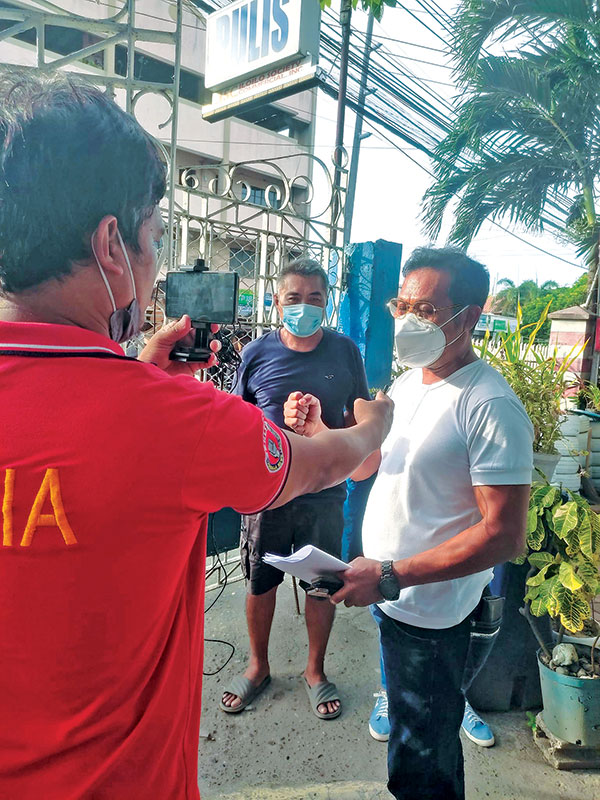 By Jennifer P. Rendon and Joseph B.A. Marzan
Broadcaster-turned-politician Salvador "Jun" Capulot was arrested Friday afternoon for a string of online libel charges filed against him before a court in Guimaras province.
Capulot, 49, a resident of Alta Tierra Village in Barangay Balabago, Jaro, Iloilo City, was alighting from his vehicle when operatives of the Iloilo City Police Station 3 approached him at the parking area of a building along B. Aquino Ave. in Mandurriao, Iloilo City.
Capulot is running for mayor of Iloilo City under the People's Reform Party.
Captain Eduardo Siacon, Jr., ICPS3 chief, said Capulot was on his way for a blocktime program in a radio station when arrested.
"He offered no resistance. He readily went with our arresting officers," Siacon said.
Members of ICPS3, together with members of the Criminal Investigation and Detection Group (CIDG)-Iloilo City Field Unit and the Iloilo City Mobile Force Company, collared Capulot by virtue of an arrest warrant for six counts of violation of Republic Act 10175 (Cybercrime Prevention Act of 2012) docketed as Criminal Case Nos. 22-3519 to 22-3524.
Judge Rosario Abigail Magay Dris-Villanueva of the Regional Trial Court Branch 65 in Jordan, Guimaras issued the warrant of arrest on Feb. 15, 2022.
Bail for his temporary liberty was fixed at P10,000 for each count.
Siacon said they are not privy to the details of the case. They were initially furnished with the warrant for three criminal cases.
When they subsequently informed the court that issued the arrest warrants, they were informed that Capulot has three more pending cases.
Reports indicated that former Guimaras lone district representative and 2022 gubernatorial candidate JC Rahman Nava filed the cases against Capulot.
Nava is running for Guimaras governor under the National Unity Party, the same political party of Capulot's opponent, incumbent Iloilo City Mayor Jerry Treñas.
As of press time, Capulot's camp said they are processing his bail.
Meanwhile, Treñas denied any involvement in the arrest of his election challenger.
In a statement sent to media via text message, Treñas belied reports that he had anything to do with Capulot's case and arrest.
The mayor told Daily Guardian that there were reports tying him to the collaring of his opponent.
"I have nothing to do with the warrants of arrest served on my opponent Jun Capulot. I understand that these warrants were issued by the Regional Trial Court of Guimaras in libel cases filed therein," the mayor said.