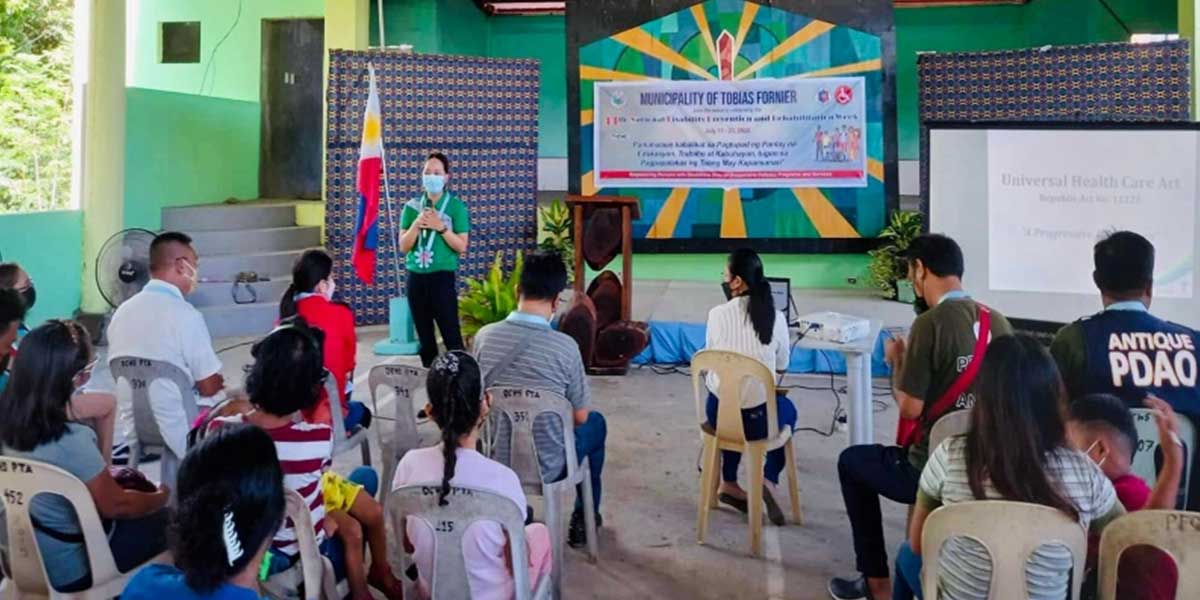 The Philippine Health Insurance Corporation (PhilHealth) shall now automatically cover all Persons with Disabilities (PWDs) to the National Health Insurance Program (NHIP).
"This is another victory for our PWDs. PhilHealth guarantees continued support to our vulnerable sector as we augment the cost of their medical care," said Janet A. Monteverde, Acting Regional Vice President of PhilHealth in Western Visayas.
Under Republic Act 11228, PWDS whose names are recorded in the Philippine Registry of Persons with Disability (PRPWD) in their respective Local Government Units (LGUs) shall be automatically covered with PhilHealth.
Those PWDs who are not registered in the PRPWD shall be issued a Certificate of Indigency upon assessment as Financially Incapable by their Municipal Social Welfare Officer and shall be included as Financially Incapable (FI) members of PhilHealth.
Meanwhile, monthly premium contributions of employed PWDs shall be shared equally by their employers and the PWD, until such time that appropriation for their employee share has been provided in the GAA.
"Bahol gid ang bulig kang PhilHealth sa aton PWDs rugya sa Antique.  Nakita naton nga bahol gid ang kontribusyon kang PhilHealth sa mga PWDs nga nagamasakit.  Kadja lang namon nabatyagan ang jang bulig nga kanami, nga ginatugro direcho sa tawo (PhilHealth has extended much help to the PWDs here in Antique. We can see that PhilHealth has a big contribution to the welfare of the sick PWDs. It is only now that we can feel its sincere help that goes directly to the people)," Edison Sta. Romana, Assistant Provincial Disability Affairs Officer (PDAO) said.
Monteverde assured that PhilHealth shall continue to promulgate policies that push for inclusivity of the marginalized so that all Filipinos shall have equitable access to quality and affordable healthcare adding that PhilHealth continues to develop packages exclusively designed for PWDs.
PhilHealth has already introduced its Z-MORPH or the Z Benefits for Mobility, Orthosis, Rehabilitation, Prosthesis Help in the amount of P15,000 for the first right and/or left below knee and P30,000 for both limbs.
With the expansion of the Z-MORPH, the package does not only cover the assistive technology from below the knee prosthesis to all levels of limb loss or deficiency or spinal deformity but also the rehabilitation services.
The package amount ranges from P50,000 to P135,000 for prostheses and P30,000 to P80,0000 for orthoses.
PhilHealth also provides coverage for assessment, rehabilitation/therapy and the assistive device needed by children with visual and developmental disabilities as well as mobility and hearing impairment.
"These benefits are designed to help our PWDs maximize their potentials by giving them the much-needed health interventions and enhance their capacities to live a more meaningful and satisfying way of life and ultimately become self-reliant, productive and contributing members of the community," Monteverde emphasized.
Moreover, PWDs availing of In-patient, Outpatient, and primary care services under PhilHealth KonSulTa are also entitled of PhilHealth benefits. (PRO 6-Public Affairs Unit)