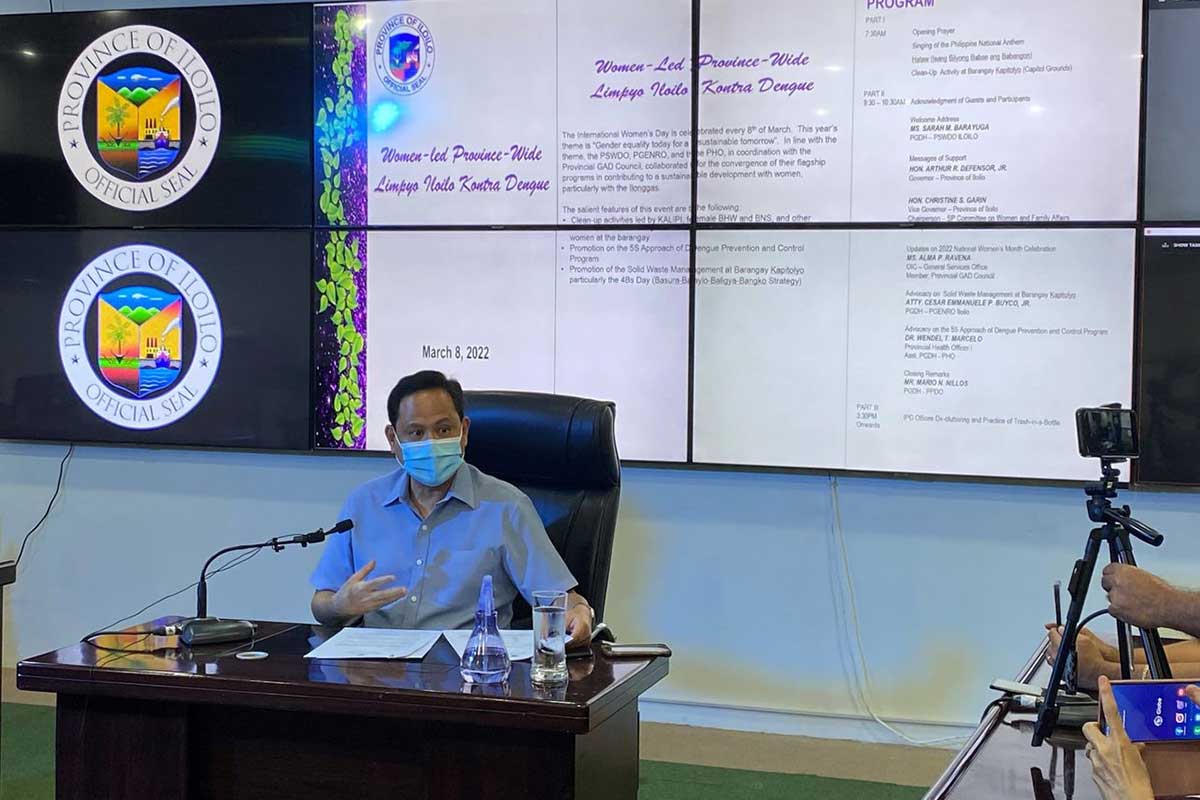 By Joseph B.A Marzan
The Iloilo provincial government on Thursday announced that a women's organization will lead the regular province-wide "Limpyo Iloilo" clean-up drive as part of the annual celebration of International Women's Month and in anticipation of a possible dengue outbreak.
Iloilo Governor Arthur Defensor Jr. issued Executive Order No. 191, series of 2022 on Thursday as part of his "Alert Level 5 Kontra Dengue" strategy.
While "Limpyo Iloilo" has been a monthly clean-up activity by the provincial government to promote a cleaner and greener Iloilo, this month's celebration will be led by three offices.
This will be launched during the International Women's Day celebration on March 8 at the provincial capitol grounds.
The three lead offices are the Provincial Social Welfare and Development Office (PSWDO), Provincial Government Environment and Natural Resources Office (PGENRO), Provincial Health Office (PHO), in coordination with the Provincial Gender and Development (GAD) Council.
The program will have three salient features according to the EO, including:
Clean-up activities led by Kalipunan ng Liping Pilipina (KALIPI), female Barangay Health Workers (BHWs) and Barangay Nutrition Scholars (BNS), and other women at the barangay;
Promotion of the 5S (Search, Seek, Self-protection, Say Yes to fogging, and Social distancing) Strategy against Dengue; and
Promotion of the Solid Waste Management at Barangay Kapitolyo, particularly the 4Bs Day (Basura-Baylo-Baligya-Bangko Strategy).
PSWDO Planning Officer Roxanne Octaviano, who is also a member of the provincial government's GAD TWG, said Thursday that this was an integration of the celebrations of Women's Month and Women's Day, as well as the monthly clean-up drive.
"The theme for the International Women's Day is 'Gender Equality for a Sustainable Tomorrow, that's why [KALIPI] thought of the activity which would be towards greener, cleaner, and healthier Iloilo province. The Provincial GAD Council thought that it would be better to integrate their participation with other projects, and that's how they came up with the 'Limpyo Iloilo'," Octaviano told media on Thursday.
The governor also issued EO No. 190, which formally implements the 5S strategy in anticipation of a dengue outbreak this 2022.
In his regular press conference, Defensor said that their preparation is based on a "3-year cycle" of previous dengue surges, including in 2013, 2016, and 2019.
"We are starting our preparation for dengue because 2022 is the third year in the 3-year cycle of resurgence as we have seen. There were 6,000 in 2013, three years later, 2016, 9,000 plus, [and in] 2019 22,169. Hopefully this wouldn't happen in 2022, that is why we are preparing now," said the governor in his press conference.