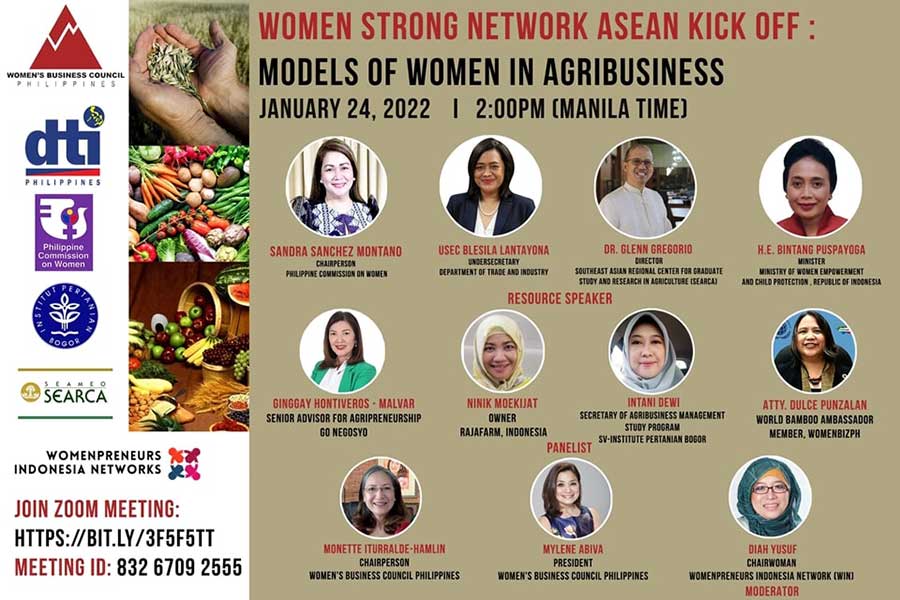 The Women's Business Council of the Philippines (WomenBizPH); Department of Trade and Industry (DTI); Philippine Commission on Women (PCW); IPB University, Indonesia; and the Philippine government-hosted Southeast Asian Regional Center for Graduate Study and Research in Agriculture (SEARCA) banded together to organize the Association of Southeast Asian Nations (ASEAN) kick-off of the Women Strong Network last Jan 24, 2022.
The launch event was a forum on models of women in agribusiness that featured women leaders across the ASEAN region who shared their experiences in business management and how women can be key agents in agriculture, nutrition, and rural development.
In her opening message, Monette Iturralde-Hamlin, Chairwoman of Women's Business Council Philippines and President and Founder of TeamAsia, said, "By putting the spotlight on agribusiness, we are sending out a very strong signal on the vital role of women in food security as well as nation building."
DTI Undersecretary Blesila A. Lantayona and Lenny Rosalin, Indonesia's Deputy Minister for Gender Equality, Ministry of Women Empowerment and Child Protection, keynoted the kick-off event.
She said, "While women appear to be closing the gender gap in several fields…, they continue to be mostly invisible and undervalued in one of the Philippines' economic sectors, which is agriculture."
Usec Lantayona added that "better representation of women in agriculture means more than just an increase in the amount of food produced by women-owned or women-operated farms and lands; it means expanded opportunities for today's women agriculturists to access finance and grow their operations and assume and perform leadership roles that may help ensure the food security of our nation."
For her part, Deputy Minister Rosalin shared the programs of the Indonesian government. She said the government is doing all of this because almost half of Indonesia's population, or about 135 million, are women, most of whom are at the productive age.
She pointed out that "Once we improve them, then the multiplier impact to the whole economy will be improved too."
An all-women panel also discussed the trends and issues women agribusiness leaders face today. They also drew attention to initiatives that maximize resources to facilitate national and regional economic recovery in the Philippines and Indonesia. The panelists were Ana Margarita Hontiveros-Malvar, Senior Advisor for Agripreneurship and Mindanao Program Head, Go Negosyo; Atty. Dulce Punzalan, World Bamboo Ambassador; Diah Yusuf, Chairwoman, Womenpreneurs Indonesia Networks (WIN); Intani Dewi of IPB University, Indonesia; and Jatu Barmawati, owner of AyoMart, Indonesia.
"We have witnessed how agriculture took the frontline during this global crisis. The necessity of producing and mobilizing food to feed the population has been a challenge that was highlighted with the limitations brought by the pandemic," said SEARCA Director Dr. Glenn B. Gregorio, who capped off the launch event.
He shared that SEARCA also gives priority to women as part of its focus on Gender and Youth Engagement in Agricultural and Rural Development in its efforts toward accelerating transformation through agricultural innovation (ATTAIN) from 2020 to 2025.
"Let us not discount the dynamic roles that women are taking as we navigate the evolving landscape of food security, nutrition and environment protection," Gregorio stressed.