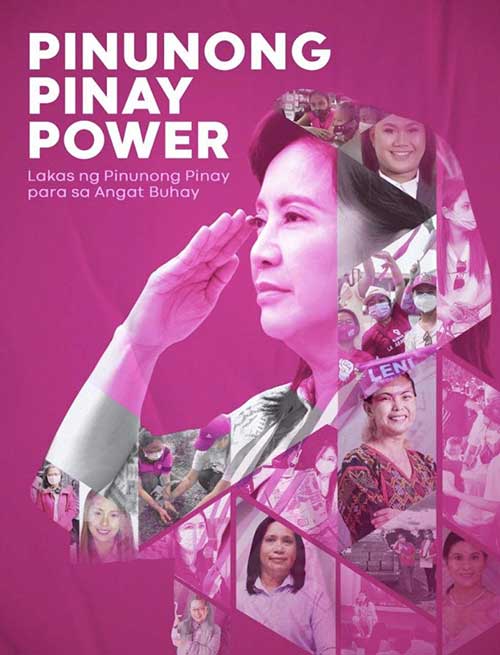 By Joseph B.A. Marzan
An organization of female leaders in local governments on Monday declared their opposition to the Commission on Elections' (COMELEC) continued removal of campaign posters displayed in private properties under its "Oplan Baklas" activities.
Members of Pinunong Pinay Power (PPP) echoed objections of the campaign team of Vice President Leni Robredo and Senator Kiko Pangilinan in a statement on Monday.
Campaign posters of Robredo and Pangilinan in private properties were heavily affected by reported takedowns of COMELEC offices in recent operations. The materials were dismantled or defiled for violating the prescribed size of posters.
Tabaco City, Albay Mayor Krisel Luistro, Naga City, Camarines Sur Vice Mayor Cecilia De Asis, and Virac, Catanduanes Vice Mayor Arlynn Arcilla struck the same tone on Oplan Baklas.
Luistro called it "an attack on free speech and property rights", while De Asis said that the COMELEC was "brushing aside citizens' rights to express political opinions", and Arcilla called it "a clear violation of the people's freedoms of expression and privacy."
Zambales Board Member and San Felipe town mayoralty candidate Carolyn Fariñas stated that the operation contradicts the COMELEC's mandate in ensuring free and peaceful elections.
Tuguegarao City Councilor Marjorie Martin said the indiscriminate removal of posters and painting over murals on private property "without due process of the law is clearly illegal and uncalled for."
"We recognize the power of COMELEC to regulate elections and to ensure that no one, especially those who have the power, money and influence, takes advantage of our electoral process. But such power does not involve the intrusion on private property and most especially the violation of every Filipino's freedom," Martin said.
"We call on the COMELEC, the Philippine National Police and other members of the Baklas Team to perform their tasks in accordance to law and respect of a Filipinos right to freedom of speech and expression," she added.
Robredo's spokesperson, Atty. Barry Gutierrez, last week raised the possibility of filing a case against the poll body for not abiding by its rules and other election laws.
COMELEC spokesperson James Jimenez had said that COMELEC commissioners are looking into the issue and that the body has modified its rules in the past.
PPP is a broad-based organization of duly elected female local government officials from Luzon, Visayas, and Mindanao, who have endorsed Robredo in the 2022 presidential elections.
Included in this group are councilors Candice Tupas (Iloilo City), Ikkah Cabana (Leon), Rowena Silvederio (Santa Barbara), and Gerrylin Camposagrado (Tigbauan), among other local elected leaders in the city and province of Iloilo and the Western Visayas region.