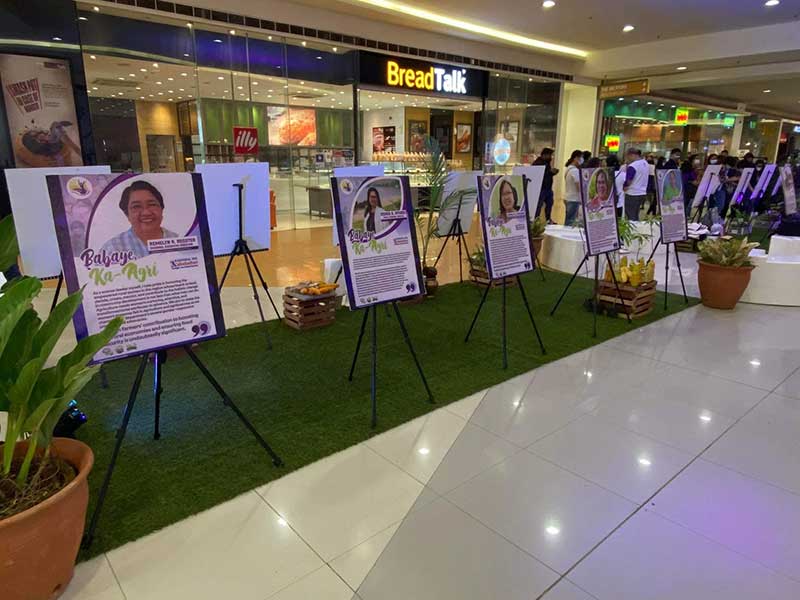 By Joseph B.A. Marzan
The Department of Agriculture-Region 6 (DA-6) ushered in the celebration of the National Women's Month with an exhibit featuring inspiring women in Western Visayas' agricultural sector at SM City Iloilo on Tuesday, March 1.
Themed "Babaye, Ka-Agri," the exhibit includes female officials of the DA-6 and the regional offices of the department's attached agencies, as well as recent annual awardees of the Outstanding Rural Women in Western Visayas.
Freebies from farms across the region, which include vegetable seeds, planting materials, fingerlings, information, education, and communication materials, and other freebies are being given away by the DA-6 and its attached agencies.
The launch was attended by DA-6 officials and employees, as well as female farmers, entrepreneurs, as well as Outstanding Rural Women awardees.
DA-6 Regional Executive Director Remelyn Recoter said that the agency seeks to recognize the efforts and contributions of rural women in the agriculture and fisheries sector.
Based on the DA-6's latest data, there are about 382,052 rural women or 45.22 percent of the 831,921 total encoded under their Farmers and Fishers Registry System.
But Recoter said the data is bound to change as the DA-6 continues to register more fishers and farmers into their system.
"The role of women in terms of agriculture and fisheries is huge in terms of employment generation. Many of the women who came here today are entrepreneurs, so they can generate employment within their community, as well as contribute to the economy in their areas and ultimately to local food security," Recoter said during the launch.
She said that as part of the agency's allocation of their 5-percent Gender and Development (GAD) under Republic Act No. 9710, the DA-6 supports rural women's organizations catered to agricultural projects and programs, including in agribusiness as well as production and post-harvest support.
Recoter also addressed the challenge of the aging population among farmers and fishers, citing their current efforts for youth engagement.
"The average age [of farmers] is at 57 [years old], and that is why other than the women engagement, we also have the youth engagement as one of the strategies of the One DA reform agenda to transform Philippine agriculture," she said.
The exhibit will run at the SM City Iloilo's North Wing until March 6, and the DA-6 will also have other activities this March as part of the Women's Month celebration, including technology trainings for farmers and fishers, and gender and development trainings for newer employees.