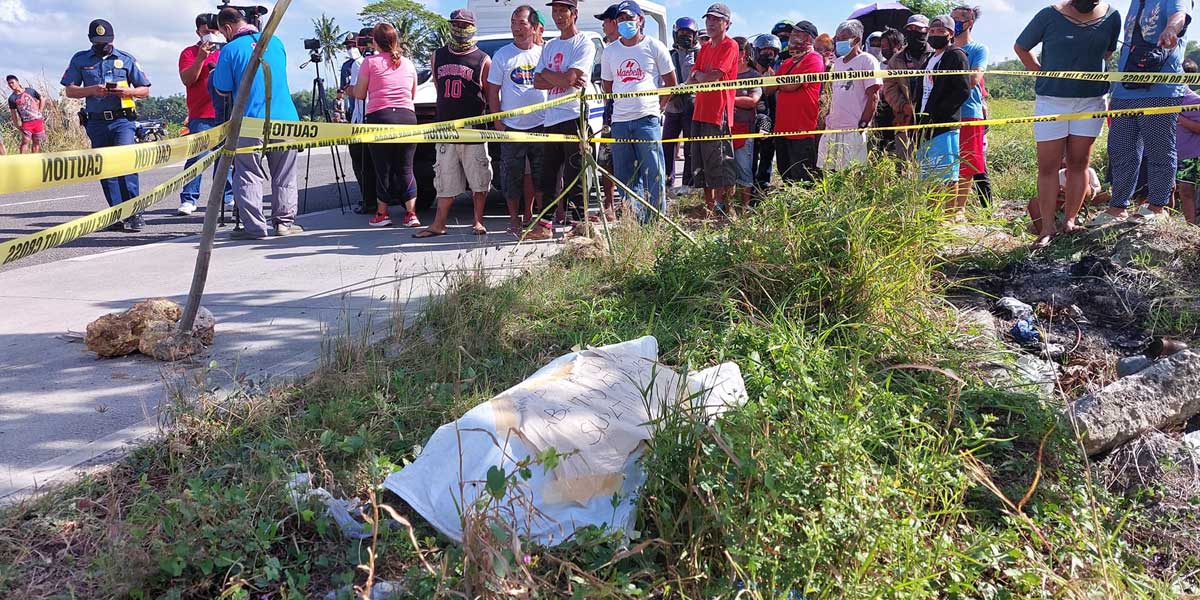 By Jennifer P. Rendon
Police are still facing a blank wall on the possible motive behind the killing of a 41-year-old woman whose body was found in New Lucena, Iloilo morning of March 2, 2022.
The body of Jonalyn Sucaldito, a resident of Barangay Nabitasan, Pototan, was stuffed inside a sack and was thrown at a roadside near a ricefield in Barangay Pasil, New Luccena.
A paper with the words "HAYOP!!! KA JOVAN ABANTAO AT ALYAS SUPAT!!!" (You are animals Jovan Abantao and alias Supat) was plastered on the sack.
An ambulant bread vendor found the sack around 6:50 a.m. Wednesday and reported it to barangay tanod Jerry Suarez
Lieutenant Jerson Baldevia, New Lucena police chief, said their initial investigation showed that the woman suffered two gunshot injuries – one on her nose and the other on her forehead.
"Our investigators didn't see any superficial injuries that would suggest that she was stabbed," he said.
A defense wound was also noted on her arm.
When members of the scene of the crime operation (SOCO) team checked the body, they found a sling bag containing identification cards, a receipt from Palawan pawnshop, cigarettes, and two sachets of suspected shabu.
Baldevia said they have yet to establish the possible motive for Sucaldito's death.
He claimed that investigators have yet to rule if it has something to do with illegal drugs, despite sachets of suspected shabu found in her sling bag.
NOT ON WATCHLIST
The local police and even the Philippine Drug Enforcement Agency 6 (PDEA-6) claimed that Sucaldito was not on their watchlist of suspected illegal drug personalities.
She also had no criminal record with the police.
Baldevia said the woman was an ambulant vendor selling frozen foods, dried fish, and fruits, among others.
Sucaldito's cousins claimed to have last seen her alive evening of Feb 28.
She has four children and had been living with her partner.
ABANTAO LINK
Police are also looking at Sucaldito's connection with Jovan Abantao and alias Supat.
Jovan Abantao, whose real name is Jovern Abantao, is the leader of the Abantao drug group, which has been making a name in the illegal drug business in Iloilo, as those who were previously arrested with big volume of drugs have links to the group.
Jovern, Bernie and another brother are all detained at the New Bilibid Prison.
Jovern was also the same inmate who allegedly mobilized drug pushers who were caught with P7.4 million worth of illegal drugs in an operation in the city and province of Iloilo on Feb. 3, 2020.
Abantao was arrested in 2016 for an illegal drug offense.
For a while, his operation was cut short.
But he failed a surprise drug test at the BJMP – District Jail in Barangay Nanga, Pototan, Iloilo almost three years ago.