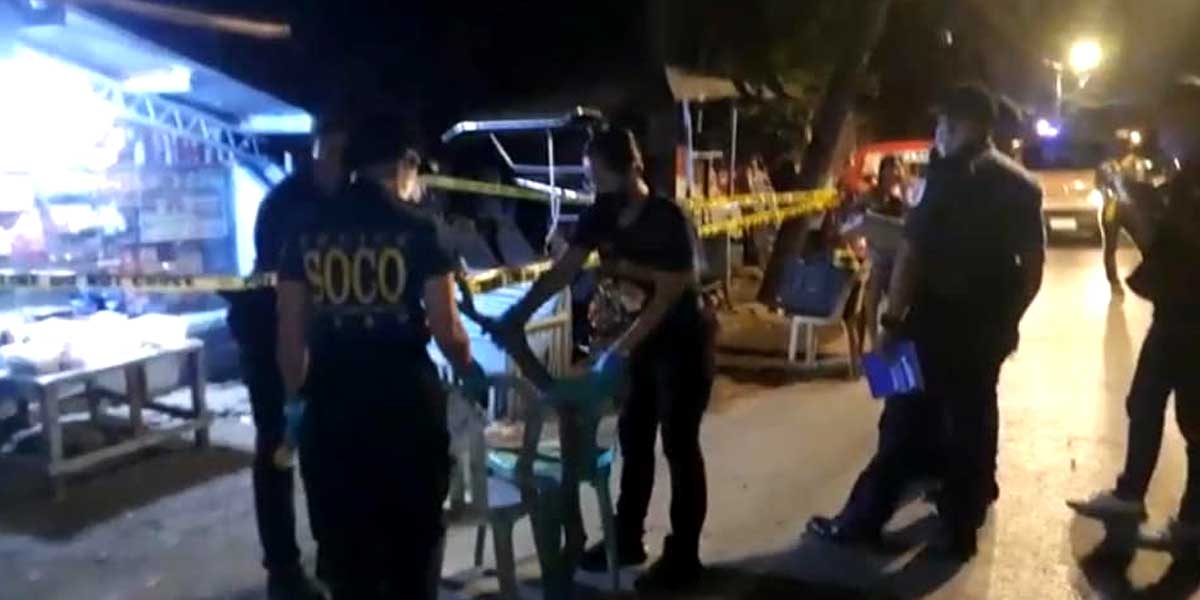 By Jennifer P. Rendon
Another person was killed by riding-in-tandem gunmen early morning of Feb 12, 2022 in Arevalo, Iloilo.
Except for her gender, 41-year-old Valerie Abantao fit the bill of the usual summary execution targets: she was a high-value individual (HVI) drug personality and a convicted drug peddler who was released after entering a plea-bargaining agreement.
Abantao was inside her neighborhood sundry or sari-sari store with her two young grandchildren when the incident happened.
Bingbing, the victim's sister-in-law, said Abantao was on her mobile phone when the killers gunned her down.
The two motorcycle-riding suspects (MRS) allegedly came from Molo district.
When they stopped in front of Abantao's store, the back rider alighted and shot the victim four times.
Two bullets hit between her eyes and the other two penetrated her chest.
The victim's youngest grandchild was lying on her lap when she was shot.
She was rushed to Western Visayas Medical Center where she was declared dead on arrival.
POSSIBLE MOTIVES
Major Chen Tañagras, Iloilo City Police Station 6 chief, said they are entertaining several angles in the incident.
It's worthy to note that Abantao is the wife of Jovern Abantao alias Jovan, leader of the alleged Abantao drug group.
Jovern and his two brothers are all detained at the New Bilibid Prison in Muntinlupa, Metro Manila.
Valerie Abantao was arrested in a drug-related case in 2017 but was released two years later after entering into a plea-bargaining agreement.
Nothing was heard from her until December 2021 when she put up a store at Barangay Calaparan, Arevalo.
But Tañagras said they have not monitored that she went back to drug peddling.
"However, that's still an angle that we are looking into," she said.
There is also the issue on "third party."
While Jovern married Valerie, it appeared that he married two other women.
Valerie was allegedly the second he wed. They have one child. Valerie had two other children from a previous marriage.
There were reports that one of the "wives" felt threatened and might have taken matters into her own hands.
But Tañagras said it's something that they must dig deeper into.
A reliable source said, though, that the third party could be about Valerie having a new relationship that might have irked the detained Jovern.
Other angle was about Valerie getting into debts with at least four loan sharks to put up her store.
ABANTAO GROUP
Last year, most of the big drug hauls that police made were said to be connected to the Abantao Group.
Jovern was also the same inmate who allegedly mobilized drug pushers who were caught with P7.4 million of illegal drugs in an operation in the city and province of Iloilo on Feb. 3, 2020.
The group allegedly arranged the transaction with the suppliers.
The items were shipped through roll on-roll off (Ro-Ro) cargo ships and were dropped at Mohon Transport Terminal in Arevalo, Iloilo City.
The local PNP has earlier said that they are validating the clout of the Abantao group, which the suspects are affiliated to.
The PNP said they may have been part of either the Odicta or Prevendido drug groups, the two main drug groups that used to operate in Iloilo.
Abantao was arrested in 2016 for an illegal drug offense.
For a while, his operation was cut short.
But during a surprise drug test at BJMP-District Jail in Barangay Nanga, Pototan, Iloilo almost three years, Jovern was found positive for drugs.
Another Abantao relative was also arrested in a buy-bust operation on July 30, 2019 in Arevalo, Iloilo City.
Warren Abantao, 25, of Zone 12, Calaparan, Arevalo, was nabbed after selling a sachet of suspected shabu for P5,500.
Operatives of the PNP Regional Drug Enforcement Unit also recovered from him 22 sachets of suspected shabu.
RDEU classified Warren, an Oplan Tokhang surrenderer, as a high value target individual.