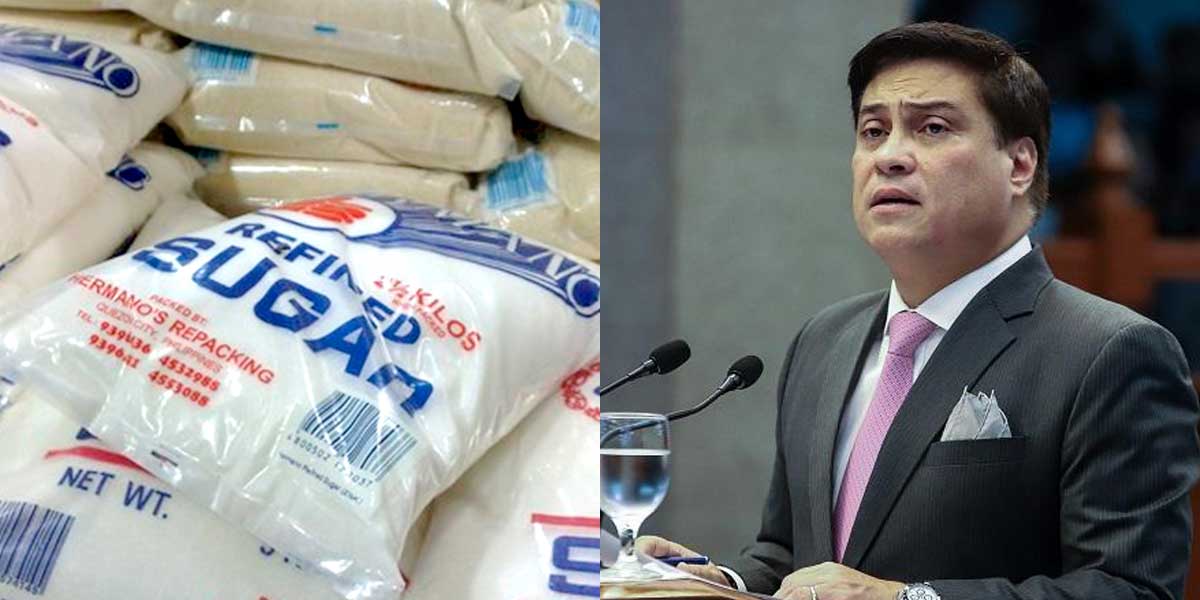 By Francis Allan L. Angelo
Senate President Juan Miguel F. Zubiri on Monday called for an investigation into the Sugar Regulatory Administration's (SRA) "unauthorized release" of Sugar Order (SO) No. 4, which set an import quota for 300,000 metric tons (MT) of sugar into the country.
Sugar Order No. 4 was released on August 10, 2022 without the authority of President Ferdinand "Bongbong" Marcos Jr., concurrent head of the Department of Agriculture (DA).
"The unauthorized release of Sugar Order No. 4 is absolutely reprehensible and must be investigated," said Zubiri in a privilege speech.
He also questioned the need to import another 300,000 metric tons of sugar, when internal documents from the SRA show that there are still about 127,000 metric tons of imported sugar languishing in warehouses.
Zubiri prefaced his discussion of SO No. 4 by detailing the implementation of a similar order released in February 2022.
SO No. 3 set an import quota for 200,000 metric tons of sugar, exclusively for industrial users.
The order, Zubiri noted, was released right in the middle of harvest season.
The order was brought to court by various stakeholders in the sugar industry, and the Regional Trial Courts of Sagay City and Himamaylan City sided with the stakeholders.
Both these courts issued temporary restraining orders and writs of preliminary injunction against the order.
But sugar importation continued.
"They waited for an opinion from another government agency that said that the TRO was only for Negros Occidental," Zubiri said.
"But there are many intelligent lawyers here that know that when a court releases a TRO, that should be for the whole country. Because the question of the court was to explain the importation for the whole country."
Despite continued importation under SO No. 3, Zubiri revealed that only 45,680 metric tons of sugar have been withdrawn, out of the 200,000 metric tons set by the order.
Citing internal documents from the SRA, Zubiri said that 172,016 metric tons of sugar have entered the country under SO No. 3.
He noted that 27,000 MT are still on the way in, leaving a balance of 126,336 MT still in local warehouses.
"Meron pa pong 126,336 metric tons in bodegas, in 40-foot containers all over Metro Manila and with the other traders. Hindi pa nila inilalabas. Bakit po nila hindi inilalabas itong asukal? Are they creating an artificial shortage? Ang masama nito, gusto pa nilang magpasok, mag-import pa. They want to continue importing when we still have stocks that they haven't released?" he added.
Zubiri also alluded to alleged corruption in sugar importation, particularly price padding or patong.
"We were not born yesterday. We know importation is a lucrative business. [Patong] can go as low as 50 pesos per bag to a high of 100 pesos per bag," he said.
"Let me put it in proper context. Three hundred metric tons of sugar is six million bags. At 50 pesos, that is 300 million pesos. At 100 pesos, that is an income of 600 million pesos."
Zubiri then went on to commend the resignation of Usec. Leocadio Sebastian and Atty. Roland Beltran, and called for the resignation of the rest of the officials involved in SO No. 4.
"Bakit hindi pa po sila nagreresign hanggang ngayon? Particularly the head of the SRA who has been embroiled in so many controversies, and yet, kapit-tuko pa siya diyan sa pwesto na 'yan. If we want an impartial investigation, they should resign immediately."
He also called for a Blue Ribbon investigation into the matter.
"At the very least, there's usurpation of authority. At the very least, there's a violation of the Antigraft and Corrupt Practices Act."
"Nagpapasalamat ako sa Pangulo na hindi niya tinuloy ang Sugar Order No. 4.
Now let us investigate this, and the motives behind this."
Zubiri emphasized that about six million Filipinos—from sugar farmers to laborers to dependents—are reliant on the industry.
"Let us find ways to build a better, more responsive, and more inclusive SRA— hindi lang para sa sugar sector kundi para sa bawat Pilipino na araw-araw gumagamit ng asukal."