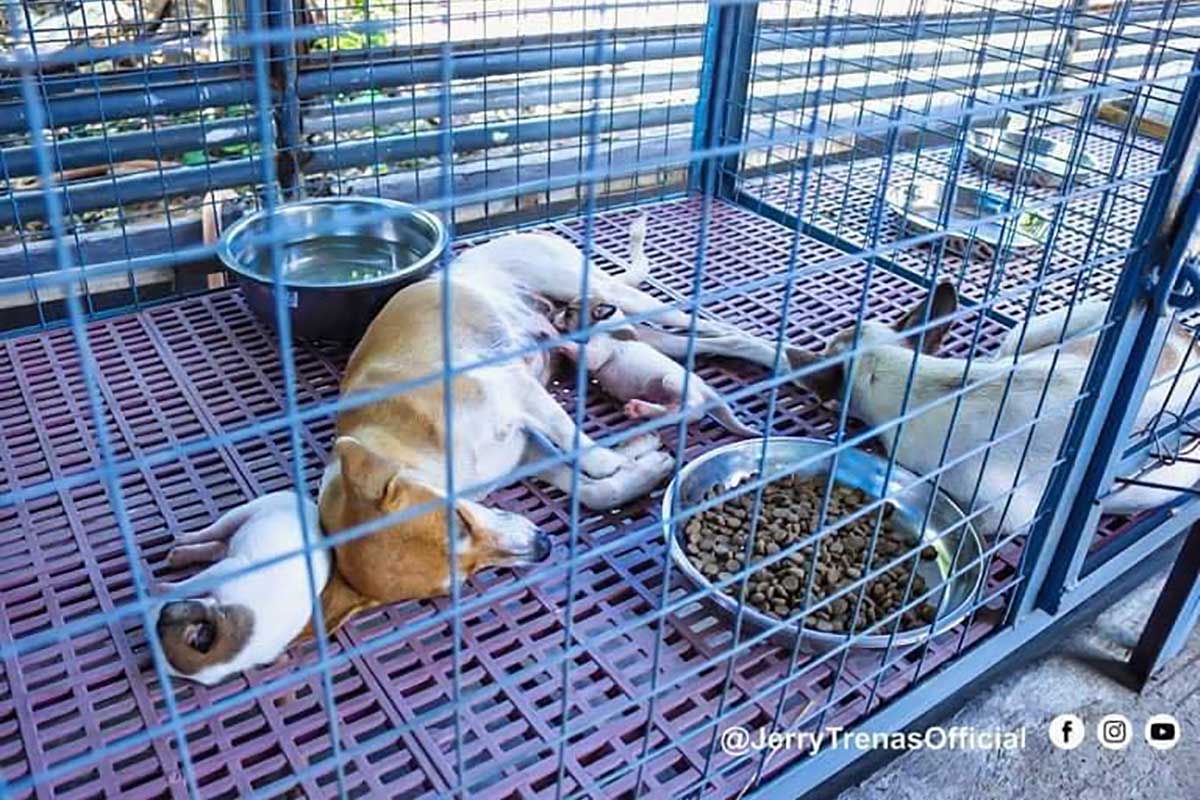 By Joseph B.A. Marzan
Iloilo City Mayor Jerry Treñas on Saturday called for an investigation into the alleged euthanasia or mercy killing of dogs and puppies caught by the City Veterinarian's Office after a social media post on one of the dogs that was allegedly killed went viral.
In a statement, Treñas said he already asked the City Legal Office to conduct the investigation.
This, after a radio station reported that the city government had killed 11 stray dogs recently in Brgy. Navais in Mandurriao district, outside the Iloilo City Dog Pound and Animal Shelter in Brgy. Calajunan in the same district.
The report, which was aired on Saturday, cited City Veterinarian Dr. Tomas Forteza to have confirmed the animal killings.
Forteza took responsibility and confirmed the information in an interview with Bombo Radyo Iloilo on Saturday but clarified that this was not under the supervision of the City Pound.
He explained that this was out of an emergency request from the barangay even as he cited cases of rabies infections in the nearby Brgy. Old Airport.
He also mentioned that the barangay captain told him that none of the dogs should be spared.
One of the euthanized dogs was owned by a complainant's relative, who then complained to a friend from Metro Manila, who then took the matter to social media.
"The [barangay] complained many times that the owners haven't been identified, and there have been conflicts arising out of fears that [the dogs] may enter residences. We assessed and I said that their apprehension was real. We saw that there were lots of stray dogs that were just ignored, so we decided together with the barangay captain," Forteza said.
He likewise explained that the dogs needed to be put to sleep citing the National Rabies Prevention and Control Program (NRPCP).
The NRPCP's Rabies Manual issued in 2019 and posted on the Department of Health's website, however, recommends the impoundment of stray dogs.
The manual likewise refers to Section 7 of Republic Act No. 9482 (Anti-Rabies Act of 2007) which provides local governments' responsibility to impound stray dogs.
"Once there are fears of aggressive dogs, we need to treat that differently, and refer to a rabies emergency. In a rabies emergency, all [dogs] caught are put to sleep, because we can no longer have them adopted due to possible carrying of rabies. That is part of the protocol of the National Rabies Control Program," Forteza added.
But Forteza defended the action, saying that this was to protect the public's health against unwarranted animal bites, citing that there have already been 2 deaths this year due to rabies.
"My thought was that if I didn't act on it, and there was another positive [patient] bitten, that would be on my conscience. I am mandated by law to protect against rabies. I pushed through with that. I understand that there are negative ideas with the terms 'put to sleep' and 'killed', but they have to understand that part of our role as City Veterinarian is to protect them, because human life is more important," he said.
"If they are complaining about mercy killing, how could we make the city safe, when no one is getting these [dogs] and adopting them? They will just keep complaining. We need to understand the public health aspect of this," he added.
The volunteer group Strategic Power for Animal Respondents (SPAR) on Friday posted the killing of the dog, alleging that this was in violation of Rep. Act No. 8485 (Animal Welfare Act of 1998).
Treñas in a statement previously belied the killing, citing that the dog in the said post was never even in the City Pound's records.
"There were only three dogs logged on the same day upon receipt after they were taken from Iloilo Business Park area. The owner checked the dog twice at the City Pound but it was nowhere to be found since there was no turnover of the same that took place," the mayor said in his statement.
The mayor has previously stated that the dog pound and the City Veterinarian's Office are observing a 'no-kill policy'.
SPAR has stated on Saturday that the dog owner will likewise meet with the office and barangay officials tomorrow, July 26.