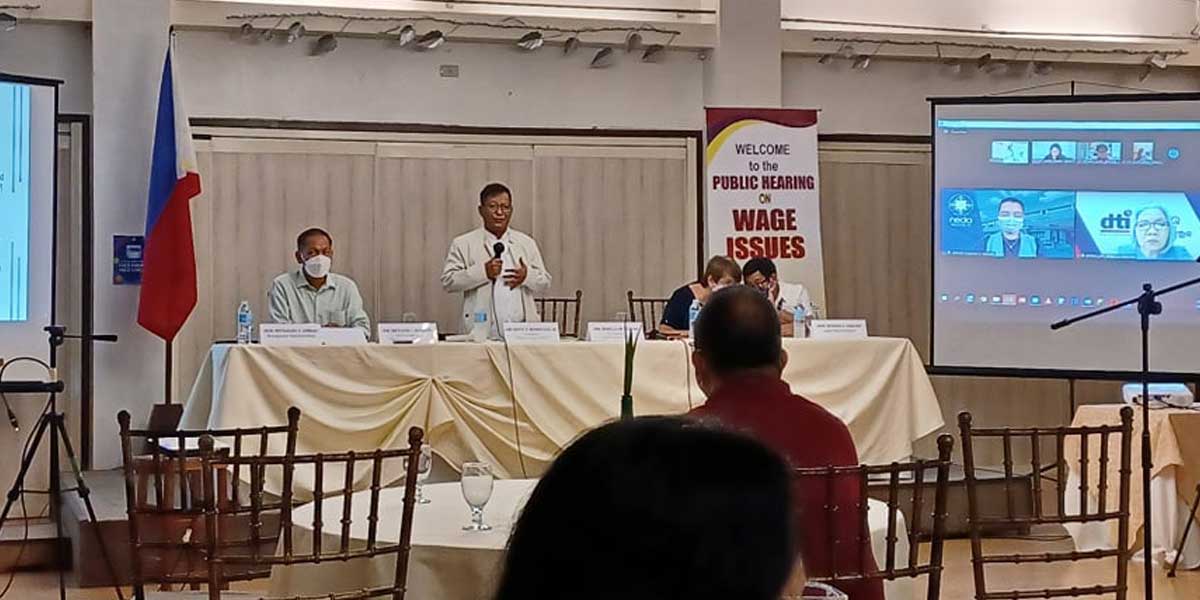 By Joseph B.A. Marzan
A labor group on Monday slammed the business groups' opposition to the proposed increase in the regional minimum wage during a Regional Tripartite Wages and Productivity Board-Region 6 (RTWPB-6) hearing in Iloilo City.
Grid Alila of the Bukluran ng Manggagawa ng Pilipino (BMP) said that the 3 percent increase suggested by local business groups in lieu of the P750 proposed minimum wage was too low to answer for the workers' current needs.
"We think that 3 percent is too low and that this will not have an impact especially if we are considering the plight of our workers. At the same time, if you are going to look at the (sic) increase in gas price [and] the poverty line, there is almost a 30 percent gas increase and a 20 percent discrepancy between the minimum wage and the suggested poverty line," said Alila.
"We would like to put forward our opinion to the opposition: Where is the decency in that 3 percent increase?" he exclaimed.
Alila's statement came after business groups lodged their opposition to the proposed increase filed by FISHTA Union of Employees for Reforms through Solidarity Actions (FUERSA).
BMP is one of the groups supporting the petition and is also lobbying for a P750 increase in other regions across the country.
Businesses that opposed the minimum wage increase all struck the same tone – that the proposed hikes were untimely and excessive.
Atty. Eunice Guadalope, Executive Director of the Iloilo Business Club (IBC), reiterated their April 1 position paper, citing the ongoing pandemic as well as many businesses in the Iloilo City being Micro, Small, and Medium Enterprises (MSMEs).
The position paper was also signed by the Federation of Filipino-Chinese Chamber of Commerce and Industry of Panay, Filipino-Chinese Chamber of Commerce of Iloilo, the Iloilo Economic Development Foundation, Philippine Retailers Association, Iloilo Multi-Sectoral Business Organization, Iloilo Hotel, Restaurants and Resorts Association, and the Iloilo Bakers Association.
The paper noted that a 90 to 142 percent increase from the current minimum wage in Western Visayas would "cripple, if not decimate, the operations of struggling local businesses in Iloilo City and the rest of the region."
"Iloilo City only recently de-escalated to Alert Level 1 status. Local businesses, most of which are [MSMEs], are still recovering from the pandemic and are now just starting to recoup their losses," said Guadalope during the hearing.
"They are also grappling with the price increase of fuel, and also given the inflation rate which has increased to 4 percent, we think that it is very untimely for a minimum wage increase of P750 across the board," she added.
Atty. Jan Philippe Yap, representing a poultry supply company based in Roxas City, reiterated the IBC's stand stating that inflation was already affecting their industry when it comes to raw products.
"This inflation not only affects the laborers, but it also affects the employers because we also need to produce raw materials like in our case, which is poultry. Petroleum prices especially affects our business also because we need petroleum to produce and deliver products. We believe that if [wage increase] would be allowed, it would result in further inflation because the business would then need to increase prices in order to [adhere to] this monumental increase in salary," said Yap.
Both Guadalope and Yap suggested that the groups they represent may be amendable to a 3 percent wage increase, amounting between P10 and P12.
But Atty. Jacqueline Yao of the One Visayas Fish Network, Inc., a group of commercial fishing operators in the region, fully opposed the petition, without any alternative to the wage increase.
Aside from the pandemic and the increase in fuel prices, Yao also cited the closed fishing season between November and February and the importation of fish, which affected fish operators' income.
She instead suggested that employees and employers discuss productivity incentives, which should be in line with the operators' respective productivity and income.
"For this matter, and in light of these ongoing matters, we respectfully oppose the petition, and recommend zero increase on the minimum wage rate. As a counter-proposal, we invite the employees to have a dialogue with their employers with respect to coming up with productivity incentives commensurate to the productivity and the business income of their employers," she said.
There was one group, however, the Capiz Filamer Christian University Union, which expressed support to the petition.
Union president Darlene Zurriga said in a Zoom chat that their stand is due to increase in prices of commodities, even as they called for government subsidies.
RTWPB-6 chairperson and Department of Labor and Employment-Region 6 (DOLE-6) Regional Director Sixto Rodriguez said that they may conditionally grant the petition, at a rate lower than what was asked for.
He cited one employer in their first hearing in Bacolod City last April 8 who proposed a P55 to P150 increase, and an Antique employer suggesting 25 to 30 percent increase.
"I cannot, for the moment, say that we would totally deny the petition, but since, there are statements that not all employers are totally opposed to the petition. In Negros [Occidental], there was a proposal [for an increase of P55 to P150]. Here, we have 20 to 30 percent increase. Not all employers are opposed to the petition," Rodriguez said.
"The board can either deny or grant the petition. Should we deny that, it would be a zero wage increase, but should we conditionally grant it, we would arrive at a certain reasonable amount," he added.
The FUERSA petition, supported mainly by its national federation Solidarity of Unions in the Philippines for Empowerment and Reforms (SUPER), was filed on March 24 with the RTWPB-6.
The current wage scheme was implemented by Wage Order No. RBVI-25 issued on November 26, 2019, with wages of P395 for non-agricultural establishments having more than 10 workers, P310 for non-agricultural establishments having less than 10 workers, and P315 for agricultural workers.