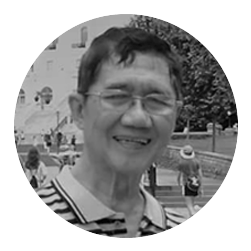 By Herbert Vego
I recently paid a visit to an ophthalmologist for check-up. My eyes, I complained, had gone dysfunctional. I could not read and write for an hour without straining them. Without my eyeglasses, I could no longer recognize familiar people.
She seemed surprised to know that I had not stopped writing for a living at age 71.
"It's not just for the money," I stressed. "Writing is my way of fighting memory loss that could worsen into dementia. I tend to be forgetful now."
She smiled, short of confirming my idea.
I wished she had read a previous column of mine, where I had written about the Borje brothers who never stopped writing until the inevitable end.
I told her that I had gone to another ophthalmologist before. He had prescribed me a medicine for the same problem but to no avail.
She had bad news – that cataract was starting to obstruct my right eye. The good news, however, was that a medicine could still halt its progression. She prescribed me one and wished me luck.
Writing for a living has been my way of life for 51 years since the year 1970. It has enabled me to send my son to a nursing school. He is now a nurse in New York City.
If I were to live my life over, I would probably opt for a more financially rewarding career without giving up writing. I know of lawyers and doctors who also write.
But why should I regret having chosen journalism when it has always been my destiny? I guess every man is what he is because of past circumstances.
In my case, it all began in my 6th grade when my English teacher rated my themes more or less "90".
In my third year at the Antique National School, I took and passed the qualifying examination for staff members of the high school organ, The Madia-as, bagging the position of news editor. From then on, I set my eyes on a writing career, which I thought was, and still is, honorable. Not everybody could write for a living.
I remember when my late dad asked me to take up Veterinary Medicine in college because there was great demand for vets in government. I enrolled for the course at the University of the Philippines, Iloilo College (UPIC).
But that did not prevent me from engaging in a writing hobby by having my name published in a pen-pal column of the Weekly Nation (now defunct). A total of 146 pen pals responded. I initially carried on exchanging letters with all of them until I had no choice but retain only the best communicators in English.
Incidentally, to the present generation, pen-pal writing sounds Greek. But it was a humanly interesting experience I would like to share in a future column.
My "success" as a pen pal motivated me to shift to an AB-Journalism course at Manuel L. Quezon University in Quiapo, Manila.
After graduation, I handled various jobs in Metro Manila — as ghostwriter for an entertainment columnist, press relations officer for movie companies, editor of an entertainment tabloid, stage show producer and freelance journalist.
I came to Iloilo City in 1981 to edit a new weekly tabloid, which has grown into a daily.
The transition from typewriter to computer has not been an easy learning experience for an old wordsmith. But having overcome the difficulty, I look forward to riding further the technology wave.
Admittedly, however, making a living is no walk in the park for a journalist. But for those of us who simply love the job, survival is good enough.
You must be familiar with the saying that those who can write, do; those who can't, teach.
I think though that that's unfair for teachers who can write. Had I earned an MA or PhD degree, I would have taught for a living, too.
Of course, there are many others like us with the ability to create new realities out of thin air — unheralded painters, singers, actors and other talents who thrive on the need to express themselves even in thankless jobs.
Making a living out of one's ability is a form of self-expression, which is the stuff that human civilization is made of.  There is dignity in producing something that others consume.
—0—
MORE POWER'S QUICK RESPONSE TEAM (QRT)
RAIN or shine, it takes from 10 to 20 minutes for linemen of MORE Power to respond to emergency calls during power outages anywhere in Iloilo City at any time of night or day.
QRT for short, the team relies on enhanced mobility with the use of motorbikes, mobile units and laddered trucks responding to brownouts or other system faults disrupting continuous power supply.
In circumstances and accidents requiring replacement of poles and crossarms, it is no longer necessary to switch off the affected feeders, according to Bailey del Castillo, deputy head of network operations.
The company's linemen have undergone rigorous training aimed at mastering the technique known as "live line works".
The job is risky, since in involves connecting 13,200 volts of primary lines to transformers.
"Even if the work takes longer time to finish for safety reasons," said MORE Power spokesman Jonathan Cabrera, "the customers are happy because they are not affected."
He added that the uninterrupted power supply – unless due to accidents –is just another innovation conceptualized by the company's president, Roel Z. Castro.
Perhaps of greater value to customers is the implementation of the biggest cut in their bills starting in the billing month of July 2021. Residential rate has gone down by more than 30% or from P10 to P6.45 per kilowatt-hour – meaning, minus P3.15.
Castro made it possible by constructing a switching station connected directly to the transmission lines of the National Grid Corporation of the Philippines (NGCP).
Then, too, more new customers get connected in response to footwork by a team led by customer service associate Anthony David Jaranilla. They go out into remote barangays to establish new power lines and personally convince the residents to get connected.
As a result, the roster of legitimate power users has grown from 62,000 in February 2020 to almost 88,000 today.
More power to MORE Power!