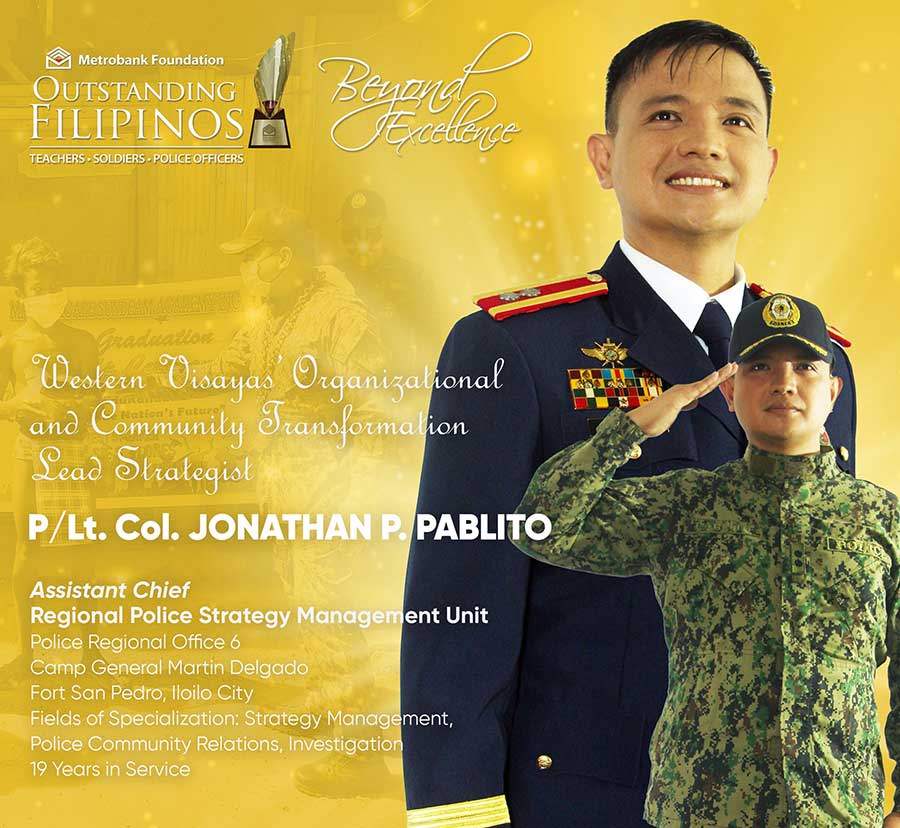 By Jennifer P. Rendon 
For some, he might have been known as one of better-looking members of the Western Visayas police force.
But there's more to Police Lieutenant Colonel Jonathan Pablito than just good looks.
Recently, the 2021 Metrobank Foundation hailed Pablito as one of the 2021 Metrobank Foundation Outstanding Filipinos for "epitomizing excellence in their fields."
This year's awardees include four teachers, three soldiers, and three police officers, including Pablito.
He is currently the assistant chief of the Police Regional Office (PRO)-6's Regional Police Strategy Management Unit based in Camp Martin Delgado, Iloilo City.
Pablito used to be the chief of the Iloilo City Police Station 1 and the Malay Police Station in Aklan province.
Pablito, whom Metrobank Foundation dubbed as Western Visayas' Organizational and Community Transformation Lead Strategist, was chosen for his "expertise in institutional reforms and strategic communication."
His reforms and actions served as critical foundations when he took on the massive responsibility of ensuring institutional buy-in and ownership on the PNP's Integrated Transformation Program, dubbed as P.A.T.R.O.L. Plan 2030 or "Peace and Order Agenda for Transformation and the upholding of the Rule of Law."
As chief of Strategic Communication, "he took the lead in developing, implementing, and monitoring the program's communication plan, thereby promoting understanding as well as inspiring support among PNP personnel and community stakeholders."
Metrobank Foundation also took into account Pablito's role in initiating stakeholder-oriented interventions when he took the helm of Iloilo City Proper and Malay-Boracay police stations which steered his units in drastically reducing crime volume while fostering community engagements that proved effective for peace and order management during critical incidents.
The 10 awardees were formally feted during a virtual ceremony last Friday.
Each awardee will receive a cash prize of P1 million, a golden medallion, and "The Flame" trophy.
They join the ranks of 675 awardees that Metrobank honored in the last 36 years.