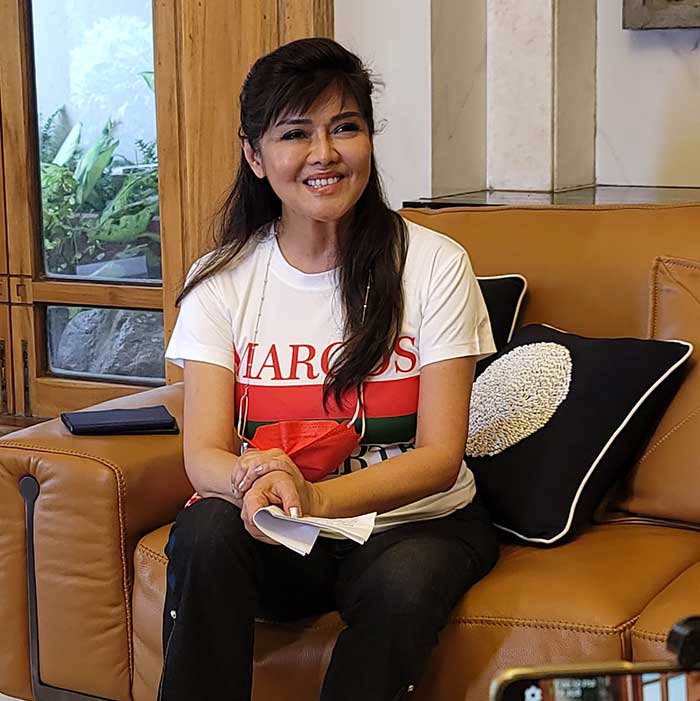 By Francis Allan L. Angelo
Senator Imee Marcos admits that they always had a hard time getting support in Iloilo and Western Visayas, particularly when her brother, Ferdinand Jr., ran for vice president in 2016.
The lady senator said she has no illusion of the possible results of the 2022 presidential elections for her brother in this part of the country.
Despite her brother's phenomenal numbers in poll surveys, including in Visayas where he leads with a significant margin as indicated by recent surveys, Imee said they continue to run scared, as advised by their father, the late president Ferdinand Sr.
She said their family is all over the country to campaign for Ferdinand Jr., an indication that they are not relying on the numbers and not resting on their laurels.
Imee said they almost lost hope when her brother was defeated in 2016, particularly in Iloilo and the whole of Region 6.
This is the reason why they are working overtime in the final 14 days of the campaign.
"We're running scared. My brother and his running-mate Mayor Sara Duterte, my son, and some of our family members are working hard in the last two weeks of the campaign," she added.
When asked about the possibility of talking to Iloilo City Mayor Jerry Treñas and Iloilo Gov. Arthur Defensor Jr., two ardent supporters of presidential bet and Vice President Leni Robredo, Senator Marcos said "it's too heavy" of a proposition.
"Mabigat na. Kasagsagan na ng eleksyon," she said in a press conference in Anilao, Iloilo Tuesday.
But she assured that regardless of political affiliations, their family will not take revenge on those who do not support Ferdinand Jr.
"There will be a time for talks. We are not a vindictive family. We never sought revenge. We never stay angry at people for long. We will strive to work with any party or politician," she said.
She also assured that they will not belittle Ilonggos despite political differences. She cited major projects for agriculture that her father Ferdinand Sr. brought to Iloilo like the Jalaur River Multipurpose Project Phase 1 which established irrigation systems in the province.
Imee said her father always regarded Iloilo as an agricultural powerhouse, thus he implemented projects that will boost farming and fishing.
The Marcoses do have the support of the Biron political clan in the 4th district of Iloilo headed by Dr. Ferjenel Biron who is running for congressman.
Dr. Biron is also the campaign manager of Ferdinand Jr. and even hosted the latter's proclamation rally in Barotac Nuevo in February 2022.