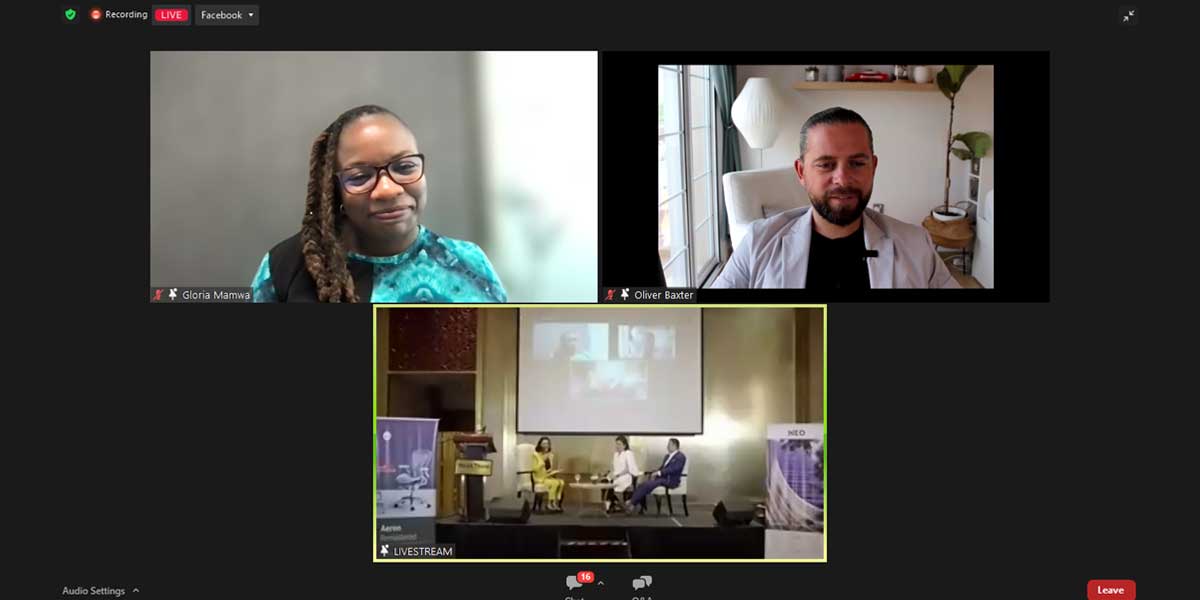 By Marjune N. Muzones
Real estate giant Colliers Philippines in partnership with MillerKnoll (formerly HermanMiller) and NEO conducted a webinar called "Better Together: Embracing Office Diversity, Equity, and Inclusion" on June 29, 2022, at Dusit Thani Hotel, Manila with simultaneous streaming via Zoom.
Experts were invited to share their insights on how to promote Diversity, Equity, and Inclusion (DE&I) in workplaces in the midst of the changing dynamics caused by the ongoing COVID-19 pandemic.
Oliver Baxter, Insight Programme Manager at MillerKnoll and based in Dubai, UAE, presented via Zoom how hybrid work strategies can encourage a more equitable and inclusive future through creating work environments that are adaptive, conducive, and works for everyone.
"The goal is really for corporate real estate and facilities teams to have a workplace strategy that at elevates the role of the workplace and that may be beyond the corporate office. And if we do this in conjunction with our friends in HR, then we could achieve new people-centered outcomes that we weren't really achieving in pre-pandemic times," he stated.
Baxter also said that hybrid workplace strategies give employees flexible choices on where they can productively do their work and at the same time, offer opportunities such as promoting equitable experiences and creating belonging through inclusive workplace designs, focusing not only on the workers but also the physical working environment itself.
"We need to get people the right tools and technologies regardless of where they're working and provide and empower them with the autonomy to choose where the best place is for them to work," he added.
Gloria Mamwa, Managing Director for Africa and the Middle East at Standard Chartered Bank also based in Dubai, UAE, joined virtually and shared her insights about why DE&I matters especially during these times and a call to action on how individuals can make a change in their respective organizations.
"I think we've got big strategies and big talk around diversity, equity, and inclusion. But we need to make it tangible enough for each one of us to make at least a commitment to do something toward driving the right behaviors and the right outcomes in our organizations and gender parity is just one of the diversity, equity, and inclusion issues issues that we need to focus on," Mamwa said.
After both presentations, the discussion panel was also joined by Cielo Narvaez, Country Operations Manager at Telstra Philippines, and Raymond Rufino, CEO of NEO. They discussed the present realities that organizations and employees face amid the pandemic in terms of remote and in-person work and how to adapt to the situation through hybrid work strategies.
"I think the pandemic has forced all companies to really reflect more deeply about the function, role and purpose of the office plays in their company… The reality is that as companies reflect on their physical space, it's also a reflection on the culture that they want to build for the office and the kind of interactions that they want," Rufino said.
Narvaez on the other hand talked about the importance of multi-functional spaces in enabling hybrid work set-ups, especially now that everyone is still adjusting to the new dynamics of work and how leaders in the business can push forward to make these concepts as the norm soon.
"As leaders, we have this platform and let's use it well. Let us be consistent in pushing for DE&I. It's our responsibility and our obligation to educate our colleagues and peers in the industry that we're at and so in our hopes that maybe 10 to 20 years from now, everything that we are talking about there that are all conceptual can actually become a reality," she said.
For a more comprehensive understanding of the topics discussed, access to the recorded webinar session is provided through the official Facebook page of Colliers Philippines. (https://www.facebook.com/colliersph/videos/5300762363299982)