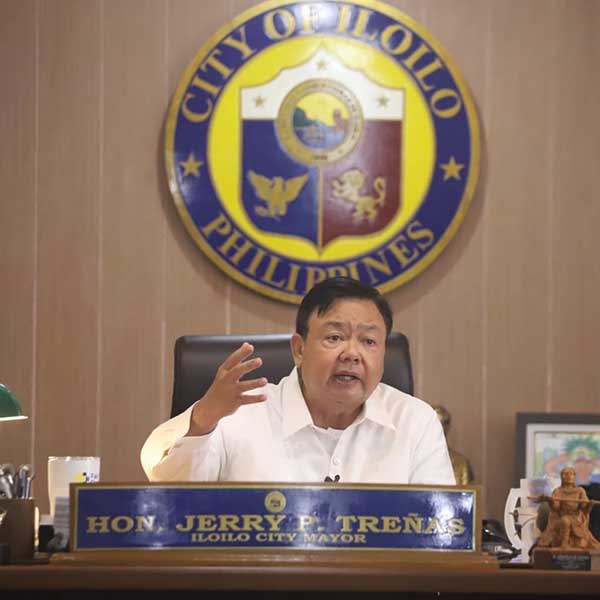 By Joseph B.A. Marzan
Iloilo City Mayor Jerry Treñas on Monday defended the procurement and donations of coronavirus disease 2019 (COVID-19) vaccines, saying that legal processes were observed.
Treñas issued the statement in response to criticisms that the city government had been putting its vaccine donations to other local government units (LGUs) ahead of inoculating city residents.
Isabela province and Candon City in Ilocos Sur recently requested vaccine donations from the Iloilo City government.
Data from the city government also indicated that it has donated 45,000 doses of AstraZeneca vaccines to the Iloilo and Guimaras provincial governments and the towns of Anilao, Balasan, Banate, Barotac Viejo, Cabatuan, Concepcion, Leganes, Leon, Oton, Pavia, Santa Barbara, and San Miguel all in Iloilo province.
In his first physical press conference in 2022, Treñas said the city government went through all processes and was authorized by the national government to procure its own vaccines.
He also cited the efforts of other organizations including the League of Cities of the Philippines (LCP) and League of Provinces of the Philippines (LPP).
Treñas also defended the move to use the Special Education Fund (SEF) to buy vaccines. The SEF is taken from the real property taxes collected by City Hall and should only be used for projects and programs related to education.
But the mayor said they were authorized to "divert" the SEF to vaccine procurement given the pandemic.
"At the height of COVID, all [local government units] were allowed to use the Special Education Fund to buy [COVID] vaccines and other consumables. (sic) Hospitals were flowing up, and there weren't vaccines available, that is why through the [LCP and LPP], we were allowed to buy AstraZeneca vaccines, which were the cheapest in the market," the mayor said.
He also recalled last year's string of tirades against national government officials as well as other entities for the slow delivery of COVID vaccines to the city and other places in the country.
"The city was forced to buy its own vaccines because the national government didn't give us any. At the time, they only gave to [National Capital Region], Cebu, and Davao. I was already lashing out against [Health Secretary Francisco] Duque, [then-presidential spokesperson Harry] Roque, and even OCTA [Research] who was dictating on the national government," he said.
Treñas revealed that delivery issues from overseas also snagged the transport of AstraZeneca doses to the city.
By the time that the AstraZeneca vaccines were being delivered to the city, it was already reaching its target population for herd immunity, which COVID-19 Focal Person Dr. Roland Jay Fortuna said is now at 124 percent.
"There were issues in India, where exportation of vaccines had been prohibited due to their own COVID surge. [AstraZeneca] then had to build another factory in Thailand, which also delayed manufacturing, and at the same time, we were deprioritized because they had to put Thailand first. At the time that our AstraZeneca vaccines were arriving, we had already been finishing up vaccinating our target population," Treñas explained.
The city government has received 183,300 AstraZeneca doses, with the latest batch on Dec 28, 2021.
The total amount of the delivered doses remains unknown due to a non-disclosure agreement signed between the British drugmaker and the city government.
The national government, through the Department of Health, provided Iloilo City with up to 1.093 million doses of COVID vaccines.
These include 411,198 doses of Pfizer for persons aged 12 years old and above, 338,520 doses of Sinovac, 246,320 doses of Moderna, 46,750 doses of Janssen, 40,060 doses of AstraZeneca, and 10,600 doses of Pfizer for minors aged 5 to 11 years old.
It also received 23,700 doses of AstraZeneca, 6,400 doses of Moderna, and 2,158 doses of Sinovac via donations from the private sector.
Currently, the city has a stock of 58,940 doses of AstraZeneca vaccines, 12,435 of Janssen, 147,310 of Moderna, 113,922 of Pfizer for adults, 5,420 of Pfizer for minors aged 5 to 11 years old, and 18,254 of Sinovac.
The city government is still set to receive 21,000 doses of Moderna vaccines next week, and 1,000 doses donated by BDO from their unused stock.