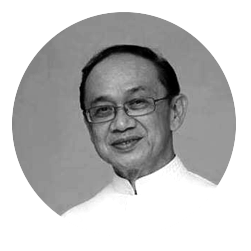 By Fr. Roy Cimagala
THAT'S what we are really meant for. That's what would bring us to the fullness of our humanity. That's what would make us God's image and likeness as he wants us to be. That's why loving God and everybody else in the way God loves everyone, is the greatest and the second greatest commandments God has for us.
This was said very clearly when someone asked Christ what God's greatest commandment was for us. (cfr. 22,34-40) Loving God and everybody else is the proper formula for our own development. To the extent that we are always thinking of God and of others, finding ways to love and serve them, we achieve our own fulfillment. That's when we would be on our way to our human and Christian maturity and perfection.
To be persons for God and for others is written in our nature. The structure and features of our life, especially our intelligence and will, all demand that we actually need to get out of our own selves, otherwise we get short-circuited. This is what a person is. He is always mindful and thoughtful of God and of others.
We need to be mindful because we have to know what's going around us. We should never be aloof and indifferent. We have to be aware not only of things and events that are taking place, whether near or far, but also and most especially of persons, starting with the one right beside us.
We also need to be thoughtful. We should think ahead of how things are developing and of what we can do to help shape its proper evolution. Life is always a work in progress, and there are goals, the ultimate and the subordinate, to reach. We should not get stuck with the here and now.
Our joy, our fulfilment is in God, and because of God, it's also in others, since loving God always passes through loving others. The gospel tells us that. "The greatest commandment is to love God with all your might… and the second greatest commandment is to love your neighbour as yourself." (Mt 22,38-39)
We need to be prepared to do serious and constant battle against our tendency to get self-centered and self-absorbed.  This, of course, is a very likely possibility, easily and quickly verifiable around. That's because we actually contend with a great number of hostile or negative elements.
We can sometimes wonder if we can truly know and love God who is so supernatural and mysterious as to make us doubt whether we can have that possibility. We should wonder no more, because no matter how hard and apparently impossible that endeavor may be, all we have to do is to know and love our neighbor.
Let's always have recourse to what St. John said in his first letter: "If anyone says, 'I love God,' but hates his brother, he is a liar. For anyone who does not love his brother, whom he has seen, cannot love God, whom he has not seen. And we have this commandment from him: whoever loves God must love his brother as well…" (4,20-21)
Said in another way, if we want God to love us, all we have to do is to love our neighbor. In this we have these words of Christ himself: "Be merciful, just as your Father is merciful. Stop judging and you will not be judged. Stop condemning and you will not be condemned. Forgive and you will be forgiven…For the measure with which you measure will in return be measured out to you." (Lk 6,36-38)
Email: roycimagala@gmail.com