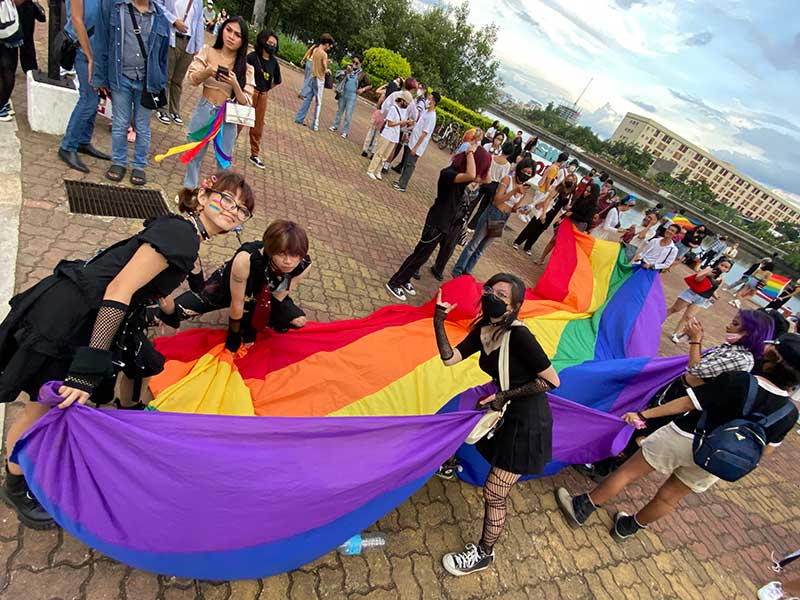 By Joseph B.A. Marzan
"Maki-beki! Wag ma-shokot!" was the general rallying cry as members and allies of the Lesbian, Gay, Bisexual, Transgender, and Queer (LGBTQ+) community in the city and province of Iloilo joined the international celebration of Pride Month with a march and bike ride held last Saturday, June 25, 2022.
Dubbed "#onePRide: Padyak kag Rampa sang Kaanyag" (Pedal and March of Beauty), the activity attracted walkers and bike riders from the city and province who were one with the LGBTQ+ community in celebrating themselves and expressing solidarity with them.
The attendees made statements with their most colorful, most vibrant attire, with some bringing their own rainbow flags and other Pride-related flags.
Iloilo Pride Team chairperson Irish Inoceto told Daily Guardian that the march was a "show of force" for LGBTQ+ visibility, sending a message to national-level legislators of the community's presence in all corners of the country.
One of their key advocacies is to push the Sexual Orientation, Gender Identity and Expression (SOGIE) Equality Bill which would protect against SOGIE-based discrimination in workplaces, schools, and other venues and aspects.
The SOGIE Equality Bill had been pushed by advocates as early as the Arroyo administration, with different iterations until the current and outgoing 18th Congress.
Different versions of the bill, authored by various members of the House of Representatives, were last deliberated by the Committee on Women and Gender Equality on November 11, 2020 according to the lower house's website.
Senate Bill No. 1934, which was authored by Senators Risa Hontiveros, Leila De Lima, Imee Marcos, and Kiko Pangilinan, remains pending for second reading, with the last activity being a sponsorship speech by Hontiveros last December 19, 2020.
Both the city and province have their Anti-Discrimination Ordinances, which were actively lobbied by local advocates, but Inoceto said that these legislations and activities must resonate throughout the country and throughout society.
"We are hoping to push for visibility and to let our legislators know that there are LGBTs everywhere and we hope that they can pass the SOGIE Equality Bill, to make the Philippines safe for everybody," Inoceto said.
"We wanted to create safe spaces here in Iloilo, and we have achieved that with the anti-discrimination ordinances of both the city and the province. Iloilo province also holds a June Pride celebration, and we want that echoed and to resonate throughout the whole country, that there would be no more discrimination, no more gender-based violence against the community, against women, and against marginalized sectors of society."
Iloilo City government's Office of LGBT Affairs chief Gabriel Felix Umadhay said that despite the presence of the anti-discrimination ordinances, there is still much to be done.
"We have achieved so much already but we have to push forward still many advocacies. The [Office of LGBT Affairs] stands for three principles. One is gender justice, equal rights to be given and cannot be denied to all persons of diverse SOGIE. Second is access to health, there are so many getting sick and those transitioning who experiment, and both needed to be guided with proper medical information, that is why we need to place appropriate and non-discriminatory medical assistance. Third is education and employment, making sure that persons of diverse SOGIE have accepting, non-discriminatory opportunities in academics and in their work," he stated.
Umadhay said the institutionalization of the LGBT Affairs office within the city government is currently underway.
The LGBT Affairs office estimated that around 1,500 members and allies marched and rode on their bikes along the Benigno Aquino Sr. Avenue leading up to the Iloilo River Esplanade.
Both Inoceto and Umadhay previously said that there would be a bigger celebration in October, which coincides with the international National Coming Out Day held annually every October 11.
The Pride march, along with other upcoming related activities this week, commemorates the 1969 Stonewall riots in New York which was the precursor of the international Pride Month celebrations.
This event was also simultaneous with other Pride marches in the country, as the Iloilo Pride Team is a founding member of Pride PH, and umbrella organization of LGBTQ+ advocate organizations from Luzon to Mindanao.
Other organizers of the Iloilo City activity were Kabataan Partylist, Gabriela, the Iloilo LGBTQIA+ Network, and Youth Voices Count.