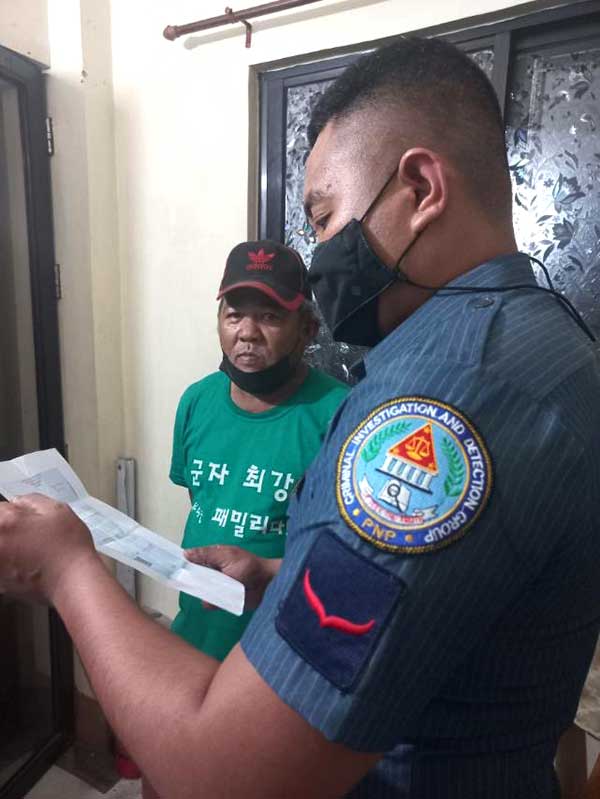 By Jennifer P. Rendon
He was publicly known as a crippled man asking for alms on the streets.
But it appeared that his disability was just a front for Nelson Mediavilla, 56, a resident of Barangay Tagbak Sur, Oton, Iloilo.
In truth, Mediavilla is a physically abled man who pretended to be a person with disability to look for possible targets.
His role as a "spotter" for a criminal gang led to the filing of a simple theft charge against him.
On Jan 10, 2022, members of the Criminal Investigation and Detection Group (CIDG)-Iloilo City field unit, together with the Oton Police Station and the 602nd Mobile Company of the Regional Mobile Force Battalion 6, arrested Mediavilla at his home.
Mediavilla was collared by virtue of an arrest warrant in Criminal Case No. R-3591 issued by Judge Meliza Berano-Robite of Municipal Trial Court of Oton, Iloilo on Jan. 5, 2021.
Bail for his temporary liberty was fixed at P24,000.
Major Jess Baylon, CIDG-Iloilo City chief, said that the suspect is a member of the Bolt Cutter Group, which is involved in robbery activities in Iloilo City and nearby towns in Iloilo province.
Baylon said Mediavilla used to beg alms as a front when scouting for possible targets. His ploy brought him to areas as far as Barotac Nuevo, Pototan, and Lemery.
"At night, far from being a crippled man, he walked perfectly fine," Baylon noted.
A group has also been fetching him after his daily alms begging.
Police recovered a mobile phone and Robust energy drink from the suspect's bag.