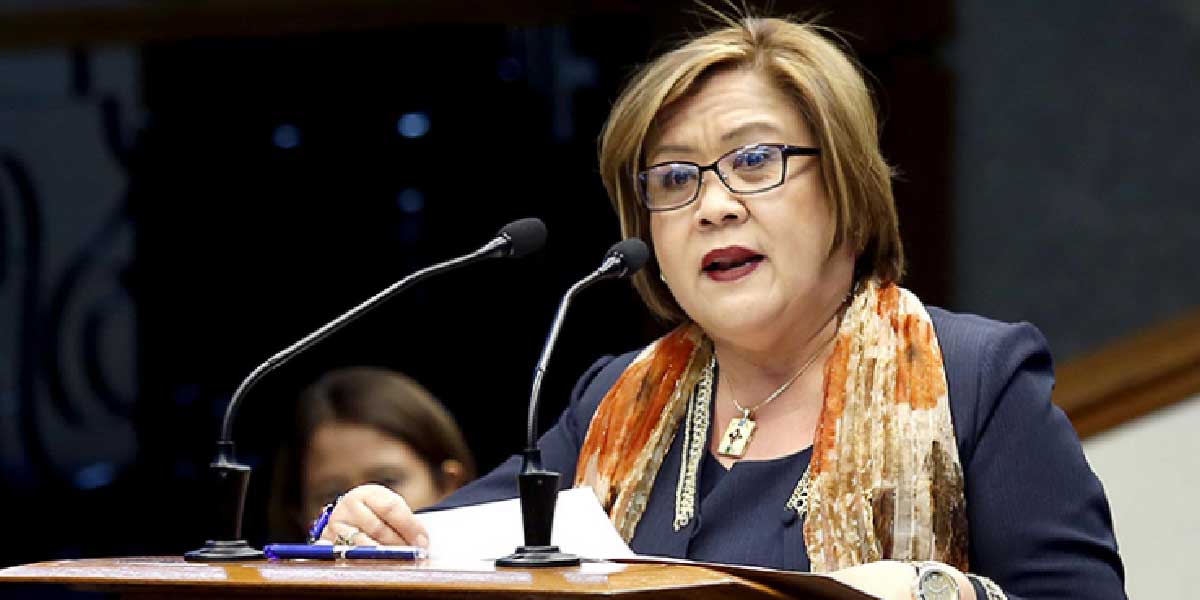 By Joseph B.A. Marzan
The camp of Senator Leila De Lima believes that grassroots volunteer support will help her win votes in Iloilo in the 2022 elections despite her continued detention and the ongoing coronavirus disease 2019 (COVID-19) pandemic.
The Laban Leila 2022 had its Iloilo Launching via social media on Monday, and was attended by De Lima's staunchest supporters here, as well as her closest confidants, relatives, and officials from the Liberal Party (LP).
Atty. Fhillip Sawali, the senator's chief of staff, touted her as the "best candidate" with the "best story to tell", which he said "would be enough to propel her back to the Senate".
"Right now, we cannot detail the strategy and tactics in the campaign, but basically [De Lima is] the best candidate because she has the mind and heart of a true senator of the nation, [and the] best story to tell because she has the most compelling narrative of all our current political figures," said Sawali.
Sawali added that the senator's limitations will focus on social and traditional media, largely because of the COVID-19 pandemic, and will largely be "volunteer-powered" due to her current situation.
De Lima has been detained in Camp Crame in Quezon City since early 2017 for alleged illegal drug trafficking charges, where she has continued to write statements against the current administration and even file bills and resolutions as a senator.
Sawali believes that volunteers on the ground, including in Iloilo have a huge part to play in her re-election.
"There is a level playing field, but in Senator De Lima's situation, she cannot go around to campaign and visit her friends and volunteers on the ground, so the Laban Leila Volunteer Network has a huge role to play, including in Iloilo," he added.
Former representative Erin Tañada, LP's national Vice President for External Affairs, said the volunteer network will be the key for De Lima's victory in 2022.
"Out of all the 2022 candidates, she is the most disadvantaged, and this is where the help of volunteers come in. We've been talking about this for a while now, this should be a volunteer-driven campaign. She cannot give any video or taped message without approval from the [Commission on Elections] or the courts. What we will do is that we will tell her story, on what she fought for, for all of us. It is important for us to spread the word in all corners of our barangays here in Iloilo," said Tañada.
LOCAL MESSAGES OF SUPPORT
Several local LP officials and sectoral members also appeared during the launching to give their messages of support to De Lima's campaign, including from the business and youth sectors, among others.
LP Vice Chairperson, Senator Franklin Drilon, touted De Lima's continued work as a senator while being imprisoned, while calling for her release as well for support to her candidacy.
"Like the Ilonggos, Senator Leila loves her country so much and never wavers in the fight against corruption that plagues the country. Even in prison, [she] is able to fulfill her mandate, and continues to fight for the welfare of every Filipino. She needs our help, and the nation needs her," said Drilon.
LP Magayon Iloilo chapter chairperson Gerard Peñaranda read their manifesto of their campaign network, highlighting the "injustice" the senator faced in her more than four years of detention.
The manifesto described her in "remaining as a shining beacon of [the Philippines'] democratic struggle and 'fightingest' flag-bearer of human rights," referring to the senator's pervious tenure as chairperson of the Commission on Human Rights.
Peñaranda said that they thought "well and hard" of campaigning for her because of her continued detention "on fake charges".
"All volunteers of Laban Leila Iloilo thought well and hard for [campaigning for De Lima] because [she] had been incarcerated for a case without meat. (sic) We are here to show our grand and warm support for the good senator," said Peñaranda.
Businessman Aurelio Servando shared his personal experience with De Lima, after she helped him attain justice for his son, Guillo Servando, who died in a fraternity hazing in 2014.
De Lima, who was then Justice Secretary in the Aquino administration, set up a panel to investigate Guillo's death, which led to charges being filed against involved fraternity members.
The trial court originally dismissed the case but was overturned by the Court of Appeals in 2018.
"Because of my Baptist Christian background, and because I believe that my son would have wanted me to desist from pursuing the case, I have not been active in doing so. It was not Leila's fault that the case did not advance for those who were guilty, but I was witness to how she tried her best to see to it that justice would be served," said Servando.
The youth sector was represented by Josh Cezar Serilo from the Partido sang Mainuswagon nga Bumulutho (PMB) at the University of the Philippines Visayas (UPV).
Serilo mentioned De Lima's "unwavering support" to the advancement of children's rights as Human Rights Chairperson and Justice Secretary, as well as of human rights in general as a senator.
De Lima has filed bills in inclusive education and establishing special education centers for children and youth with special needs in all public schools, and a youth social welfare program.
"While human defenders are put into dangerous position due to the tyrannical rule of fascist Duterte regime, we must not waver in this fight wherein our basic human rights and our own constitution are being put into peril. Even if the odds are against us, we must continue to strive on to effect real change in our society," Serilo said.