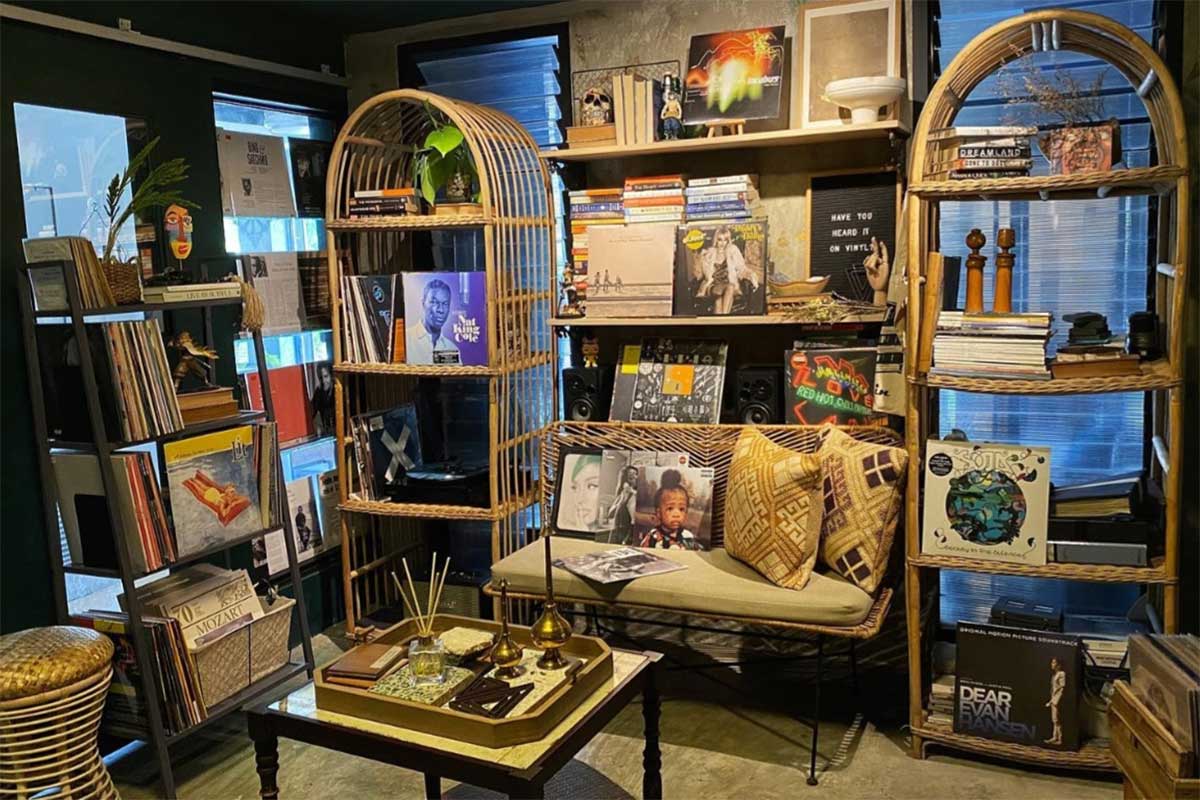 By Claire Justine J. Sarria
Anthology Iloilo puts Ella Fitzgerald, Coldplay, Fleetwood Mac, and Taylor Swift in one room where you are warmly welcomed by an office staple that supersedes all business requirements – the owner's pet dog.
In the heart of this La Hubre-curated record store in Ledesco Village, wooden-letter blocks pose a question that rings through today's earphones: "Have you heard it on vinyl?"
Side A
On a 2018 round up of Acoustic Fridays in Festive Walk Parade, a pop-up came with its own rhythm: a crate of vinyl records with Queen's Greatest Hits starring front, just still and there. I would later know the owner to be hobbyist Arvin Gangoso, after a green transparent "An Evening with Billie Holiday" record I purchased as a High School graduation gift.
Gangoso met the steady and fast rise in the demand for vinyl, and made space for Anthology in Iloilo City which he knew to lack vinyl record stores. From a lukewarm Ilonggo market perception, the store now houses a sought-after, often limited edition catalogue of contemporary and familiar music names listing longer than just Crosby, Stills, Nash, and Young. In here, well-shelved and crated, classic records that sent way for your year-end Spotify Wrapped.
"The idea behind Anthology was conceived as a way to share the physical medium and the fascinating charm that comes with it, and to make it accessible with as many people who share the same passion for music as possible," he said.
Gangoso tagged listening to vinyl amplifies a different experience, resurging with nostalgia and a tangible, sensory experience that cannot be compared to that of digital music.
"For many, vinyl has become a collectible, an art, and a unique form of expression in this otherwise digital world."
In that Spotify, YouTube, and Apple Music world, he sees vinyl buyers remaining to be niche. But they keep their volume up, banking on the idea that buying vinyl means truly owning a piece of music that you like. "Audiophiles go for vinyl records because of the warmer, richer, and full range of sound as compared to the crisp and compressed ones you get with digital music where overall quality is reduced," he said.
Side B
Digging your way back to the analog goes by feel, and it affords you collectibles that appreciate in value over time. Joni Mitchell never lies.
"This hobby can be really expensive. Get the feel of it by starting small, with the artists or albums that you really like spinning on a decent, basic turntable setup. Avoid impulse buys just because you think vinyl sounds hip. Later, if you think vinyl collecting is for you, you can invest in a high-quality setup that will surely last," Gangoso went on.
To press play on vinyl, he likened it to a ritual of some sort that grooves in time and money, that notches up a new appreciation for music – just how it is meant to be consumed.
"You get to enjoy the music down to the product's smallest of details: the album art, package inserts, liner notes and of course your turntable equipment's moving parts. You have to take the record out of its sleeve, clean it, drop the needle, play the album end-to-end – just how music is meant to be consumed – and clean it again afterwards," he shared.
So, to hear it on vinyl, that is how you listen.