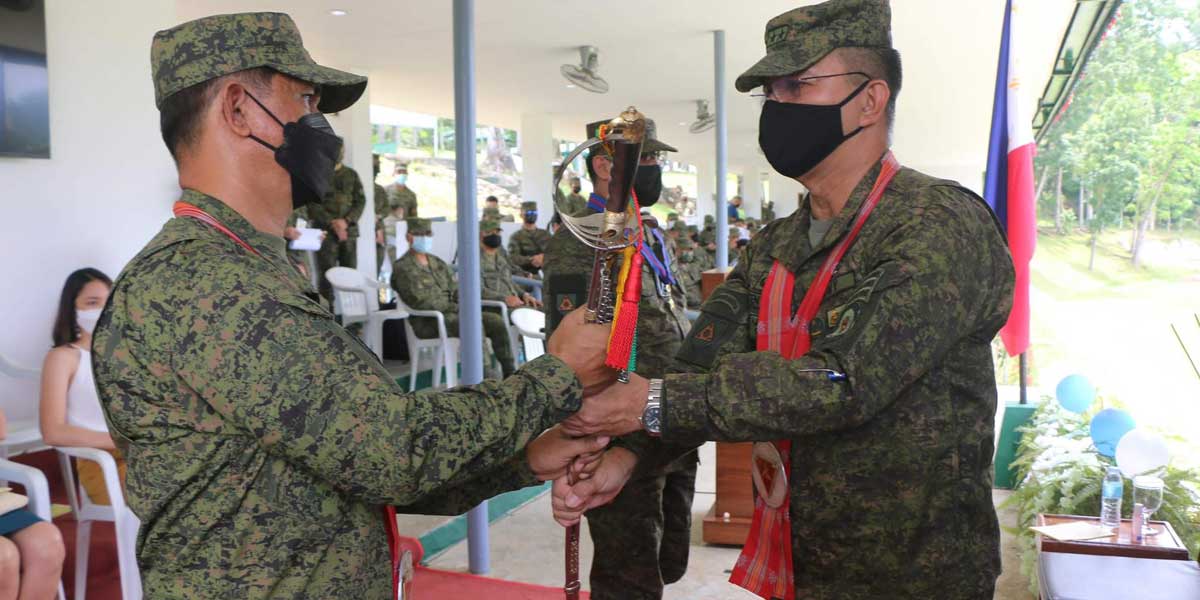 By Jennifer P. Rendon
Under the leadership of Major General Eric Vinoya and his predecessors, a number of barangays in Central Visayas and Western Visayas were "cleared" of the influence of the New People's Army (NPA).
And as Vinoya bade farewell to the Philippine Army's 3rd Infantry Division, he only hoped for the continued clearing of NPA-influenced and affected barangays, along with the neutralization of more communist terrorist group (CTG) members in the Visayas.
Aside from Vinoya bidding farewell to 3rd ID, he also said goodbye to the military after more than 38 years of service.
"Now that I have come full circle in this journey, I truly hope that I have fulfilled one of my life's important missions that is to contribute in the attainment of peace, progress, and prosperity for our nation – one that will be inherited for our future generations that is free from threats of terrorism and violence, and the exploitation and radicalization of our youth," he said.
Vinoya believed that the ultimate demise of the NPA is near.
"I only wish for all of you to finish the fight," Vinoya said, addressing the attendees of the turn-over of command and retirement ceremony held at 3rd ID headquarters at Camp Macario Peralta in Jamindan, Capiz on Monday.
Major General Andres Centino, Philippine Army chief, presided over the ceremony.
Centino is a member of Philippine Military Academy (PMA) Class 1988 while Vinoya is a PMA Class 1987 member.
Meanwhile, Brigadier General Noel Baluyan, 3rd ID's assistant division commander, took over the post from Vinoya.
He was designated as acting 3rd ID chief,
It remains unclear if Baluyan will assume the post in a full-time capacity.
Reports earlier indicated that Major General Benedict Arevalo was also being considered for the post.
Both Arevalo and Baluyan are members of PMA Class 1990.
Nonetheless, Baluyan was grateful to the Philippine Army hierarchy for allowing him to act as the 3rd ID's caretaker, pending official orders from the national command.
"It is my great honor to stand before all of you today as the Acting Commander who will follow a great lineage of respectable commanders that has championed security and stability, set an example of a committed Philippine Army, and secured a course of peaceful development and progress for nearly five decades in Western and Central Visayas," Baluyan said.
He also assured the public that he would maintain the Division's operations tempo to sustain the gains of the previous commanders no matter how short the duration of his acting capacity will be.
Prior to his designation as Assistant Division Commander and now Acting Division Commander, Baluyan was commander of the 302nd Infantry (Achiever) Brigade based in Camp Leon Kilat, Tanjay City, Negros Oriental.
Meanwhile, Centino expressed his confidence that Baluyan will continue the 3ID's winning streak, that has been started by his predecessors
"Be assured that the Headquarters, Philippine Army will give its full support to 3ID to fulfill its mission to maintain stability and prosperity in the Visayas Island," Centino said.
He also urged all Spearhead Troopers to continue their unwavering dedication to service and remain focused on their mandate of serving and securing the land.