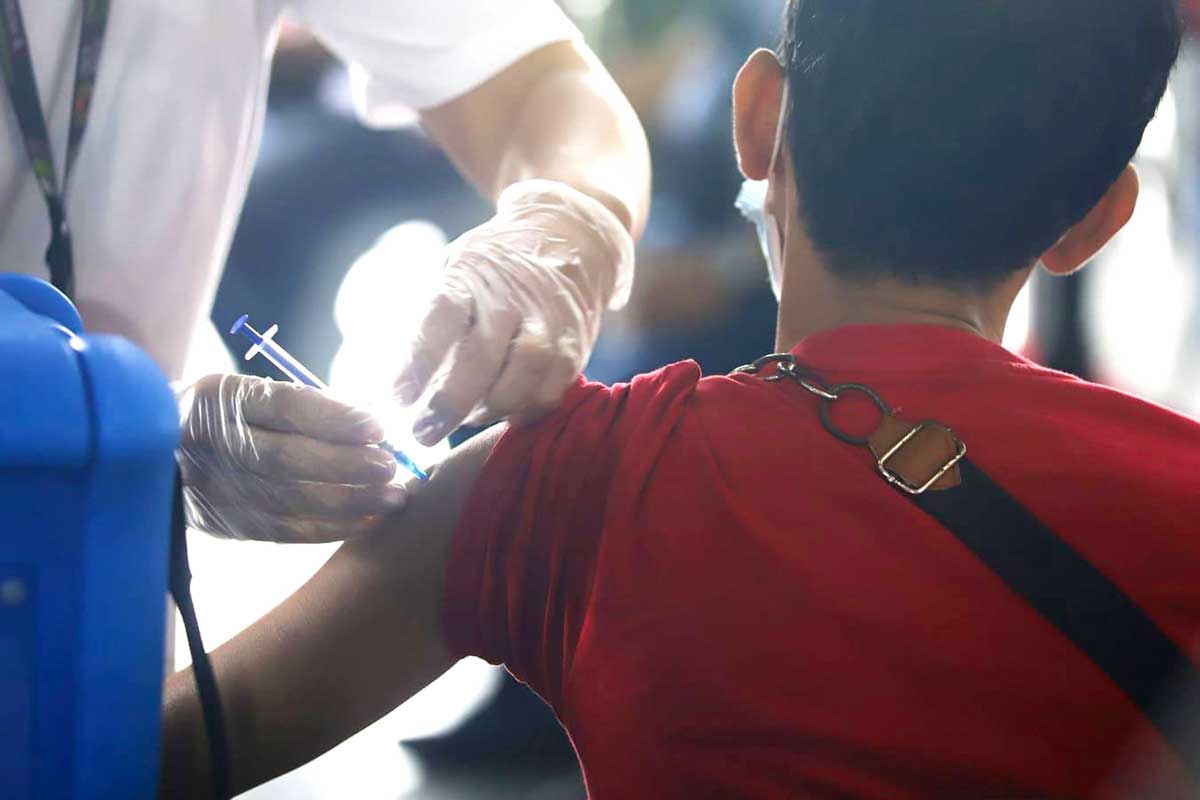 To reach more individuals, the Iloilo City government will open its COVID-19 vaccination to all interested persons who wish to be inoculated every Thursday, subject to the availability of doses.
Mayor Jerry Treñas made the announcement on Thursday as he emphasized the need to vaccinate as many persons as possible per day amid the threats of the Delta variant.
According to the mayor, the city's vaccination will be open to all, whether they are pre-registered or not, and whether they are from the city or province of Iloilo. But the move is subject to the availability of vaccines on that day.
"Every Thursday, as long as we have vaccines, we will open our vaccination to all interested persons whether they are from the city or the province. We need to vaccinate as many as we can. The Delta variant is more infectious and more virulent," he stressed.
The city government piloted the program on Thursday and announced that the COVID-19 vaccination in the designated vax centers will be open to all.
Treñas appealed to the public to be inoculated as he sounded alarm on the increasing COVID-19 deaths reported this month involving unvaccinated individuals.
"I am requesting everyone to be vaccinated. There are more deaths reported to us this month, especially coming from the unvaccinated sector. Please be vaccinated. I feel very sad that more unvaccinated Ilonggos are dying. I am asking everyone to be vaccinated at the earliest possible time," he said.
Based on the data from the Iloilo City Epidemiological Surveillance Unit (CESU), 28 COVID-19 deaths have been recorded from June 1 to August 17, 2021.
Iloilo City recorded 21 COVID-19 deaths for the month of July, 2 deaths in June, and 5 deaths as of August 17.
The mayor also reminded Ilonggos that any brand of vaccine is effective against COVID-19.
"Any Covid vaccine is effective and can prevent severe cases and death. The best vaccine is what is available. These were thoroughly studied and were given the authority to use as they were proven to be safe and effective," he said.
JEEPNEY DRIVERS INOCULATED
Meanwhile, close to 3,000 public utility jeepney (PUJ) drivers have been inoculated with Covid-19 vaccines, according to Treñas.
Treñas said the Iloilo City government released 2,650 vaccination tickets to the transport sector.
"We were able to release 2,650 vax tickets to the transportation sector so they are protected while giving us access to conveniently travel towards our destination," he said in a statement on Thursday, August 19.
Treñas emphasized that the drivers are significant part of the city's economic sector, hence, they should be given immunity against Covid-19.
"Seeing the streets, I saw the bravery and strength of our drivers who continue to work to earn an income for their loved ones. With the arrival of vaccines, it became my vision to shield them from the risks of COVID-19. With their willingness to sacrifice themselves, we will also work very hard to ensure that they have immunity from the unseen enemy," he said.
The Iloilo City Loop Alliance of Jeepney Operators and Drivers Association (ICLAJODA), one of the jeepney associations in the city, expressed their support in the city's vaccination program after 800 of its drivers received the vaccines.
"Pasalamat kami sa syudad kay gintagaan man bakuna ang aton mga drivers," Boyet Parcon president of ICLAJODA said in a media interview.
With the COVID-19 jabs, Parcon said the drivers will not only protect themselves against the virus but also the riding public and the commuters.
"Kita ara sa dalan, aton ginadala pasahero kag commuters, kag once vaccinated na aton drivers may resistensya na sila kay fully vaccinated na sila," he added.
Aside from the drivers, Treñas also reported that more and more economic frontliners in the metro, particularly workers in supermarkets and convenience stores, have received their Covid-19 vaccines.
The city government will also target persons deprived with liberties (PDLs) in its Covid-19 vaccination roll-out by next week.
"I am already giving instructions to our team to coordinate with the Bureau of Jail and Management Penology (BJMP) so that our PDLs can also be inoculated with COVID-19 vaccines next week," the mayor said. (ERS)