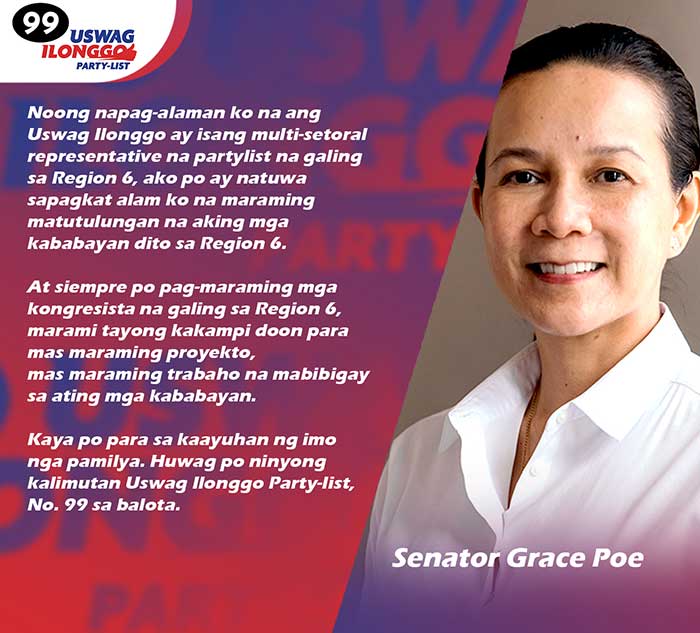 Western Visayas' first ever regional partylist, Uswag Ilonggo, No. 99 on the ballot, got the support of another prominent national leader, Senator Grace Poe.
Poe, who has Ilonggo roots, was delighted to know that Region 6, finally, has a regional partylist that represents multi-sectoral groups. She said she is happy to endorse Uswag Ilonggo Partylist.
"Ini po si Grace Poe, isang proud ka-Ilongga at kasimanwa ninyo. Nung napag-alaman ko na ang Uswag Ilonggo ay isang multi-sectoral representative na partylist na galing sa Region 6, ako po'y natuwa sapagkat alam ko na maraming matutulungan na aking mga kababayan dito sa Region 6," Poe said.
[This is Grace Poe, a proud ka-Ilongga and your 'kasimanwa.' When I learned that Uswag Ilonggo is a multi-sectoral representative partylist from Region 6, I was happy because I know that many Ilonggos from Region 6 will benefit.]
Poe believes that Uswag Ilonggo Partylist, along with district representatives, can bring more positive changes in Region 6. The partylist can propel Western Visayas to become one of the Philippines' premier regions.
"At siempre po 'pag maraming mga kongresista na galing sa Region 6, marami tayong kakampi doon para mas maraming proyekto, mas maraming trabaho na mabibigay sa ating mga kababayan," she added.
[And of course when there are many congressional representatives from Region 6, we have more allies in the region that will result into more projects and jobs for the Ilonggos.]
Poe further said that with Uswag Ilonggo Partylist's mission and vision as well as its 5-point agenda, no doubt Western Visayas will reach greater heights. Thus, she has no hesitations in supporting Uswag Ilonggo's directions.
Uswag Ilonggo's mission is, "Provide stronger means for the welfare of Ilonggos and capability for development and inclusive progress in Region 6" and its vision is, "A Developed, Progressive, and Premier Region in the Country."
The regional partylist's 5-point agenda, meanwhile, have so far attracted notable Ilonggo political leaders like Poe, Ilonggo Senator Franklin Drilon and Region 6 governors, Florencio Miraflores of Aklan, Rhodora Cadiao of Antique, Esteban Contreras of Capiz, Samuel Gumarin of Guimaras, Arthur Defensor, Jr. of Iloilo, and Eugenio Jose Lacson of Negros Occidental. They all believe that Uswag Ilonggo, despite diversities, can unite all Ilonggos for a more progressive Western Visayas.
Other leaders from around Region 6 who have expressed suport for Uswag Ilonggo include Iloilo City Lone District Cong. Julienne "Jam-Jam" Baronda and Mayor Jerry Treñas; Iloilo province's 2nd district Cong. Michael Gorriceta, 3rd district Cong. Lorenz Defensor and 5th district Cong. Raul Boboy Tupas; and Capiz 1st district Cong. Tawi Billiones.
Uswag Ilonggo Party-list's 5-point agenda include the championing the well-being of every Ilonggo family, proper healthcare, consistent programs on infrastructure and tourism, agriculture and aquaculture development, and scholarships for the youth.
For the upcoming May 9 elections, Poe is appealing to all Ilonggos and the whole Region 6 to support and help send Uswag Ilonggo Party-list to the Congress. The senator encourages Ilonggos to unite, and go out on May 9 and vote for Uswag Ilonggo Partylist, the pride of the Ilonggos:
"Kaya po para sa kayuhan ng imo nga pamilya huwag po ninyong kalimutan, Uswag Ilonggo Partylist, No. 99 po sa balota!"
[For your family's welfare don't forget, Uswag Ilonggo Partylist, No. 99 on the ballot!]