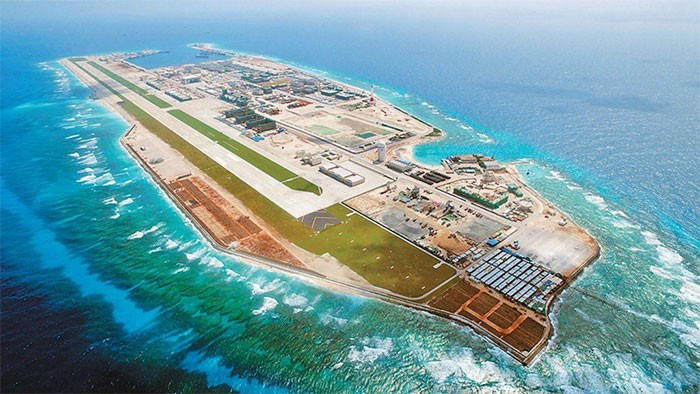 President Rodrigo Duterte demanded that the US shell out US$16 billion in exchange for the renewal of the Visiting Forces Agreement (VFA) which he temporarily abrogated only to later withdraw the controversial action.
Reactions of dismay came from Vice-President Leni Robredo who said that the so-called price tag prerequisite sounded like "extortion; a criminal saying 'if you want this, pay first'."
Senator Panfilo Lacson, who is the chairman of the Senate's Committee on National Defense, warned that "the Philippines needed the VFA – especially given recent Chinese intrusions into Philippine territory, particularly in the West Philippine Sea."
In their communication filed with the International Criminal Court against China for alleged crimes against humanity, former foreign affairs secretary Albert del Rosario and former ombudsman Conchita Carpio Morales said "hundreds of thousands of fishermen were hurt by China's aggressive island-building, occupation and illegal fishing."
Senator Francis Pangilinan observed that in addition to the threats and harassment the Filipino fishermen suffered, the entry of 4 million Chinese raises fears of a "soft invasion."
Senator Richard Gordon likewise raised the alarm that the Chinese used the pretext of being retirees to enter the area even if these so-called retirees are of "soldier's age" (as young as 35) and can pose a national security problem.
A former intelligence chief of the US Navy's Pacific Fleet, Capt. Jim Fanell, described 'soft invasion' as China's strategy of invading with soft power and lots of cash to gain access to ports, airfields and resources for a controlling monopoly in the islands.
Sen. Pangilinan said that in going against this "soft invasion," the stand should be "the Philippines is for Filipinos."
A survey conducted before by the Social Weather Stations reflected a 78 percent choice of Filipinos for the US more than its relationship with China. Filipinos' net trust in China slipped to a "bad" -33 with 54 percent having "little trust" in China.
The Social Weather Stations' statistics culled by the Philippine Daily Inquirer on Filipinos' mistrust of China showed a challenging branding and perception situation for any major Chinese business operation in the country, like that of state-owned ChinaTel.
The communities surrounding military and police camps where ChinaTel and its principal, Dito Telecommunity, can install facilities like cell towers are seen to be the "eyes and ears of confidential information."
The apprehension of China's espionage track record – supported by Beijing's 2017 National Intelligence Law – may affect the targeted 37% market share that the Joint Venture of Dito with ChinaTel is supposed to serve.
Another case of the country's market disruption can be typical of the major issue regarding the tag "Philippines – Province of China" that created a howl over President Duterte's joke during his speech at a forum of Chinese Filipino businessmen.
The offshoot was a campaign of hanging tarpaulin banners in various parts of Manila and the closure by Mayor Isko Moreno of a haircare products business which listed Manila as a province of China. This became a consumer market-related issue.