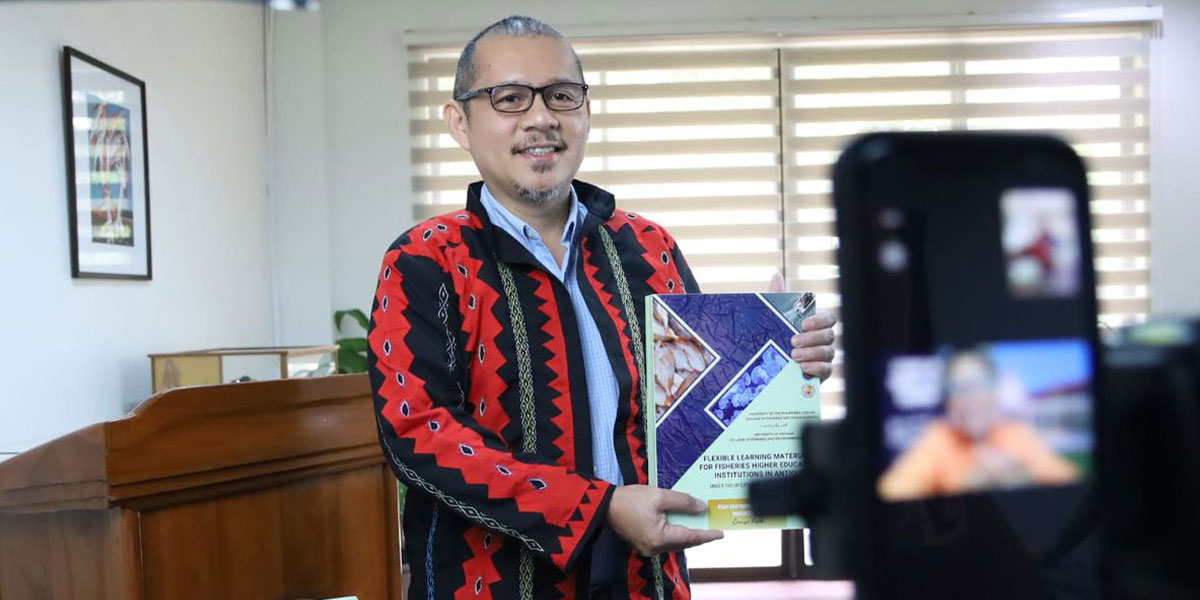 "These flexible learning materials will surely equip the faculty of the University of Antique to adapt to the new normal. Because Antique is a province largely located in a coastal area, strengthening the expertise of the province in fisheries will equip policymakers in crafting sustainable programs in the industry."
Antique lone district Rep. Loren B. Legarda made the statement on September 6, 2021, during the Virtual Turn-over Ceremony of the UPV Flexible Learning Materials for the BS Fisheries Program to the University of Antique.
The Flexible Learning Materials consisted of six modules developed by the College of Fisheries (CFOS) in collaboration with the University of Antique.
UPV Chancellor Clement C. Camposano said that UP, as a national university, is expected to provide leadership, especially in specialized fields that provide support to other academic institutions, especially in this time of the pandemic.
"I commend CFOS for stepping up and meeting the challenges head-on. With this effort, we will bring our partnership with UA to new heights," he added.
Antique Gov. Rhodora J. Cadiao expressed her appreciation to Legarda for her ardent support of the development of the province. She likewise thanked UPV and said she welcomed strengthening the fisheries program, echoing Legarda's view that it will benefit the coastal province.
Prof. Encarnacion Emilia S. Yap, Project Team leader who led the development of the modules along with Dr. Harold M. Monteclaro and Ariel S. Sefil as members, gave a brief background and rationale on how the materials were developed. The six modules are: 1.) Fish Capture Technology, 2.) Post-Harvest Fisheries, 3.) Aquaculture Technology, 4.) Aquatic Ecology, 5.) Aquatic Flora and Fauna and 6.) Fish Entrepreneurial Marketing.
Yap, who is also the current Dean of CFOS, likewise acknowledged her colleagues at CFOS, the College of Arts and Sciences, and the College of Management, who worked in the development of the module as well as those in UA.
"Thank you, UPV, for being a big brother to us," says UA President Dr. S. Pablo Crespo, Jr. He said he is looking forward to more fruitful collaborations with UPV.
UPV Vice-Chancellor for Research and Extension M. Harold Monteclaro concluded the virtual ceremony by thanking partners in UA and colleagues in UPV, and the committee who put together the virtual program. (Ms. Mary Lyncen Fernandez, IPO)