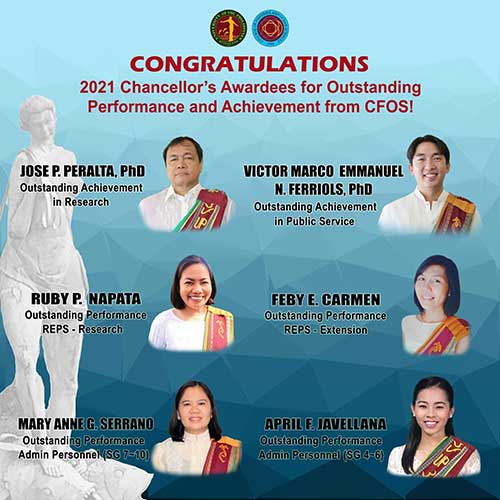 Six names are added to the list of outstanding personnel of the College of Fisheries and Ocean Sciences, UP Visayas (CFOS-UPV), after being chosen as the recipients of the 2021 UPV Chancellor's Awards for Outstanding Performance and Achievement.
The awardees this year are Assoc. Prof. Dr. Victor Marco Emmanuel N. Ferriols for the Most Outstanding Achievement in Public Service; Prof. Dr. Jose P. Peralta for the Most Outstanding Achievement in Research; Ms. Feby E. Carmen for the Most Outstanding Performance (REPS Personnel- Extension); Ms. Ruby P. Napata for the Most Outstanding Performance (REPS Personnel – Research); Ms. Mary Ann G. Serrano for the Most Outstanding Performance (Administrative Personnel- Salary Grade 7-10); and Ms. April F. Javellana for the Most Outstanding Performance (Administrative Personnel- Salary Grade 4-6).
They were chosen by the UPV Committee constituted for selecting the awardees for outstanding performance and achievement from January 1, 2018, to June 30, 2020.
Each year, the UPV gives due appreciation and recognition to the faculty members, REPS, and administrative personnel for exemplary work performance and achievement.
The awardees were officially informed of the selection through an email sent by the Office of the Chancellor on March 10, 2021. A cash award and plaque of recognition were given to the awardees during the recognition ceremony held last March 22, 2021. They were joined by three other awardees from the College of Arts and Sciences, namely Prof. Dr. Wilfredo Campos (outstanding professor), Assoc. Prof. Kevin Piamonte (outstanding achievement in creative arts) and Hannah Liza Novesteros (outstanding admin staff- SG 11 and above non-supervisory).
Ferriols, a faculty member of the Institute of Aquaculture and program director of the Philippine Genome Center (PGC) Visayas, has done significant public service, especially amidst the COVID-19 pandemic.  He brought UPV to the forefront of COVID-19 response, specifically in Western Visayas, as the PGC Visayas program director. During the onset of the pandemic, he was instrumental in setting up COVID-19 testing laboratories in various hospitals in Iloilo City.  The facility also conducted a series of trainings on RNA extraction and RTPCR for COVID-19 testing in partnership with COVID-19 referral hospitals in Iloilo and genomics and bioinformatics.
He also actively engaged in other public service activities by being a resource speaker at various events organized by the state universities and colleges and facilitated different national and international conferences. He also published a paper on biosecurity-related policies in the seaweed industry in 2019, proof of his continuous scientific productivity behind his active involvement in public service.
Peralta, a faculty member of the Institute of Fish Processing Technology (IFPT), has accomplished a productive research career.  Five of his journal articles were produced in 2018-2020, all of which are Web of Science/Scopus-Indexed publications. He also published in notable journals within the last five years, including a conference proceeding in handling and transporting mud crabs in the Philippines during the 15th ASEAN Food Conference in 2017. He actively submitted his technical outputs on live mangrove crab, pasteurized crab meat, and dried anchovies, among others, which were published as Philippine National Standards by the Bureau of Agriculture and Fisheries Standards.
He has conducted research projects in UPV and has written book chapters for the book "Postharvest Fisheries in the Philippines," edited by Prof.  Encarnacion Emilia S. Yap, a professor in post-harvest fisheries and dean of the CFOS.  He also successfully presented his research works at national and international conferences.
On the other hand, Carmen is a licensed chemist and head of Research Laboratory, Nutrition Lab at the Institute of Aquaculture Multi-Species Hatchery Complex. She is a project leader of an in-house project grant by UPV, Office of the Vice Chancellor for Research and Extension, and project staff of several Institute projects. Carmen is also in charge of the SHIMADZU Amino Acid Analyser with funding from DOST projects and was able to bring in an income of about PhP2M for the period January 2017 to the present. She is also tapped as a resource person by DOST projects for training on this equipment's operation. She has also conducted hands-on training for student trainees from other schools and universities.
Napata has been actively implementing various researches on coastal resource and fisheries management in multiple capacities (project leader, co-project proponent, and project staff). To reach out to the scientific community, she presented her research at different conferences here and abroad and published her work in several ISI-indexed journals. She demonstrated her untiring passion for the fisheries sector through involvement and commitment in doing public service not only for the Institute but also for the College and the University.
Serrano, Aquacultural Technician II of the Institute of Fish Processing Technology (IFPT), actively engaged in proposing, planning, and managing the Institute's income-generating activities and provided administrative support to colleagues without reservation. Her knowledge and expertise on fish processing technology, food regulatory requirements, and knowledge management that are instrumental in the efficient operation of the Institute. She is also involved in public service activities of the IFPT as immersion supervisor for senior high school students, resource person, facilitator, and support staff to various training programs.
Javellana, Administrative Aide VI of the Office of the Dean, plays a significant role in the outstanding delivery of the College's academic programs with the shift to remote learning due to the COVID-19 pandemic. Her assistance in the timely reproduction and distribution of the course packs made remote learning more effective and successful. She likewise contributed to the smooth implementation of the CFOS Quality Assurance (QA) Office functions as the CFOS gears towards the accreditation of its academic program by the ASEAN University Network (AUN). As the lone staff of the QA office, she continues to innovate to address the Office's needs.
As of this writing, 24 employees of the CFOS were recognized by the University under the leadership of Dean Yap since 2018.  UPV named five (5) personnel of CFOS as recipients of the various awards given under the University's Chancellor's Awards for Outstanding Performance and Achievement in 2018, eight (8) in 2019, and five (5) in 2020. (Lenilyn B. Gallos/CFOS)