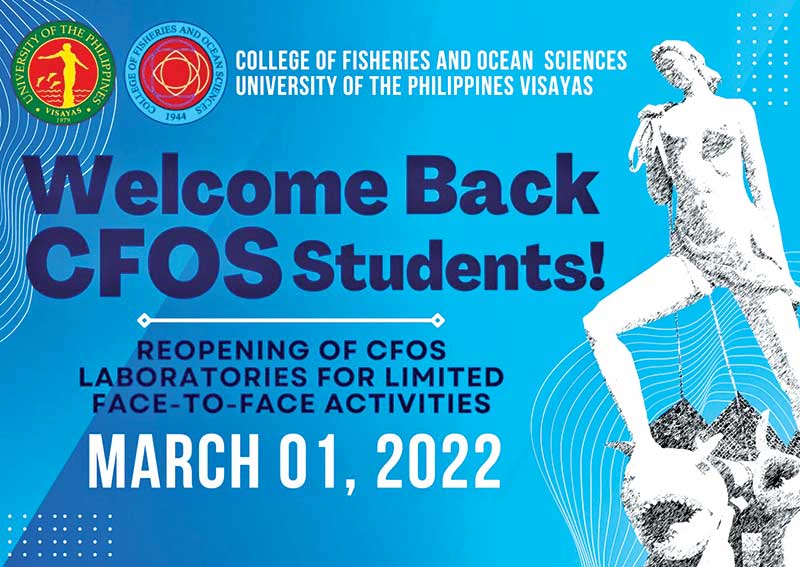 The College of Fisheries and Ocean Sciences of UP Visayas (UPV-CFOS) will hold limited face-to-face classes for all its programs this Second Semester of Academic Year 2021-2022 following the authority granted by the Commission on Higher Education (CHED) and approval of the Local Government Unit of Miagao, Iloilo.
Under the Certificate of Authority issued by CHED Regional Office VI, UPV-CFOS is allowed to conduct limited face-to-face classes at UPV Miagao campus from Feb 1 2022 to Jan 31, 2023 for the following degree programs: BS Fisheries, Master in Marine Affairs, Professional Masters-TMEM, MS Fisheries (Aquaculture, Fish Processing Technology, and Fisheries Biology), MS Ocean Sciences, and PhD Fisheries.
CFOS laboratories will be opened to graduating undergraduate and graduate students today, March 1. This will allow graduating thesis and special problem students to comply with the requirements of their respective degree programs.
To prepare the students, the faculty and staff, the college led by Dean Encarnacion Emilia S. Yap conducted an orientation on the implementation of the limited in-person classes and activities at CFOS on February 23, 2022 via Zoom.
The activity was aimed at informing the students, faculty members, and staff on the guidelines and procedures pertaining to the arrival, accommodation, and use of laboratories by the students, among others.
All necessary preparatory activities were done by the CFOS to ensure the safe and smooth implementation of the face-to-face classes. These include the conduct of inspection and retrofitting of all the facilities in compliance with the rules and regulations of the Inter Agency Task Force, Department of Health, and CHED. (Ms. Lenilyn Basco-Gallos, CFOS)