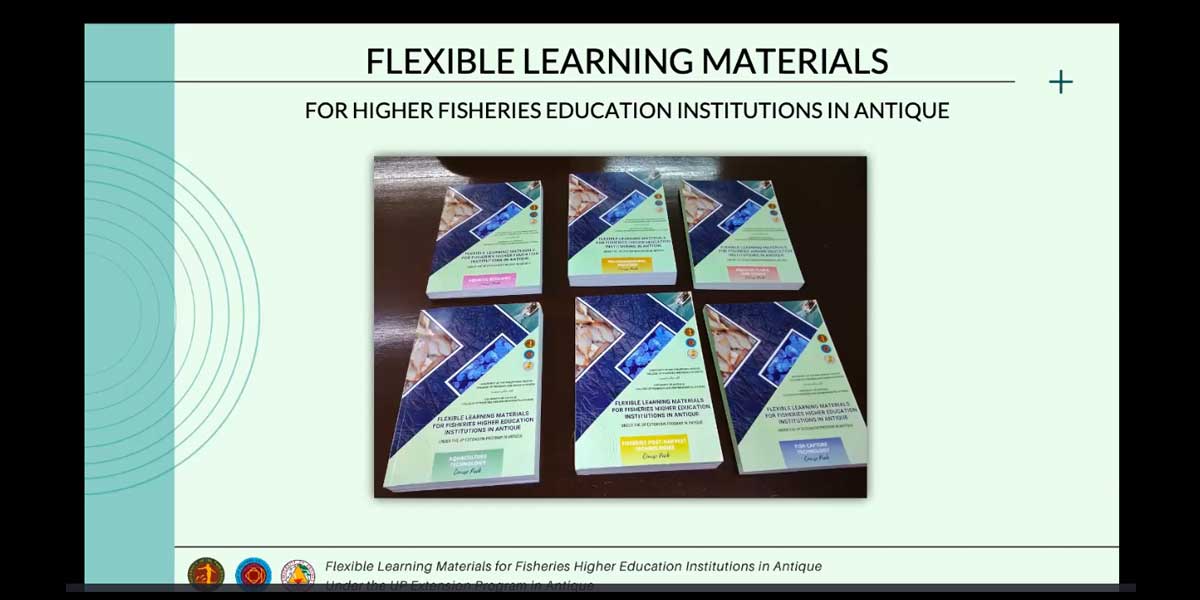 The University of Antique (UA) received from UP Visayas (UPV) on September 6, 2021 flexible learning materials for fisheries courses in a virtual turnover ceremony.
UPV Chancellor Clement C. Camposano turned over six modules for BS in Fisheries developed by the College of Fisheries and Ocean Sciences (CFOS) to President Pablo S. Crespo, Jr. of UA, a fisheries higher education institution in the Province of Antique.
Camposano said the initiative brought the collaboration between the two higher education institutions (HEIs) to new heights.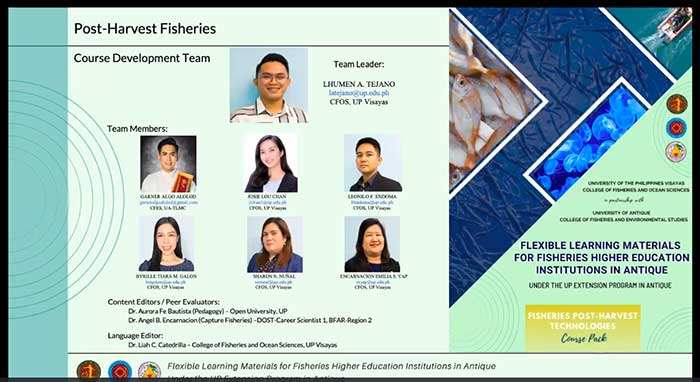 The Chancellor commended the CFOS for stepping up to the challenges of remote learning brought about by Covid-19 pandemic head on by developing the flexible learning modules. The learning materials can also be used by other fisheries higher education institutions in the region.
CFOS Dean Prof. Encarnacion Emilia S. Yap and the lead proponent of the project said that the College is willing to extend help to UA in the delivery of the learning modules if needed.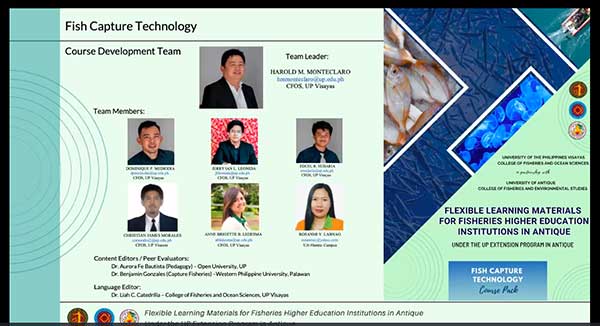 "Should there be a need for us to conduct some of the lectures for the courses, you can always contact us and make arrangements to help you deliver these modules to the students," Yap said.
The six course packs included four required courses for the fisheries technologist licensure examination, one basic course in the BS Fisheries program and one on entrepreneurship.
Assoc. Prof. Harold M. Monteclaro, UPV Vice Chancellor for Research and Extension, and Mr. Ariel Sefil worked with Yap in the project to develop course packs in fish capture technology, post-harvest fisheries, aquaculture technology, aquatic ecology, aquatic flora and fauna, and fish entrepreneurial marketing.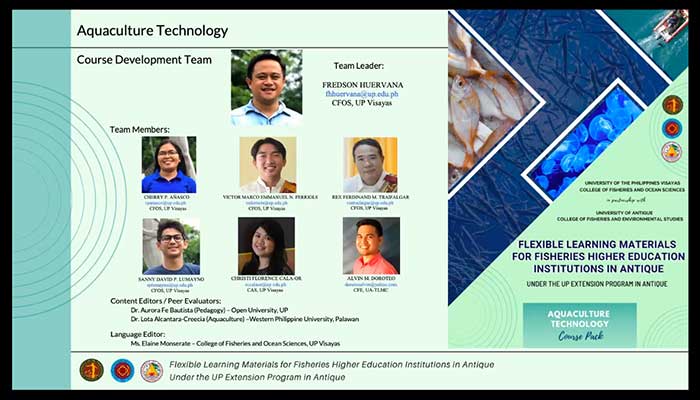 In his acceptance message, Crespo recognized UPV's efforts to help improve the delivery of quality fisheries education in Antique during this pandemic. He believed that with UP's expertise, "we could further strengthen our fisheries program to help the fisherfolks in the Province of Antique."
Crespo said the modules are of great help to their teachers and students to be more equipped in adopting flexible and remote learning approach under the new normal.
Representative of Antique's lone congressional district and Deputy Speaker of the House of Representative Loren B. Legarda acknowledged the importance of the modules not only for quality fisheries education but also to help improve the lives of the fisherfolks in the coastal province.
"The flexible learning materials is one of the alternative means to bring quality and efficient learning opportunities to the students. These learning materials will also help the local government units and people's organizations in implementing their programs and projects to sustain the livelihood of the fisherfolks and the fishing communities in Antique," Legarda said.
The development of the flexible learning materials for the BS in Fisheries program is one of the activities under the UP Extension Program in Antique. It also includes the construction of a building in Brgy. Nauring, Pandan, Antique, with an allotted Php50 million budget for its establishment. It will offer programs on sustainability, policy trainings, and governance.
Antique Governor Rhodora J. Cadiao thanked Legarda for bringing progress to Antique, which she said is known to be one of the poorest provinces in the country. The governor is also thankful to have UPV in their soil.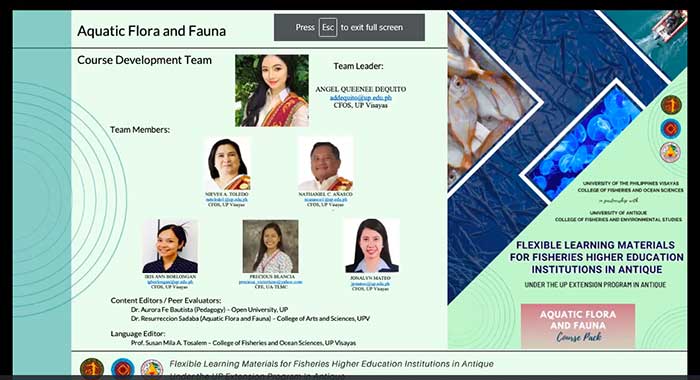 The development of the flexible learning materials was completed in six months. The project involved 40 writers/authors from different colleges of UPV as well as from UA.
The project team conducted training for the writers and pilot/field testing of the learning materials among the students of UPV and UA from different year levels.
A pool of experts from various institutions in the country served as peer evaluators and content/language editors.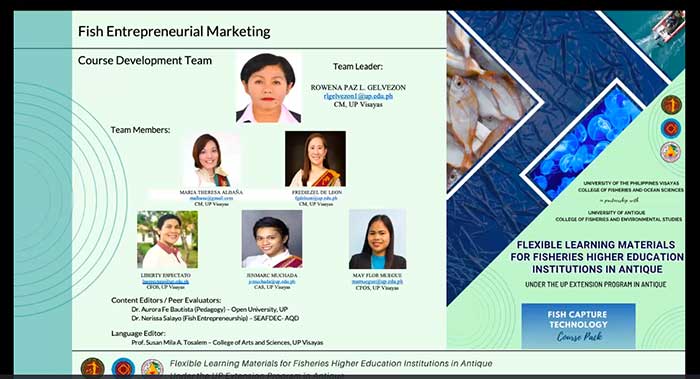 The following were the writers/authors of the course packs:
Fish Capture Technology – Assoc. Prof. Harold Monteclaro (team leader), Asst. Prof. Jerry Ian Leonida, Asst. Prof. Dominique Mediodia, Mr. Christian James Morales, Mr. Edcel Sudaria, Ms. Anne Brigette Ledesma, and Asst. Prof. Rosanmi Labnao;
Post-harvest Fisheries –Asst. Prof. Lhumen Tejano (team leader), Mr. Garner Algo Alolod, Ms. Josie Lou Chan, Mr. Leonilo Endoma, Ms. Byrille Tiara Galon, Assoc. Prof. Sharon Nuñal, and Prof. Encarnacion Emilia S. Yap;
Aquaculture Technology – Mr. Fredson Huervana (team leader), Ms. Cherry Añasco, Assoc. Prof. Victor Marco Emmanuel Ferriols, Prof. Rex Ferdinand Traifalgar, Asst. Prof. Sanny David Lumayno, Asst. Prof. Christi Florence Cala-or, and Prof. Alvin Doroteo;
Aquatic Ecology – Asst. Prof. Carmelo del Castillo (team leader), Mr. Vince Neil Fuertes, Ms. Kyle Iris Tuozo, Assoc. Prof. Sheila Mae S. de Leon, Assoc. Prof. Mae Grace Nillos, Asst. Prof. Almie Carajay, and Asst. Prof. April Rose Barcenal- Mendoza;
Aquatic Flora and Fauna – Asst. Prof. Angel Queenee Dequito (team leader), Assoc. Prof. Nieves A. Toledo, Prof. Nathaniel C. Añasco, Asst. Prof. Iris Ann Borlongan, Asst. Prof. Precious Blancia,  and Ms. Jonalyn Mateo; and
Fish Entrepreneurial Marketing – Assoc. Prof. Rowena Paz L. Gelvezon (team leader), Asst. Prof. Maria Teresa Albania, Asst. Prof. Frediezel de Leon, Ms. Liberty Espectato, Mr. Jenmarc Muchada, and Ms. May Flor Muegue.
Among the content editors/peer evaluators were Dr. Aurora Fe Bautista (UP-Open University), Dr. Benjamin Gonzales (Western Philippine University-Palawan), Dr. Angel  Encarnacion (BFAR Region 2);  Dr. Lota Alcantara-Creecia (Western Philippine University – Palawan), Dr. Ebonia Seraspe (UPV Professor Emeritus), Dr. Resurreccion Sadaba (CAS-UPV), and Dr. Nerissa Salayo (SEAFDEC-AQD).
Dr. Liah C. Catedrilla, Prof. Susan Mila Tosalem, and Ms. Elaine Monserate were the language editors. (Ms. Lenilyn Gallos, CFOS)