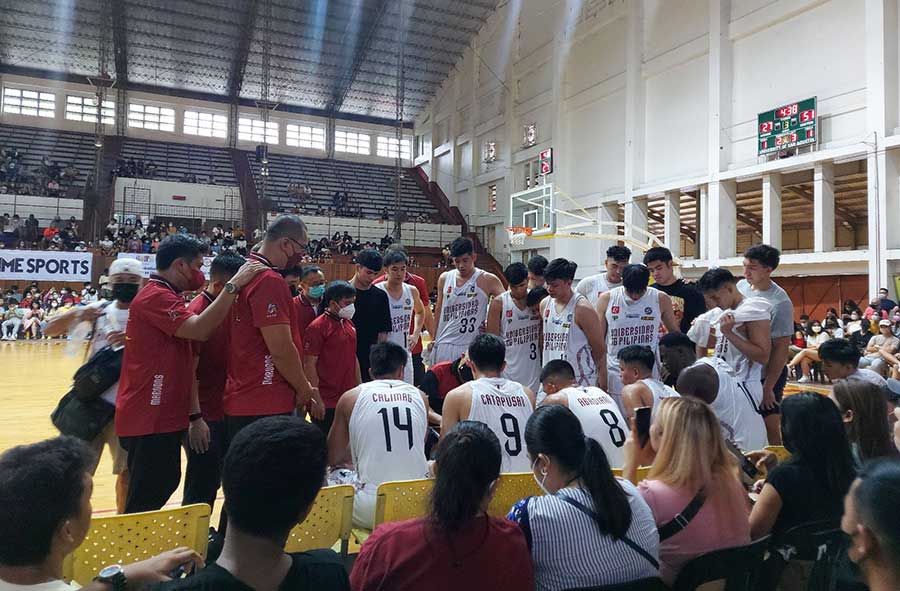 By Leobert Julian A. de la Peña
The University of the Philippines (UP) Fighting Maroons came to play and were all business after sweeping the Iloilo City-based basketball team Elite Lab in two-straight games.
Fresh from a 2022 Filoil Ecooil Preseason Cup stint in Manila, the defending UAAP men's basketball champions got the better of Elite Lab during their first encounter in Passi, 85-61, and continued its mastery in their second game held at the University of San Agustin gym, 80-64.
JD Cagulangan, who sank one of the biggest three-pointers in the history of UP men's basketball team, shot the lights out during the first quarter and dazzled the crowd in San Agustin.
The two-way point guard was a menace on both ends of the floor and also sparked the UP offense with three quick triples that helped his squad take a 27-12 lead.
Despite the length and athleticism UP possessed, the Elite Lab hoopers also put up some fight led by leftie Kent Parreñas and savvy scorer RJ Pantin.
The backcourt duo of head coach John Guanco was able to sink timely baskets that halted Elite Lab's offensive bleeding, helping them get back into the game.
However, another Ilonggo talent in Gerry Austin Abadiano, countered with his own offensive spark after draining two right elbow three-pointers and an acrobatic layup that opened another UP double-digit lead.
With Elite Lab struggling to buy a basket from the perimeter, head coach Guanco tried to shift gears and tried involving their two imports Chibueze Ikeh and Emman Ojula.
The move paid dividends after Elite Lab closed the gap again and avoided another UP offensive snowball but timely threes from Gilas Pilipinas' Carl Tamayo and Harold Alarcon helped their lead balloon once more.
Despite the huge lead in the last three minutes of the ball game, Elite Lab's Gwyn Miles Pendon was able to uncork five-straight points and put the crowd on their feet after hitting a tough three over a UP defender.
Nonetheless, the two games against the UAAP champions will only toughen the Elite Lab players who are also on their way to preparing for the upcoming games on the calendar.
The Elite Lab management is being headed by Mr. Jun Layson, Eugene Chua, and Jon Co while the players are a selection of varsity members from the St. Robert's International Academy and the Western Institute of Technology.
UP Fighting Maroons against Elite Lab Iloilo tour was brought to you by Gametime Sports and founder Rodolfo Villaruz in partnership with UPAA, DAR undersecretary Jesry Palmares, Mayor Stephen Palmares and Passi City LGU, Governor Toto Defensor Jr., Elite Lab, Toto Tia Ten Trucking, IamUPHigh, UP Silak Brotherhood, UP Silab Sisterhood, UP Validus Amicitia Brotherhood, Iloilo Biscocho Haus, Breakthrough Restaurant, Iloilo City Government, Mayor Jerry Treñas, Iloilo Provincial Administrator Atty. Dennis Ventilacion and the University of San Agustin.