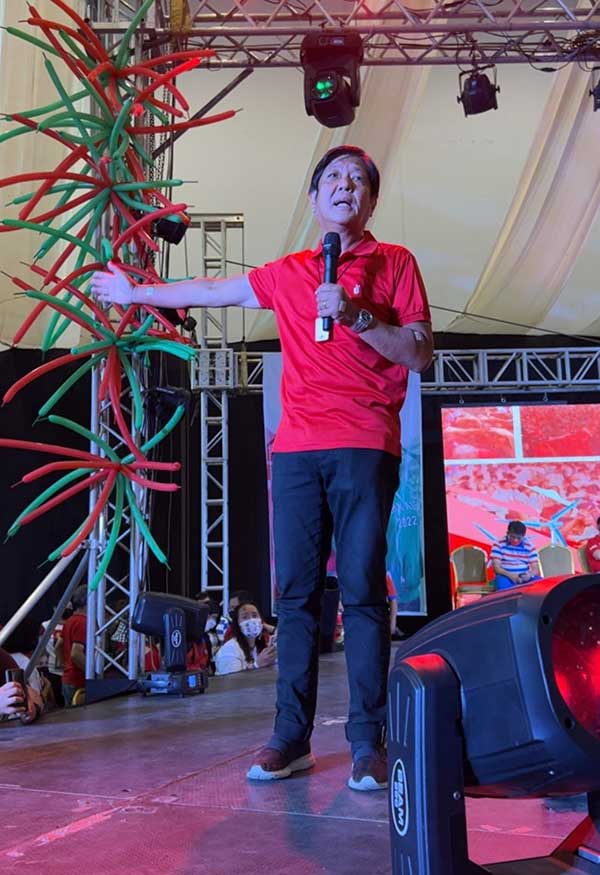 By Joseph B.A. Marzan and Francis Allan L. Angelo
Presidential candidate Ferdinand Marcos Jr. proposed a new tertiary hospital in Iloilo province and building more Rural Health Units (RHUs) as he brought his central message of unity to the city and province of Iloilo in his campaign stop on Thursday, Feb. 24, 2022.
Marcos Jr. revealed some of his plans for Iloilo in a speech at the Iloilo Convention Center (Icon) before more than 1,500 barangay captains and 30 mayors in Panay Island.
He praised the hard work and resourcefulness of barangay officials amid the coronavirus disease 2019 (COVID-19) pandemic.
"If not for the barangay officials, we couldn't have escaped from the pandemic. We all know that you are the ones going out and meeting those who reported sickness and bringing patients to other places, and because of that, we see that we are slowly rising from the pandemic," he said.
He also took pride in his slate's political experience in local governance.
Marcos Jr. served as Ilocos Norte governor and district representative, while his running mate Sara Duterte is the incumbent mayor and former vice mayor of Davao City.
Re-electionist Senator Sherwin Gatchalian served as mayor and representative of Valenzuela City in Metro Manila.
"[Duterte] and [Gatchalian] came from the local government, and I myself has been in politics. I am already the third generation of Marcoses who have been in politics, and I can say that all of what I know in running a government comes from my 9 years as governor of Ilocos Norte, and one of the things I've learned is the importance of our barangay officials," Marcos Jr. said.
The former lawmaker also proposed health insurance for barangay officials based on the Local Government Code of 1991, and honoraria for Barangay Health and Day Care Workers as well as other volunteer workers. Also mulled are greater focus on food security and the health care system.
"But [it has to be] all officials, from the president until the volunteers in the barangay level. We have to do a lot for what is being left of us by the pandemic, the economic crisis, we have to do a lot," he said.
"It's true that we have to construct bigger hospitals. As you have seen in [Metro] Manila, the hospitals which were used the most were the Heart Center and Kidney Center, the ones built in 1983 and 1984, and since then we haven't been able to build something like those," he added.
Marcos Jr. also raised the concern of Iloilo province not having its own tertiary care hospital to attend to the pandemic and other illnesses, thereby crowding hospitals in Iloilo City.
He proposed building more Rural Health Units (RHUs) in mountainous and far-flung areas.
"All of those who are getting sick are being brought to Iloilo City because [city hospitals] are the only ones who could cure them, that is why we need to build [a tertiary] hospital. I have been sending medical missions to mountainous areas two to three times a month. But what we can do so we don't need to do that, we need to build more RHUs. We need to bring health care closer to those in farther areas," he said.
Apart from Duterte and Gatchalian, other members of Marcos Jr.'s UNITEAM senatorial slate were also present in their Iloilo sortie – party-list Rep. Rodante Marcoleta, former Quezon City mayor Herbert Bautista, and suspended lawyer Lorenzo Gadon.
Local officials spotted at the Icon event were 5th district Rep. Raul Tupas, Leganes town mayor Jun-Jun Jaen, and Passi City Mayor Stephen Palmares and his cousin and Vice Mayor Jesry Palmares.
Marcos Jr. and Duterte later led a campaign rally at the Tamasak Arena in Barotac Nuevo, Iloilo Thursday afternoon.
He was introduced by former Iloilo 4th district congressman Dr. Ferjenel Biron, who is again running for the same post in May 2022.
Barotac Nuevo is the hometown of Biron.
Marcos Jr. thanked Biron, UNITEAM's campaign manager in Iloilo, and those present at the arena for the warm welcome. He also praised Biron for mounting the rally that gathered an estimated 20,000 attendees.
He again stressed his call for unity among Filipinos even as the country was commemorating the 36th anniversary of the 1986 EDSA People Power Revolution this week.
"Amid the pandemic, the first step to returning to a better life is unity. A person, no matter how good, hardworking, and patriotic, is just one person. The government alone cannot do it all, even the rich and the business sector cannot fix the problem on their own. That's why all Filipinos must unite in facing all the challenges in the country. We were able to surmount all crises because we united, loved, and helped each other," Marcos Jr. said.
He also noted that if he, who hails from Northern Luzon, and Duterte, who is from the south in Mindanao, could forge a tandem, "we can also unite the whole country."
CONTINUITY
In her speech, Mayor Duterte said she and Marcos Jr. are committed to continue the legacy of her father, Pres. Rodrigo Duterte, particularly his infrastructure development spending dubbed as "Build, Build, Build."
She also touted peace and order as her agenda by going after criminals and stopping the illegal drug problem.
Citing lessons from her parents, Duterte said she regards Filipinos as equals regardless of their standing in life.
"All Filipinos are equal because of our strong will and heart. My heart is strong to do my job so that we can live in peace and prosperity," she added.
MAYORS FOR UNITEAM
Meanwhile, not less than 30 mayors from Iloilo and other provinces joined the UNITEAM rally in Barotac Nuevo.
Mayor Ronaldo Golez of Dumangas, Iloilo said the number includes all mayors of the 4th district of Iloilo under Dr. Biron who was appointed as UNITEAM campaign manager in Iloilo.
The 4th district is composed of the component city of Passi, and the towns of Anilao, Banate, Barotac Nuevo, Dingle, Dueñas, Dumangas and San Enrique.
"All fourth district mayors under Congressman Biron are with the UNITEAM and I received information that not less than 30 mayors in Iloilo and other areas are joining us," Golez said.