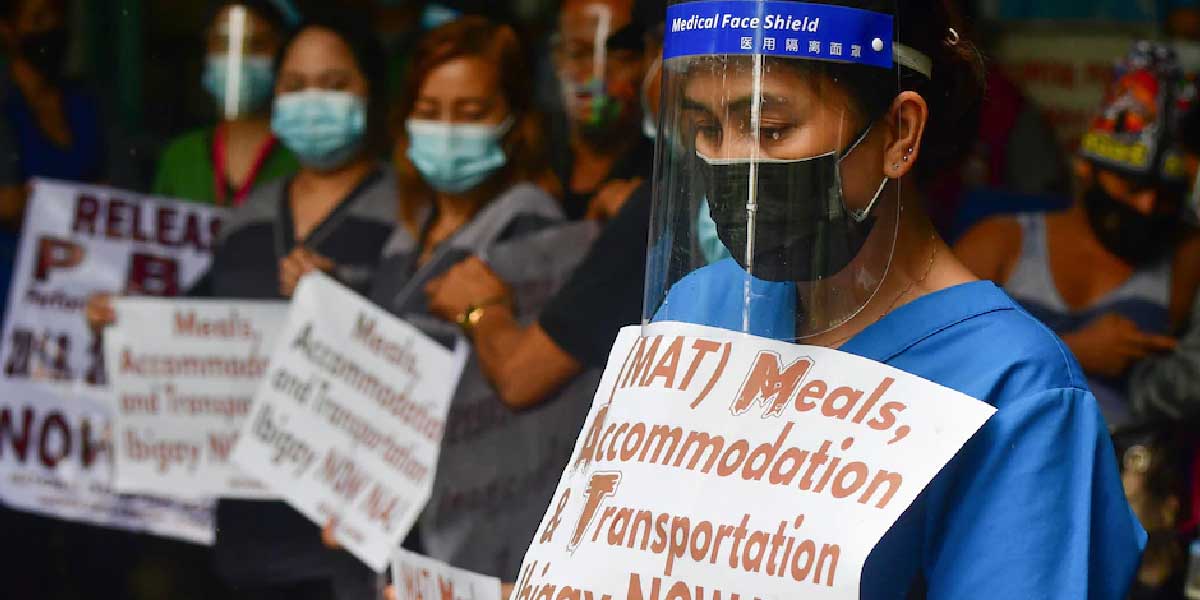 Healthcare workers (HCWs) in the major hospitals in Metro Manila held simultaneous protests to demand from the government the immediate release of benefits stipulated in the Bayanihan Act to Recover as One (BARO) or Bayanihan 2.
"Despite the holiday, we have nothing to celebrate. We have always been referred to as 'modern heroes' for our hard work and dedication despite the worsening pandemic are now in the streets to demand benefits for all healthcare workers. We are outraged at the injustice and systematic neglect inflicted upon us by the government," said Donell Siazon, union president of University of Santo Tomas Hospital.
The protesters pushed for immediate release of their Special Risk Allowance (SRA), meals, accommodation and travel allowances, life insurance and other benefits under Bayanihan 2 and the inclusion of all hospital employees.in the coverage of the SRA. They also demanded the removal of Health Secretary Francisco Duque III from office.
At their protest along E. Rodriguez Avenue, Jao Clumia, president of St. Luke's Medical Center Employees Association said, "Workers have not received and benefited from Bayanihan 2 and it yet has already lapsed. The investigations held at both chambers of Congress have repeatedly identified the neglect of the Department of Health –Center for Health Development (DOH-CHD) and yet Secretary Francisco Duque and his clique has remained unresponsive.to our demands".
He added, "The deadline of President Duterte to the Health and Budget departments is to expire as well but still all we hear from Sec. Duque are alibis and more finger pointing.
The labor leaders warned that if Malacanang remains to back the embattled DoH Secretary then they will be forced to oust him from office themselves. They also demanded the dissolution of the CHD for its ineptitude in fulfilling its mandate to the medical frontliners.
They explained that their protests today are only preparatory to their planned National Day of Action for the Protection of HCWs in the first week of September.
Other participating HCWs in the simultaneous protest are the labor unions of St. Luke's Medical Center Global City, Metropolitan General Hospital, The Medical City, Our Lady of Lourdes Hospital, Cardinal Santos Medical Center and Calamba Medical Center.