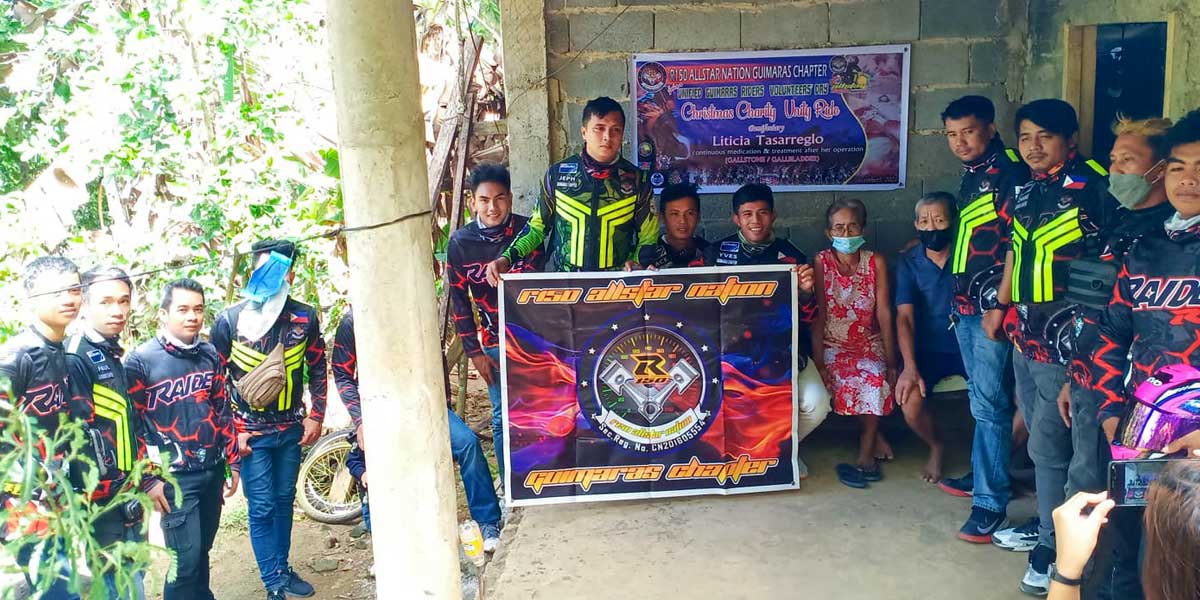 By Leobert Julian A. de la Peña
The Unified Guimaras Riders and several volunteers handed early Christmas presents in the province after their successful 2021Christmas Charity Ride.
Almost 200 members of the group and volunteers graced the charity ride which started from the Buenavista parking area.
Eight major groups comprising the Unified organization roamed around Guimaras and handed groceries and cash assistance to their chosen beneficiaries.
For the Players' Center Sports Academy headed by Dr. Richard Gabayoyo, the group gave cash assistance to Christopher Mission and his family in collaboration with Alex A. Gabinera, Polaris, OIC Chairman of the Guimaras Local chapter and Ride for Education Club and president Severino Demalata III while at the same time did a clean-up drive at the Dr. Catalino G. Nava Farm School.
The Mio Nation Guimaras Chapter, headed by Jessia Ga and Jun Rey Denisa, chose Antonio Locsin as their beneficiary and gave bags of groceries and cash.
President Leomar Tassareglo and the R150 All-Star Nation Guimaras Chapter meanwhile added cash assistance to Liticia Tassareglo to be used for her maintenance and medication for her gallstones.
A different activity was spearheaded by the 52nd Air Force Group Reserves led by Remmy Gabayeron and Michelle Mayormente where they did a Mangrove Planting at Taklong Island.
The Philippine Bikers United Riders Association Incorporated headed by founder Bryle Chavez and president Godofredo Bonda Jr., surprised Trishea Mae Dela Cruz with cash assistance for her Stage 2 ovary cancer.
Lastly, the RMN Fans Club Guimaras Chapter, led by president Mrs. Lourdes Abano and coordinator Mrs. Jean Frange also extended help to Mission and participated in a Mangrove planting.