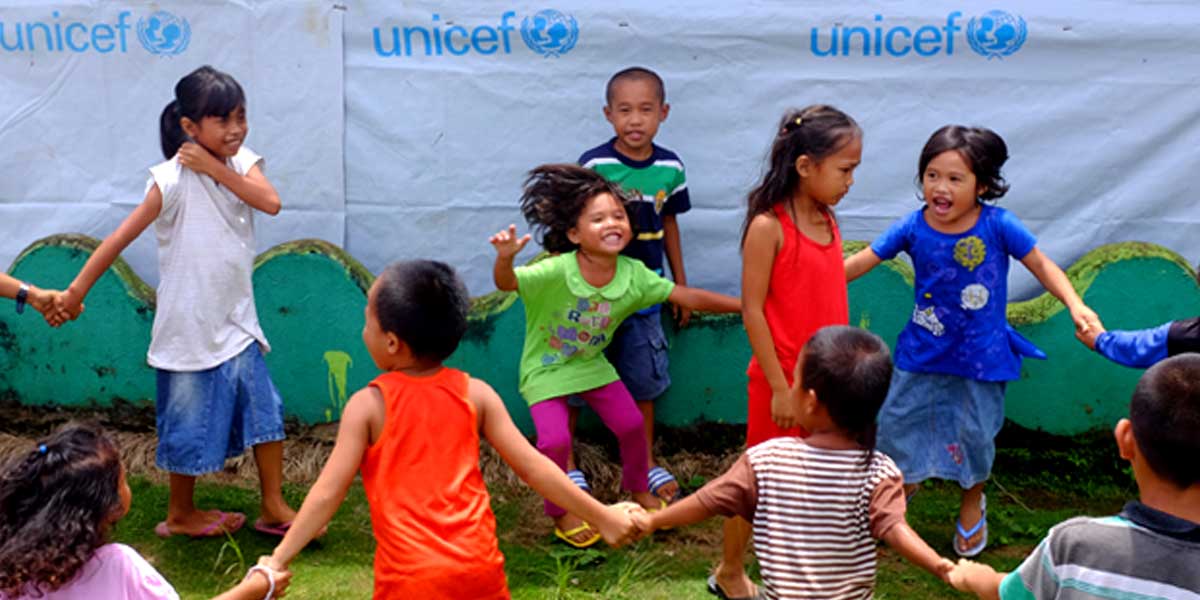 As COVID-19 continues to affect children at an unprecedented scale, UNICEF commemorates its 75th anniversary by engaging youth influencers and various sectors of society to band together for children. The anniversary theme, Making It Possible For Every Child, highlights the forward-looking nature of the UN child rights agency while reflecting on its past achievements and on the challenges of today.
UNICEF was founded in 1946 in the aftermath of World War II, a period marked with unprecedented devastation across the globe. In the Philippines, UNICEF started working for children in 1948. Since then, it has been working closely with the Philippine Government, partners, children, and young people to strengthen national policies, programs, and services to ensure that every child in the country enjoys their rights, and provide humanitarian support during emergencies.
During the 1940s and 50s, UNICEF in the Philippines focused on children's survival. In the 1960s, UNICEF worked to give children their rightful place in national planning, rather than out of a sense of charity. The seventies saw a whole child in the community approach, focusing on basic services and grassroots participation.
Economic and political struggles in the 1980s led UNICEF to focus on children's nutrition and protection, running more than 2,000 feeding centers for children affected by the famine in Negros Occidental. During the 1990s, a shift to a rights-based approach was promoted through the enactment of the most widely ratified human rights treaty in the world, the Convention on the Rights of the Child (CRC). The Philippines was one of the first countries that ratified the CRC on July 26, 1990. The 2000s to 2010s saw increasing focus on protecting children from sexual exploitation and armed conflict, safeguarding rights of those in conflict with the law, HIV and AIDS, and supporting children's voices through child participation programs such as the Kabataan News Network (KNN).
At present, UNICEF sees the COVID-19 pandemic as the worst crisis for children in its 75-year history. The report Preventing a lost decade: Urgent action to reverse the devastating impact of COVID-19 on children and young people highlights the various ways in which COVID-19 is challenging decades of progress on key childhood issues such as poverty, health, access to education, nutrition, child protection and mental well-being. It warns that, almost two years into the pandemic, the widespread impact of COVID-19 continues to deepen, increasing poverty, entrenching inequality and threatening the rights of children at previously unseen levels.
In the Philippines, UNICEF is focusing on children's education, vaccination and protection to help them recover and mitigate the pandemic's  impact. UNICEF's support to learning includes provision of school and WASH supplies, generating data, capacity building of teachers, and gathering support from local leaders and community members. Technical support and coordination with the Department of Education, WHO and partners supported the safe reopening of schools in pilot areas and improvement of distance learning modalities. UNICEF, as the delivery partner of COVAX, has supplied around 36 million COVID-19 vaccine doses, as well as syringes and cold chain equipment, to support the country's vaccination program. To aid children's mental health and protection, national helplines were supported to assist children and parents.
"As we highlight some of the most crucial issues that are affecting children and young people in the Philippines today, UNICEF remains a hopeful voice that aims to unite and inspire children, youth, and society. Together, we can fight for child rights. We have made it possible then. We continue to make it possible now. And we will continue to make it possible for the future of every child," UNICEF Philippines Representative Oyunsaikhan Dendevnorov says.
It is not all doom and gloom, especially for children themselves. Today's young generation is more hopeful and confident that the world is becoming a better place. UNICEF's Changing Childhood project surveyed over 20,000 people across 21 countries and found that instead of despairing in the face of inequality and the climate crisis, the young generation is more confident that the world is becoming a better place compared to those aged 40 and older. The survey also found that today's young people are more likely than the older generation to recognize the progress made as living standards have risen and access to services has expanded for many children.
As UNICEF works to continue the progress made for children's rights, its special focus remains on children who are the most vulnerable, disadvantaged, and left behind to ensure that every child has a fair chance in life.
"By giving extra support and help to those who need it, their dreams will continue to thrive until they reach whatever it is that they want to achieve in the future. One of them can be the next leader of our country, would you let that opportunity slip away from the child?" Erl Lacman, a social media influencer joining UNICEF's campaign says.