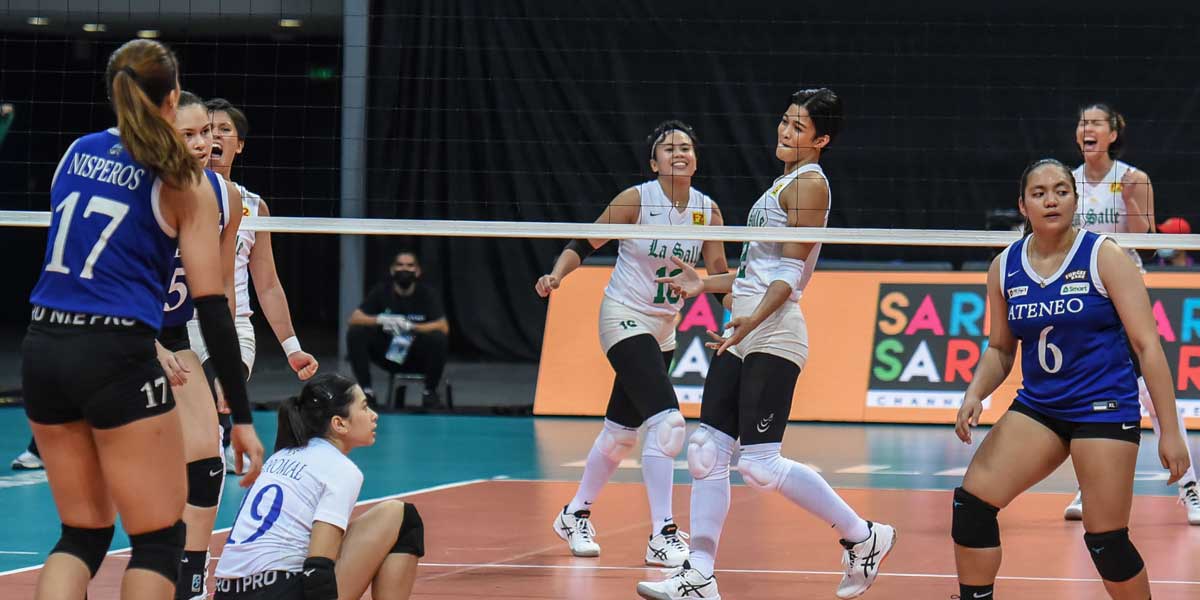 By Leobert Julian A. de la Peña
The De La Salle University Lady Archers continued their hot winning streak in the 2022 UAAP Season 84 women's volleyball tournament after nipping the Ateneo de Manila University in a five-set thriller, 19-25, 25-18, 20-25, 25-22, 15-12.
Despite giving up the first set, the Lady Archers rose to the occasion and fought their hearts out against a resilient Ateneo team that refused to back down during the whole game.
Ateneo kicked off the match with their sharp 1-2 set play offensive attacks as Jaja Maraguinot fed her spikers with efficient setting that helped them grab an early 1-0 lead.
However, De La Salle retaliated and finally found their offensive rhythm in the following set courtesy of consistent attacks from Thea Gagate and Fifi Sharma.
Gagate was all over the place spiking the ball in the second set and was capped off with several running attacks that swayed the momentum back to the green and white.
Seeking to gain another set advantage, Ateneo clawed their way back and regrouped in the third set and countered with their own offensive masterpiece to go up 2-1.
Vanie Gandler stepped up for Ateneo during the third and boosted her confidence up after scoring against the tall De La Salle middle blockers in consecutive possessions.
The Lady Archers leveled the game again at 2-2 and relied on Jolina Dela Cruz's crafty game that helped them jump-start the fourth set with a quick 14-5 lead.
Ateneo responded well in the middle part of the fourth set but fell short of sealing the game and saw the Lady Spikers operate their offensive schemes with consistency in the fifth and final set.
La Salle went off on the offensive end and took a 14-10 lead in the deciding set but Ateneo's Faith Nisperos and Takako Fujimoto pulled Ateneo within two points, 14-12.
Jyn Soreño then iced the game with an emphatic kill off her block to reward De La Salle with a momentum-boosting win and their fifth-straight win.