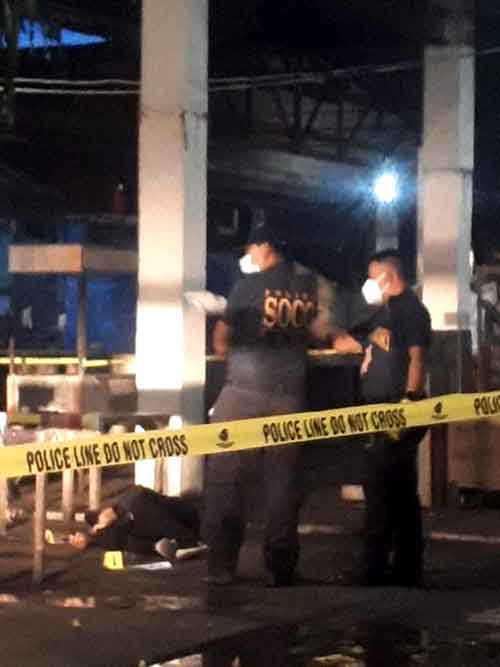 By Glazyl Y. Masculino
BACOLOD City – Two persons were shot dead in separate incidents here and in San Carlos City, Negros Occidental yesterday.
In San Carlos City, Wilmar Sy, 32, of Barangay 1, was gunned down by a certain "Tagalog" outside V. Gustilo public market at Barangay 4 following an argument with the latter.
Police Lieutenant Colonel Jesus Mesahon Jr., city police chief, said the victim suffered gunshot wounds in the head and right shoulder. He was declared dead on arrival at a hospital.
Mesahon said many witnesses saw the incident, and the victim's mother even identified the suspect as he would usually eat at their eatery.
The suspect fled on board a tricycle driven by an unidentified man.
Mesahon said they are checking if the tricycle driver was an accomplice of the suspect, since the latter abandoned his tricycle in the market.
Police are eyeing grudges as possible motive in the incident.
Meanwhile, in Bacolod City, Eduardo Dinosta of Barangay 8 here, was found dead at the Vendor's plaza in Barangay 12 early that day.
Police Major Ramel Sarona, head of Police Station 1, said the victim succumbed to a lone gunshot wound in the head.
Sarona said that nobody heard gunfire despite many people residing in the area.
Sarona said the victim was reportedly jailed previously for illegal drugs, but such is subject for confirmation.
"Bag-o lang daw siya gakadto-kadto sa Barangay 12, amo na wala may nakakilala sa iya," he added.
He said they have no lead yet on the identity of the perpetrator and the motive of the incident.