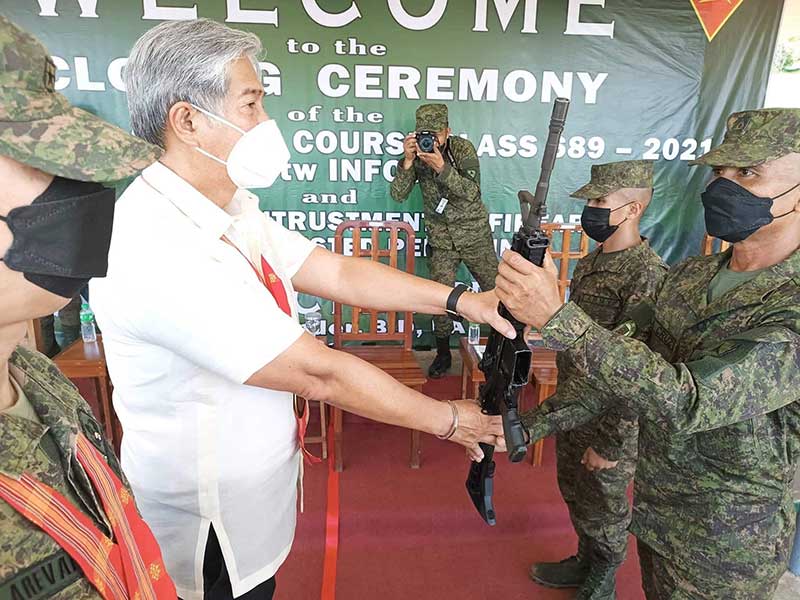 By Glazyl Y. Masculino
BACOLOD City – The Army's 3rd Infantry Division (ID) welcomed two former rebels as the newest addition to military troopers in Western Visayas.
Private Vincent Dela Cruz of Barangay Daga, Cadiz City and Private Jogie Siplao of Barangay Locotan, Kabankalan City were among the 181 neophyte soldiers who graduated in Jamindan, Capiz last Thursday.
They belonged to special quota of Candidate Soldiers 'MAILAP" Class 689-2021.
According to the 3ID, Dela Cruz and Siplao were former members of Rebolusyonaryong Partido ng Manggagawa-Pilipinas-Revolutionary Proletarian Army-Alex Boncayao Brigade (RPM-P/RPA-ABB) in the second district of Negros Occidental.
The RPA-ABB is a breakaway group of the Communist Party of the Philippines – New People's Army (CPP-NPA). They split in 1996 due to ideological differences, according to the Army.
In 2000, the RPA-ABB signed a peace agreement with the national government under former President Joseph Estrada.
Former President Rodrigo Duterte then led the formal the demilitarization of the former RPM-P/RPA-ABB combatants in Camp Peralta on September 19, 2019.
Dela Cruz and Siplao were former combatants who underwent a 45-day training at 3ID.
They were then allowed to be part of the Philippine Army and passed the seven months of rigorous and disciplined Basic Military Training. They were taught the fundamentals of soldiery and instilled with the Army's core values of honor, duty, and patriotism.
Major General Benedict Arevalo, 3ID commander, in his message, said that Dela Cruz and Siplao would inspire and motivate other youth inside the movement to return to the folds of the law and serve the country in a significant way.
"I am happy that these former members of the armed movement finally realized that a brighter future is waiting for them outside the organization, and it makes a big difference," he added.