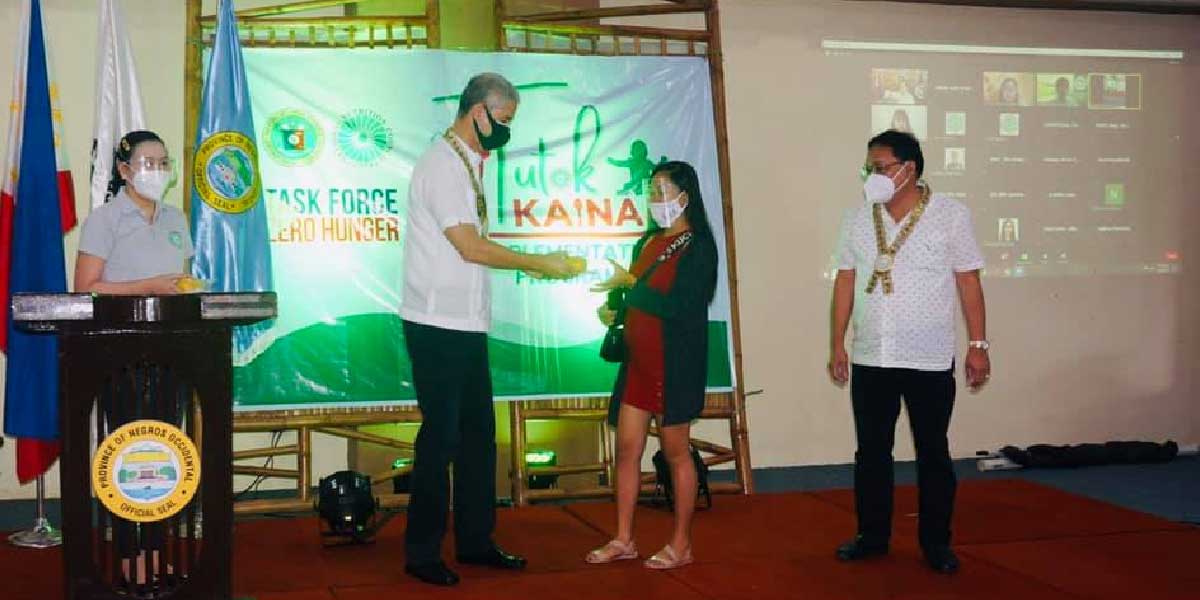 The National Nutrition Council's (NNC) Dietary Supplementation Program dubbed as "Tutok Kainan" kicked off in the Province of Negros Occidental on April 7, 2021.
Negros Occidental was chosen to be part of this program considering it is a 1st priority Human Development and Poverty Reduction Cluster (HDPRC) area, Philippine Plan of Action for Nutrition 2017-2022 priority area and in the top 30 provinces with highest adolescent birth rate.
The event highlights the distribution of Enhanced Nutri-bun to select nutritionally at-risk pregnant women. The program aims to serve as a platform for improving women's nutrition through the provision of additional quality and nutritious food commodities to pregnant women in priority areas across the country.
Cabinet Secretary Karlo Alexei Nograles, Chairperson of the Inter-Agency Task Force on Zero Hunger (IATF-ZH) led the distribution of food commodities together with NNC's Executive Director, Dr. Azucena Dayanghirang, Negros Occidental Governor Eugenio Jose V. Lacson, Provincial Nutrition Action Officer Dr. Ernell Tumimbang, and NNC RVI's Nutrition Program Coordinator Reginaldo T. Guillen.
The event was also live streamed via the NNC Region VI's Facebook Page.
In her message, Director Dayanghirang said stunting can be prevented if efforts are focused on the First 1,000 Days of life, or the period starting from conception up to the child's second birthday.
This is NNC's response to the challenge posed by the COVID 19 pandemic, so that we can arrest the impending increase in the prevalence of hunger in the country.
"The progress of our nation depends on how mothers bring up their children. To break the vicious cycle of malnutrition, nutrition of women of reproductive age should be improved," Dr. Dayanghirang added.
The program initially targets 34,000 nutritionally-at-risk pregnant women in 12 provinces covering 254 cities and municipalities.  Beneficiaries will receive food commodities composed of enhanced Nutri-Bun, ready-to-eat lipid-based nutritional supplement, and hot meals for 3 months or 90 days.
A repercussion of this COVID-19 pandemic is the disruption of economic activities which enormously affected the poor farmers and fisherfolks.
Agrarian Reform Beneficiaries' Organizations (ARBOs) a farmers' organization that serve as channels for the provision of support services to beneficiaries of the Comprehensive Agrarian Reform Program (CARP) are going to play a key role in this program.
NNC will partner with ARBOs under the stewardship of the Department of Agrarian Reform (DAR) to purchase fresh produce directly from local farmers, fisherfolks, and cooperatives for the distribution of healthy and nutritious hot meals. It shall also contribute to the livelihood of small farmers and fisherfolk, and thus furthers the efforts towards food security.
By 2021, the program will expand its reach to stunted and wasted 6-23 months old children. Aside from these, Tutok Kainan participants will receive daily text messages called Nutri-text to inform them of the benefits of the program and remind them to avail of government services.
During the COVID-19 pandemic, all LGUs implementing the Tutok Kainan are encouraged to adhere to the infection prevention control (IPC) measures issued by local health authorities and Inter-Agency Task Force on COVID-19 such as proper and frequent hand hygiene, physical distancing measures, and the use of face mask and face shield.
NNC, in collaboration with the Inter-Agency Task Force (IATF) on Zero Hunger, leads the implementation of Tutok Kainan under the National Dietary Supplementation Program of the Philippine Plan of Action for Nutrition (PPAN) 2017-2022.
A soft launch of the program was held on November 23, 2020.