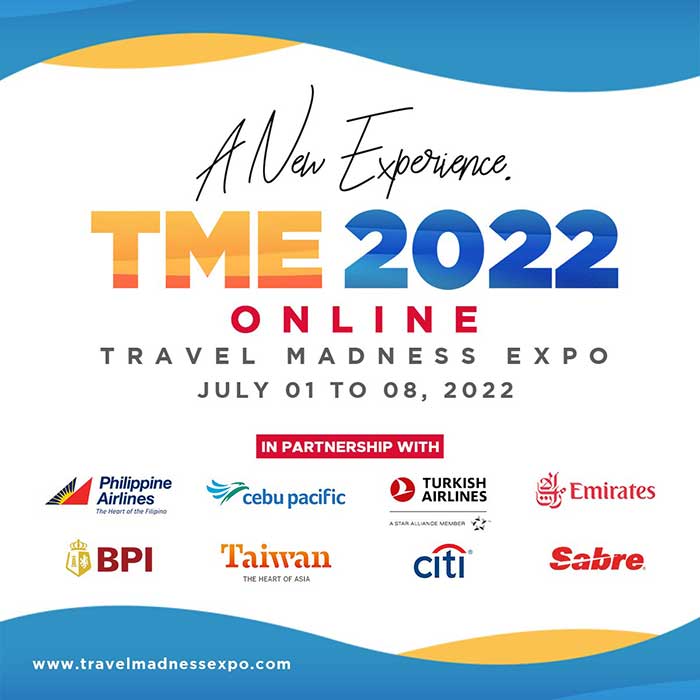 The first ONLINE Travel Madness Expo will be held on July 1-8, 2022.
Participants will get all the information, deals, promos, and excitement of a live event but in the convenience and safety of an online space.
Major players in the tourism industry will be participating in this 8-day expo which starts on a Friday and ends the following Friday.
The virtual venue will allow you to visit the different travel categories to help you choose exciting destinations or travel needs. There are so many fun-filled options for you to choose from!
Thirty-eight (38) reputable Travel Agencies will cater to all your travel requirements including flight tickets, tour packages, cruise bookings, hotel reservations, visa processing and travel consultation.
Do you miss worry-free travel? Your participating Travel Madness Expo travel agent is just a click away in our online space.
Come fly on any of the 31 participating Airlines to exotic destinations in the country, the region, and other distant lands — all while taking advantage of Special fares for the duration of the expo!
Cruising is the most convenient and inexpensive way to travel between different cities and countries. Let seven (7) participating Cruise Lines take you to the Caribbean, the South Seas, Europe, Antarctica and other places you've been dreaming of!
Keeping it close and fancying a staycation instead? Select from a collection of sixty-six (66) local Hotels & Resorts spanning the length and breadth of our beautiful Philippines from Batanes to Tawi Tawi and everywhere else in between.
Family time is always fun in our six (6) featured Theme Parks, zoos and a golf course in the Philippines and Singapore.
We will feature three (3) foreign Tour Operators who can help you plan your holiday in the Balkans, Indonesia and Turkey in cooperation with any exhibiting Travel Agency.
Need help zeroing in on your next vacation? Fifteen (15) local and international Tourism Bureaus will supply vital information about interesting cities, regions and countries to help you make a wise decision about your next adventure.
Shop for famous brands of luggage, travel accessories and electronic gadgets from our twelve (12) exhibiting vendors at the Travel Essentials category.
Never leave home without the proper Travel Insurance.  Four (4) respected companies will keep you worry-free with insurance from any unexpected events while you are traveling.
It's never been easier to create exciting and lasting memories. Our ONLINE Travel Madness Expo is literally just a click away at your fingertips. With so many wonderful, convenient and informative options available at the ONLINE Travel Madness Expo, don't be left out this travel season! Visit our ONLINE Travel Madness Expo from July 1-8, 2022 at www.travelmadnessexpo.com
Travel Madness Expo is brought to you by Philippine Airlines, Cebu Pacific Air, Turkish Airlines, Emirates, Taiwan Tourism Board, Bank of the Philippine Islands (BPI), Citibank and Sabre.