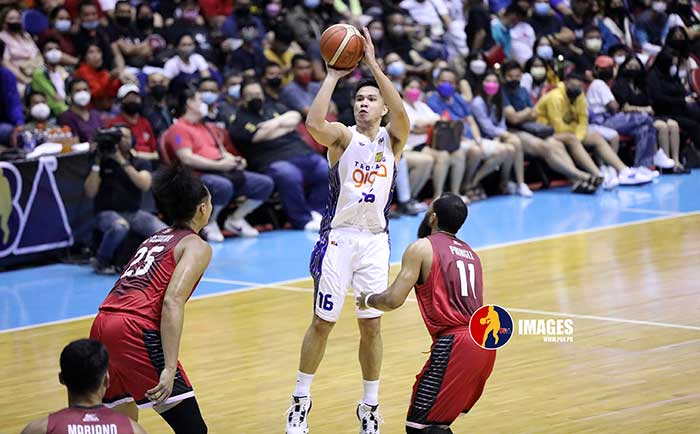 By Leobert Julian A. de la Peña
The TNT Tropang Giga ended their last elimination game with a bang and handed the surging Barangay Ginebra San Miguel a beating, 106-92, in the ongoing 2022 PBA Philippine Cup.
It was all Tropang Giga from the get-go after staying locked in against the disciplined Ginebra squad.
Aside from their goal of piling up the points for quotient remainder necessities to increase their chances in case of ties for placing before the playoffs, the Tropang Giga poured in the attack and showed no mercy after out-shooting Ginebra led by RR Pogoy's 30-point outburst.
The TNT sniper had a night to remember against Ginebra and shot a highly-efficient 12/23 from the field including 10/18 from the perimeter and 2/5 from the three-point area.
TNT immediately grabbed a 27-23 lead after the first 12 minutes and topped off their performance with a solid second quarter, extending their four-point lead to 11 after a Glen Khobuntin breakaway layup with three minutes left.
Ginebra came roaring back with their own offensive run led by their crisp ball movement but was not enough to trim the deficit under five points heading into the second half.
The game then turned into another Mikey Williams showcase after draining two long three-pointers that ballooned their lead to 14 points with 40 seconds remaining in the third quarter.
Ginebra never recovered despite getting good looks and could only watch the Tropang Giga drain their treys that established their largest lead of the ball game at 24 points after a Khobuntin triple at the right corner.
LA Tenorio tried to spearhead a comeback and pull off another come-from-behind win but TNT never relaxed and answered with their own basket to protect their double-digit lead.
Ginebra will have the chance to bounce back and rack up a win as they face their rival squad Meralco Bolts today in the second game of the double-header.
Meanwhile, the Tropang Giga are already done with their elimination games and are currently sitting at the no. 3 spot with an 8-3 record behind the San Miguel Beermen and Ginebra.