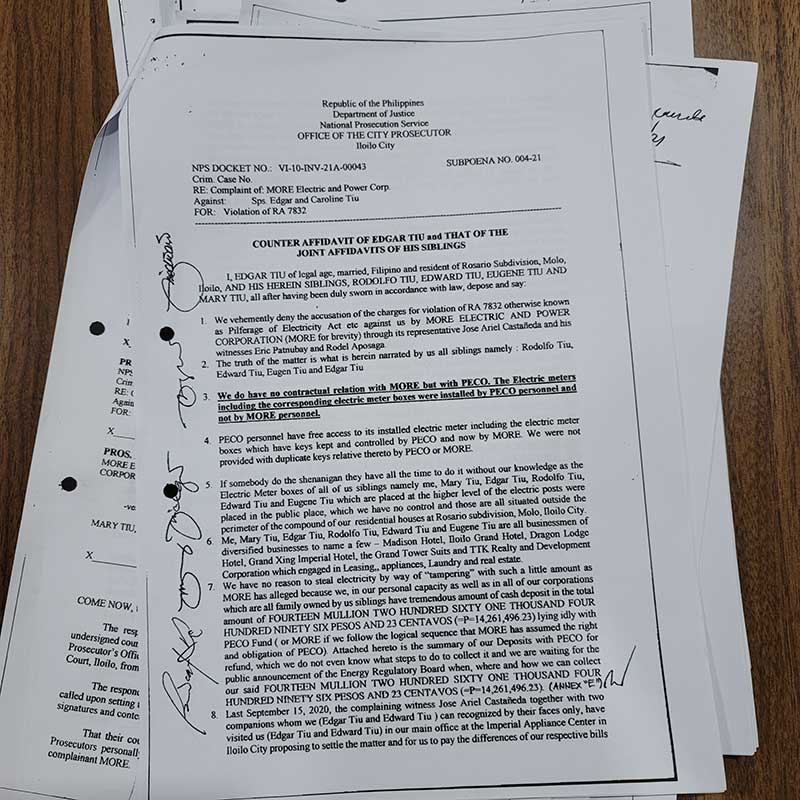 By Francis Allan L. Angelo
The Tiu family denied stealing electricity as charged by MORE Electric and Power Corp., the sole power distributor in Iloilo City.
The business clan stood pat on their innocence in their joint manifestation dated February 23, 2021.
Daily Guardian reached out to the Tius' legal counsel, Nelson Oberas, Thursday but he declined due to his regular medical checkup.
In their joint counter affidavit, siblings Edward Tiu, Rodolfo Tiu, Eugene Tiu, Mary Tiu and Edgar Tiu "vehemently denied" the charges of violation of Republic Act 7832 (Anti-Pilferage of Electricity and Theft of Electric Transmission Lines/Materials Act of 1994), specifically for alleged tampering of electric meters.
"We do have no contractual relation with MORE but with PECO. The electric meters including the corresponding electric meter boxes were installed by PECO personnel and not by MORE personnel."
PECO or Panay Electric Co. was the former power distributor in Iloilo City.
The Tius said PECO personnel "have free access to its installed electric meter including the electric meter boxes which have keys kept and controlled by PECO and now by MORE" and they were not provided with duplicate keys relative thereto by PECO or MORE.
The siblings said it is impossible for them to tamper with the meters which were elevated on electric posts and situated in public space outside their compound.
Citing their numerous business interests, the family said they have "no reason to steal electricity" by way of "tampering" with such a little amount as MORE has alleged because they have "tremendous amount of cash deposit in the total amount of P14,261,496.23 lying idly with PECO Fund."
The amount they referred to were meter deposits with PECO then.
The Tius also refused to settle the issue with MORE Power believing that they have done nothing wrong.
"We did not agree to pay the replaced electric meters because our stand, we did not request MORE to replaced them. We did not also agree to any Compromise Settlement because we have done nothing wrong and illegal. We even did not approach any MORE personnel or any person who is a friend or an acquaintance to settle the matter."
They reiterated that they do not have the keys to the meter boxes and it is impossible for them to reach the meters and tamper with the connections which will endanger their lives.
"The electric post where the electric meter box is situated in a side of the public road where electric company personnel or anyone who tried to sabotage us has ready access. Thus we have no control whatsoever of the said electric meter box including its content. It is observed in its finding that no lock was broken nor official seal was damaged. The fact that we have no key to unlock the electricity meter boxes to open them. And we do not dare to climb the ladder in the electric post where the electric meter box is situated to steal electricity to risk death by electrocution losing our millions of our wealth. It is really out of logic and out of reason for us to do this silly thing if indeed it was the ease, while we donate millions to charity and foundations," the Tiu siblings said.
They also questioned the initial inspection conducted by MORE Power personnel without the presence of the owners, police officers, member of the Energy Regulatory Commission or even a barangay official as witnesses.
Citing MORE Power's report, the Tius said the word tampering was not mentioned as what was indicated was "For Replacement of KWA meter and wrap for safekeeping and subject for ERC Testing."
They also cited that MORE Power employee and complainant Emile Joseph D. Cahuya admitted that he initiated first the opening of the Electric Meters Boxes of Rodolfo Tiu and Edward Tiu, "without knowledge and consent of the electricity account holders."
They linked Cahuya's actuation to the P5,000 cash reward offered to tipsters of alleged power theft or jumpers in Iloilo City.
"Please remember that there is an incentive minimum reward of FIVE THOUSAND PESOS PURSUANT TO Section 5 of Republic Act No. 7832 which can tempt anybody to make money or to extort money because they thought all Chinese Filipino can be threaten to just pay money to settle anything in order not to be charge in these cases. But the fact that we did not do anything illegal, as the complainants claimed to be, we will face them squarely by looking straight to their eyes because we are innocent of the charges."
The Tius said Cahuya's actuations in opening the electric meters of Rodolfo Tiu and Edward Tiu without their presence is suspicious.
"If he (Cahuya) has the courage to open the said two electric meter boxes, then there was no reason that he did not open our three other electric meter boxes of Edgar Tiu, Eugene Tiu and Mary Tiu. If MORE personnel particularly Emile Joseph D. Cahuya, have just observed proper protocol in opening our electricity meter boxes, called the attention of each of us to personally attend the opening in our presence and could have told us straight in our face that there was tampering on our electricity meters before removing them, we could have immediately invite someone whom we can also trust to check whether the action of MORE personnel was in order or not. But MORE personnel did it hastily and without informing us of our right to know what was really happening at that day of incident. We were blinded by their illegal acts."