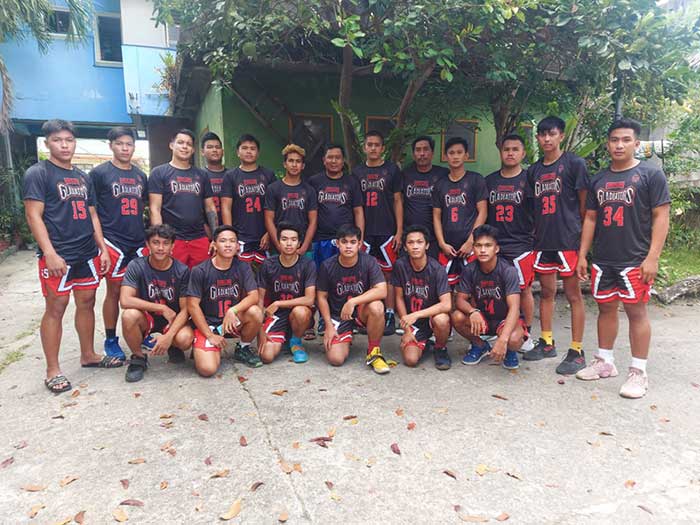 By Leobert Julian A. de la Peña
After raking in all the championship trophies during the 2021 JB Amateur Basketball League (JB ABL) three-point shootout and slam dunk competition, the Tigbauan Ninja Gladiators are ready to take Iloilo City by storm again and hope to continue their winning magic.
Eager to make a statement and prove that Tigbauanons can play ball and excel to the top, the Ninja Gladiators will be joining the Under-21 2022 Chairman's Cup organized by the Samahang Basketbol ng Pilipinas (SBP) & Toyota Iloilo, brought by Juanito T. Uy and Fanny L. Uy in cooperation with Iloilo City.
The Ninja Gladiators have waited almost two years for 5×5 organized basketball competition to return amid the COVID-19 pandemic and will try to maintain their momentum and focus heading into the prestigious league.
Since their basketball program started, team manager Marry Ann Portia Bernil has kept her core players intact and is still observing their training routine despite the hindrance of the pandemic.
The team will be under the mentorship of the legendary Genesis "Dongking" Sasuman, assisted by Ronald Julaton with Demy Gelvezon and Peter Traviña as the designated skills coaches.
Leading the pack of the Ninja Gladiators are veterans and leaders Patrick John Gain and Jose Tuya backstopped by CenterPhil Montessori's deadly sniper Lester Paraico.
Meanwhile, the coaching staff also added some stabilizers into the team composed of Cairon Gain, Dan Mondia, Meg Alaurin, Lanz Julaton, PJ Brazileño, and the Hernandez brothers from Guimbal.
To fill in the gaps of the roster, team manager Bernil also selected three reinforcements from San Carlos City, Negros Occidental.
All eyes will be on Mike Boniel, a former 2019 National Basketball Training Center (NBTC) top 24 best player high school selection and the starting point guard of the Ateneo de Cebu who helped them win the 2019 Cebu CESAFI championship title against Isaiah Hontiveros and the University of Cebu.
Boniel's teammate at Ateneo de Cebu, Ariel Dinglasan, a skilled big man who can consistently knock down the perimeter shot, will also help fortify the Ninja Gladiators' frontcourt.
University of San Jose Recoletos (USJR) standout Kenneth Mazarte will be the last piece to the puzzle of the Ninja Gladiators and will provide the much-needed length, athleticism, and energy for the team.
The Ninja Gladiators were grouped in Pool B of the U-21 teams and will be squaring off against Conce Crita Villa, Phantom Elite, team Hustle, team Hoopers, GG Sports, and the Eman Monfort Basketball team.
Teams grouped in Pool A are ATOP, Elite Lab, Medics IDC, Guimaras Jr. Leopards, Pototan, Barotac Viejo NHS, and Team Antique.