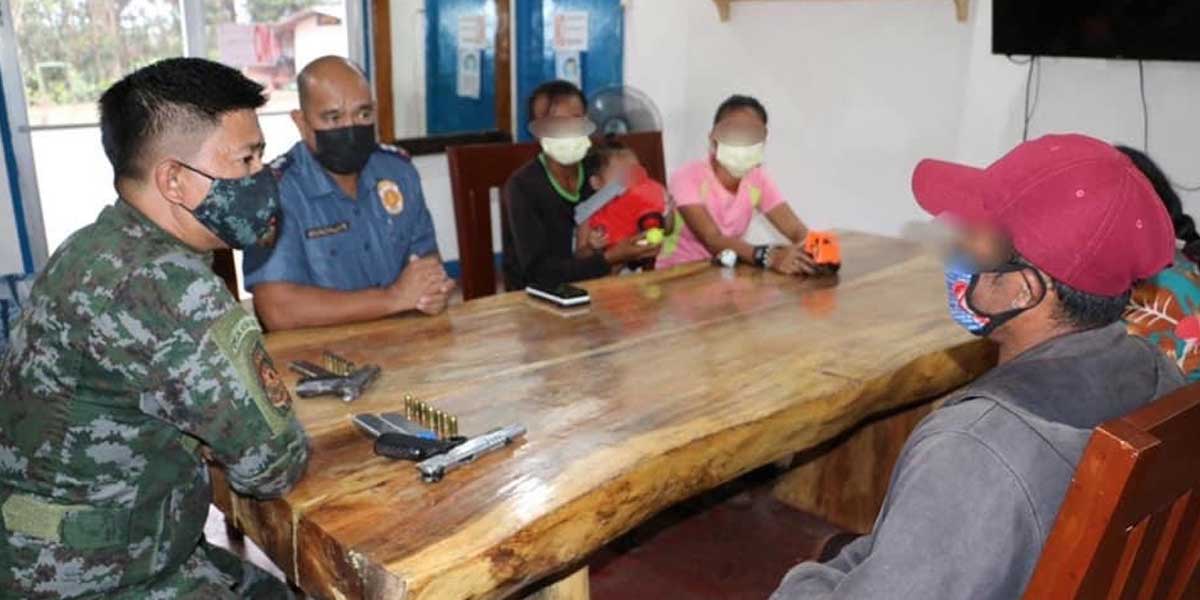 By Glazyl Y. Masculino
BACOLOD City – Three alleged members of the New People's Army (NPA) surrendered to the 6th Special Action Battalion (SAB) of the PNP-Special Action Force (SAF) at their headquarters in Sagay City, Negros Occidental last Thursday.
According to a report from 6th SAB, a couple was among the three rebel returnees who also brought with them their two-year-old son as they wanted him to have a peaceful and normal life.
One of the three was an alleged NPA member under the North Negros Front (NNF) of the Komiteng Region- Negros, Cebu, Bohol at Siquijor (KR-NCBS). His last assignment was mass work activities in the outskirts of the municipalities of Calatrava, Toboso, Don Salvador Benedicto, Manapla; and portion of the cities of Escalante, Sagay, San Carlos and Silay.
The couple was an active member of the South West Front (SWF) of KR-NCBS, operating at the mountains of Cauayan, Hinoba an, Ilog, Candoni, Kabankalan City, Sipalay City (CHICKS) area in the province.
One of them was previously assigned as squad leader of squad 2 of the NNF, KR-NCBS then later transferred to South West Front, KR-NCBS where he met his live-in partner.
His live-in partner was the assistant medic of South West Front, KR-NCBS and allegedly conducted recruitment activities in the areas of Hinoba an, Ilog, Candoni and Kabankalan City.
The three rebel returnees also surrendered short firearms to the police.
Police Lieutenant Colonel Ryan Manongdo, 6th SAB commander, welcomed such move from them, who were accompanied by their families. They were also assisted by Police Lieutenant Colonel Jonel Guadalupe, chief of Sagay City Police Station.
"We are happy that they finally decided to submit themselves to the government and embraced the idea of living a normal and peaceful lives," Manongdo said, in a statement, as they assured them and their families that they will help them improve their lives through the different programs of the government.
Before their surrender, the battalion has been implementing the PNP-SAF Counter White Area Operations (CWAO) in Barangay Guintubhan, Isabela, Sitio Balik Balik, Barangay Tabu, Ilog and Sitio Manara, Barangay Puey, Sagay City, focusing on reaching out to those communities that are currently or formerly influenced by the communist terrorist groups.
The three rebel returnees are now under the care of the battalion while processing their documents and other requirements for their benefits under the Enhanced Community Local Integration Program (E-CLIP).