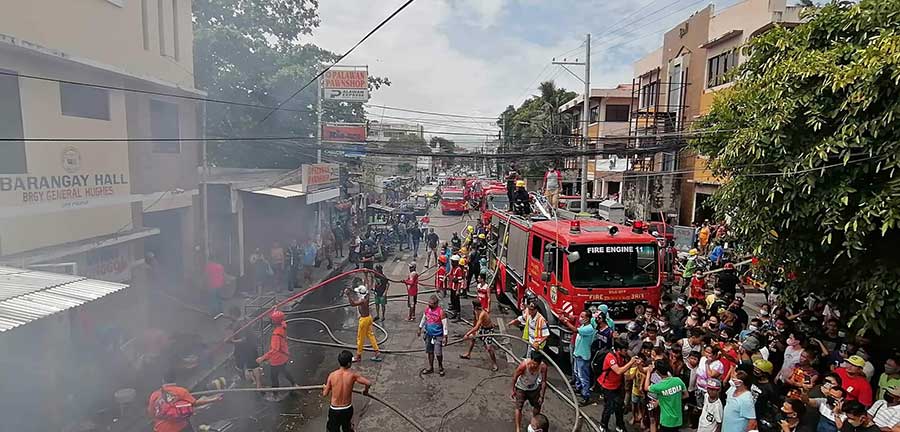 By Jennifer P. Rendon
Fact: around 80 percent of recent fire incidents in Western Visayas are electrical in nature.
But while the public has grasped the concept of fire consciousness, they lost track of the importance of maintaining their electrical connections.
Fire Senior Superintendent Jerry Candido, Bureau of Fire Protection (BFP)-6 regional director, said the public might have taken for granted the need to upgrade and keep their electrical connections in good condition.
Candido made the observation after three fire incidents happened in a span of four hours in Iloilo City.
"This is very alarming since prior to this, we also recorded several structural fire incidents even before the Fire Prevention Month," he said.
The month of March was declared as Fire Prevention Month but Candido noted that more fire incidents are recorded in the months of April, May, July, and August in 2021.
When he started working for the BFP 28 years ago, Candido said that fire incidents due to electrical connections were pegged at 28 percent. But more than two decades later, BFP records indicated that electrical reasons accounted for 55 percent of fire incidents.
"That's why, we are reminding the public that it's high time to use funds to maintain electrical connections," he said.
Concerns due to electrical wirings should be treated as a prime commodity.
"It should be equated to shelter and food. It might be expensive, but it is necessary," Candido said.
Sadly, most people only realize the importance of maintaining their electrical connections once a fire breaks out and directly affects them, he said.
Candido noted that electrical connections should be upgraded since gadgets and applicants are also updated by a household.
"If you haven't upgraded, the load could no longer accommodate the number of appliances that are connected to your line," he said.
Candido said that they're doing house-to-house visitations to remind the public about it.
"Ma-huo-huo man lang na sila but they wouldn't act on it," he said.
Most of electrical overloading happened among informal settlers, who also appeared to be the vulnerable sector when it comes to massive fire.
"But maintaining a household's electrical connection is beyond us. Wala kami mahimo if you stay negligent about it. What we could do is to suppress fire once it happen," he said.
FIRE INCIDENTS
Fires simultaneously broke out at Burgos-Mabini, La Paz district and at Fatima Subdivision in Barangay Sta. Cruz, Arevalo around 8:30 a.m.
The house occupied by the Resano couple in La Paz was totally burned. The fire apparently originated from the room occupied by their driver. Damage to property was pegged at P4,302,600.
Meanwhile, BFP said another fire burned two houses in Arevalo. It totally gutted Godofredo Defensor's house and sports utility vehicle.
The fire also partially razed the house of Marivic Tugado. Damage to property was estimated at P1,648,500.
The third fire incident happened 12:35 noon at Barangay Gen. Hughes, City Proper district. The conflagration totally gobbled 10 houses and partially razed 6 houses.