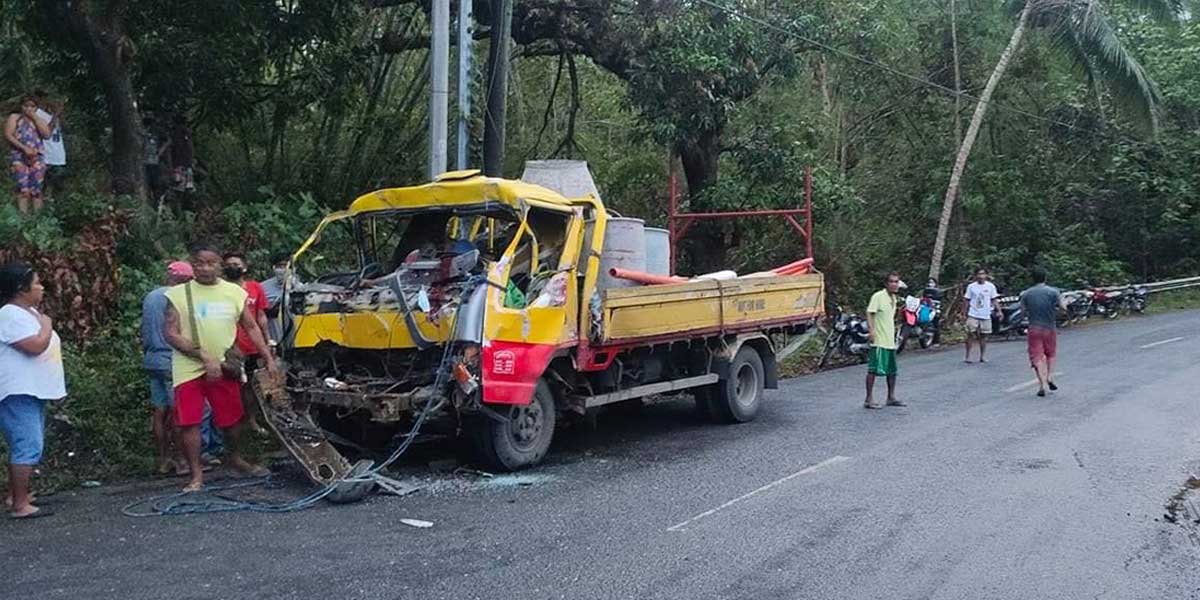 By Jennifer P. Rendon
Three persons were killed in a vehicular incident late afternoon of Jan 25, 2022 in San Joaquin, Iloilo.
Police identified the fatalities as Philip Amores, 43, of Roxas City, Capiz; and Gilbert Babas and Nomeriano Baroa, both residents of Capiz province.
Injured were Erwin Marquez, 28; Lorevil Leal, 38; Arnel Aragon, 39; and Sandy Punsalan, 38. All are residents of Roxas City, Capiz.
Lieutenant Dionisio Estacio, San Joaquin police chief, said Amores and Baroa were believed to have died instantly. They were rushed to the San Joaquin Mother and Child Hospital were authorities declared them dead on arrival.
Babas, on the other hand, died while undergoing treatment.
Baroa, the driver of a six-wheeler Fuso Canter truck (license plate ZJV-696), and Babas were not immediately identified.
Estacio said no identification was taken from the driver's possession.
The survivors claimed they did not know Baroa who was tasked to fetch the workers after they finished a project at a school in Hamtic, Antique.
The identities of Baroa and Babas were later known after police called up their supervisors.
According to police accounts, the truck was navigating a downhill curve at Barangay Lopez Vito around 5:38 a.m. of Tuesday when the incident happened.
All three fatalities were seated on the truck's front row while those who survived were on the cargo load, along with a mini cement mixer.
The truck is believed to have lost its brake pressure while going downhill.
The survivors claimed that the truck crashed into the rear of a dump truck running on the same lane.
The dump truck driver, Ricky Ningas, 42, of Barangay Bitoon Ilaya, Cuartero, Capiz, was taken in police custody after the incident.
But Estacio said the families have claimed they will not pursue charges against Ningas.
Police investigation showed that the Canter truck has been suffering from mechanical trouble even before leaving Hamtic. It was later fixed, prompting Baroa to proceed with the trip.
"Nagloloko na daw 'yung preno pero dahil naayos, umalis na din sila. Pero noong pababa na, bigla daw bumilis at parang hindi na ma-kontrol 'yung truck," he said.
The four passengers at the back were thrown off the vehicle causing them to suffer injuries on different parts of their bodies.