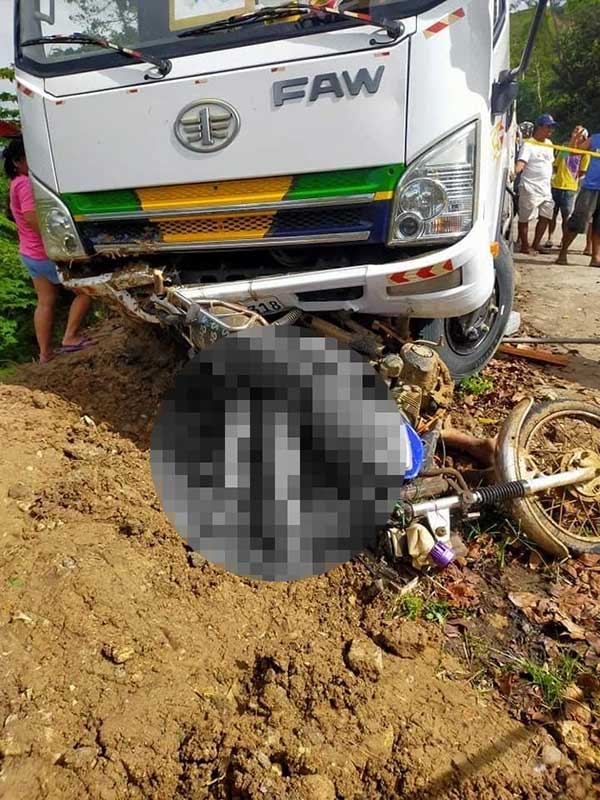 By Glazyl Y. Masculino
BACOLOD City – A family of three, including a two-month-old baby boy died, while a 10-year-old boy was wounded after they figured in a road accident at Sitio Ulay, Barangay Prosperidad, San Carlos City, Negros Occidental yesterday.
Police Captain Roger Pama, deputy police chief of San Carlos City Police Station, identified the fatalities as Jomar Jirasol, 29, his wife Angeline Jirasol, 19, and their baby boy, all residents of Barangay Codcod.
Wounded was Angeline's 10-year-old brother.
Pama said the four victims were riding a motorcycle driven by Jomar when the water tanker encountered mechanical trouble and crashed into the motorcycle it was tailing.
The tanker was supposed to overtake the motorcycle but the driver identified as Mikill Galgo, 24, of Sipalay City, lost control of the vehicle when its steering wheel malfunctioned.
Pama said the tanker swerved to the right, and Galgo tried to return to his original lane while applying brakes, but it was too late as the tanker already hit the motorcycle.
The family died on the spot as they went underneath the tanker due to the impact, while the 10-year-old boy suffered minor injuries after he was thrown off, Pama added.
"Nagdalusdos gid sa dalom ka tanker ang motor," Pama said.
Pama said that Galgo and his helper were unharmed.
Galgo is detained at the police station.
Pama said the victims' family has yet to decide whether to press charges against Galgo or settle the case.