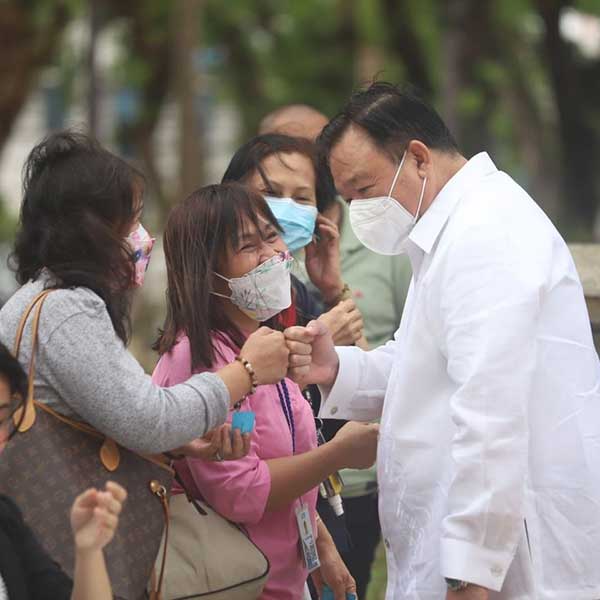 By Joseph B.A. Marzan
Three employees of the Iloilo City Hall each got a 30-square-meter loftable condominium unit as part of the city government's partnership with SM Development Corp (SMDC).
The three lucky employees were chosen through a raffle draw conducted by the city government during its flag ceremony on Monday, March 7, 2022.
In a press conference, Iloilo City Mayor Jerry Treñas said that he was "happy" with the start of the project which could help improve the employees' lives.
Treñas said one recipient-employee, who was a fire victim, was ecstatic after winning the raffle.
"We asked for bigger area because this is for our employees. This has already been approved by the [Department of Human Settlements and Urban Development] in Manila since all socialized housing components go through them," the mayor shared.
"What does 30 square meters loftable mean? This means that it is higher than the ordinary [condominium unit] so we can add a second floor," he explained.
The three lucky employees are just part of the 30 workers who could win condo units every Monday in the next three weeks.
The mayor said 120 employees and their families could enjoy living among the city's latest housing projects.
Qualified recipients are regular employees of the city government in Salary Grade 8 and below.
The SMDC-Iloilo City Government condominium project is part of the SMDC's socialized housing component compliance under rules of the national government's housing agencies.
Memorandum Circular No. 09 series of 2018 of the Housing and Land Use Regulatory Board requires developers of proposed residential subdivision projects to develop an area for socialized housing to at least 15 percent of the total subdivision area or total project cost.
The condominium building is expected to be finished between 2023 and 2024.
Treñas said that there are still other housing projects in Iloilo City in the pipeline, including 6 low rise buildings under the National Housing Authority proposed by lone district Representative Julienne Baronda, and 4 other housing projects planned under the office of Senator Franklin Drilon.