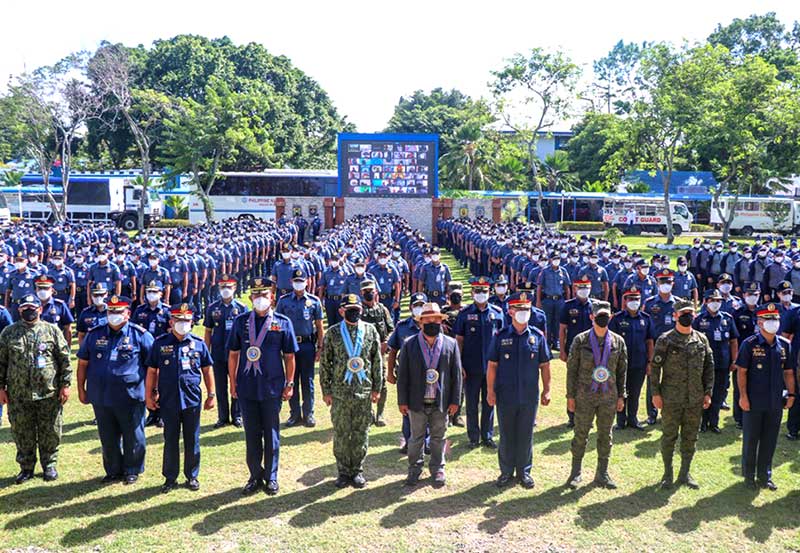 By Jennifer P. Rendon
Thousands of troops from the uniformed service in Western Visayas have been officially deployed to perform election duties.
The simultaneous multi-agency send-off ceremony was held morning of May 4, 2022 at the Police Regional Office 6 (PRO-6) headquarters in Camp Martin Delgado, Iloilo City.
A total of 16,489 personnel from PRO-6, the Philippine Army's 3rd Infantry Division, and the Philippine Coast Guard-Western Visayas, will form part of the election security for Western Visayas.
The bulk of the deployment, or 12,645 personnel which is higher from the earlier projected 9,224 personnel, are from the police.
The 3rd ID sent 3,198 personnel and 38 mobility assets while Coast Guard has 646 personnel equipped with resources.
The event saw the attendance of Atty. Wilfredo Jay Balisado of the Commission on Elections (Comelec)-Region 6; Major Gen. Remus Zacharias Canieso, deputy commander of the Area Police Command-Visayas; Brigadier General Flynn Dongbo, PRO-6 commander; Major Gen. Benedict Arevalo, 3rd Infantry Division commander; Brigadier General Marion Sison of the 301st Infantry Brigade; and Commodore Edgar Ybañez PCG-WV commander.
Dongbo said that it gave him great pride to be part of the send-off ceremony for the 2022 National and Local Elections.
He premised his message on the words of American pastor Harry Emerson Fosdick who said that "Democracy is based upon the conviction that there are extraordinary possibilities in ordinary people."
"This is the reason why we encourage everyone, regardless of social and economic status, to go out and vote this coming May 9," Dongbo said.
He said they prepared long and hard for the deployment personnel.
"We had extensive discussion and planning sessions during the numerous conferences with other partner agencies and we developed our contingency plans for every eventuality," he added.
With thousands of police bound for election duties, Dongbo said more will be deployed to help secure the elections in the 44 towns and cities considered as election areas of concern.
"All of our logistical resources will also be mobilized," he said.
Just last week, PRO-6 conducted the Logistical Readiness Test and Dispatch Ceremony where all our transportation, communication, firepower, and other resources were prepared for deployment.
"We anticipate that the closer we get to May 9, the more urgent will be the need for intensified security," the region's top cop said.
He also reminded to those who will be deployed that the opportunity to hold the election is a sacred gift.
"Upholding the sanctity of the ballot is our supreme duty as men and women in uniform. Truly, we must be honored and privileged to serve this election day," he said.
As such, election day should be taken as a chance to show competence, professionalism and dedication as the country's best men and women of the PNP.